2007-08distinguishedlecturegergen

2007-2008 DISTINGUISHED LECTURER DAVID GERGEN FOCUSES ON LEADERSHIP FOR AMERICA'S FUTURE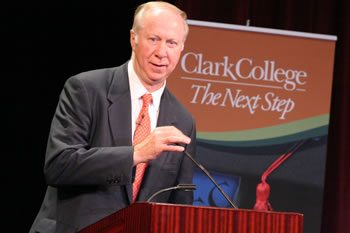 David Gergen, author, commentator, best-selling author and advisor to presidents for 30 years, became the third speaker in Clark College's Distinguished Lecture Series. The topic: "Eyewitness to Power: Leadership in America."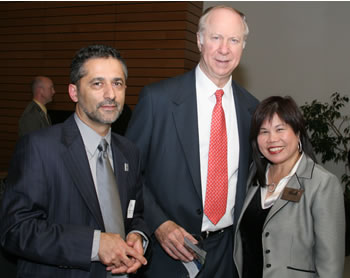 Left to right: Vice President of Instruction Dr. Rassoul Dastmozd, Distinguished Lecturer David Gergen and Clark College Board of Trustees Chair Rhona Sen Hoss
David Gergen is currently a professor of public service at Harvard's John F. Kennedy School of Government and director of its Center for Public Leadership.He is also editor-at-large for U.S. News & World Report.
In earlier years, he served as a White House advisor to Presidents Nixon, Ford, Reagan and Clinton.
During an afternoon forum for students and an evening keynote address on November 7, Gergen called the 2008 presidential election "the most important election that I've experienced."
He emphasized that "The real issue isn't who is going to win. The real issue is, 'Can the winner lead? Can the winner govern?'"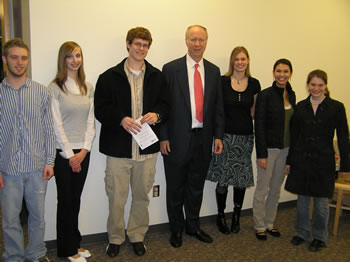 Following the student forum, Gergen greeted students from the Clark College Students for Political Activism Now! (SPAN!) Club.
Gergen outlined the a long list of challenges that will face the new president, including disengagement from Iraq and challenges involving Iran and Pakistan. The next president, said Gergen, will also have to deal with the economy including whether to renew federal tax cuts and dealing with dollars needed for Medicare and Social Security.
Above left: ASCC President Patrick Mehigan (left) introduced Distinguished Lecturer David Gergen at the student forum. Above right: After the forum, Gergen spoke to student Aaron Hahn, who served on the aircraft carrier U.S.S. Abraham Lincoln.
Gergen described former New York City Mayor Rudy Guiliani and former Massachusetts Governor Mitt Romney as the two leading candidates for the Republican presidential nomination. He described Senator Hillary Rodham Clinton as the leading candidate for the Democratic Presidential nomination. He predicted that, if Senator Clinton wins in Iowa, she will be unstoppable. He also predicted that, ultimately, Senator Clinton is likely to win the presidency. In addition, he wished Clark College well in its efforts to host a 2008 presidential debate.
Above left: Clark College Trustees Addison Jacobs and John White listen intently to David Gergen's keynote address. Above right: Clark College Foundation President Lisa Gibert (left) and 2006 Clark College-YWCA Woman of Achievement Peggy Sheehan enjoy a light moment from Gergen's talk.
The Clark College Distinguished Lecture Series was established to bring regionally and nationally renowned speakers to the college to engage students, faculty and the greater community on issues of regional, national and global importance.
David Gergen's appearance was sponsored by Clark College, the Bank of Clark County, and the Clark College Foundation.

The lecture will air on Clark-Vancouver Television during November. It is also available on the CVTV Web site.

Left to right: Bank of Clark County CEO Mike Worthy, Distinguished Lecturer David Gergen, Clark College President Bob Knight and Confluence Project Executive Director Jane Jacobsen