Faculty Speaker Series - Winter 2009
Considering the Genetics of Cancer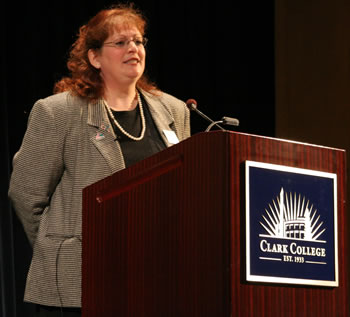 All of us have the breast cancer gene. It is there for our protection. But what if you found out that your gene did not work? Would you make different – perhaps better – choices as a result?
That was the message of the winter quarter 2009 Faculty Speaker Series event featuring nursing professor Laurie Brown. The event was held on March 6 in the Gaiser Student Center.
During her presentation, Brown outlined the discovery of two genes tied to breast and ovarian cancer in the 1990s. Researchers have determined that the genes, which everyone carries, serve to suppress breast and ovarian cancer in both men and women. But in some individuals, the gene mutates – causing it to fail in its role of protecting the body against cancer cells. Brown notes, "We all have the protective BRCA (breast cancer) gene, but recent research shows that BRCA mutations make both men and women more susceptible to the development cancers in breast and ovarian tissue."
While only seven percent of people with breast cancer can trace it back to a genetic mutation (meaning the other 93% of cases are due to other factors), Brown encouraged individuals to consider how it may apply to them – or someone they know. Individuals who have several family members with breast or ovarian cancer, or who had cancer at a young age, may be able to identify a genetic mutation within their family. "Talk to others who have cancer – or cancer in their family – and share this information," Brown encouraged. "Be assertive with your health care, not just for yourself but for others as well."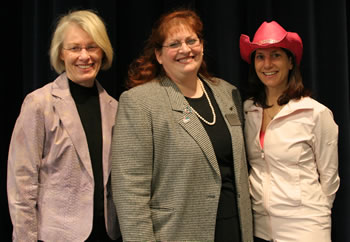 Teaching and Learning Center coordinator Gail Liberman (left) and Health and Physical Education professor Veronica Brock (right), co-coordinators of the Clark College Faculty Speaker Series, congratulate Laurie Brown on her well-received presentation.
The Faculty Speaker Series, established by Clark College with support from the Clark College Foundation, honors individual faculty members and celebrates academic excellence. Each fall, winter and spring quarter, the Faculty Speaker Series showcases experiences that have enriched both the life and teaching of a Clark faculty member. Throughout the series, faculty members share their developmental experiences with the college community – and members of the community at large – while addressing some of today's most intriguing issues.
About Laurie Brown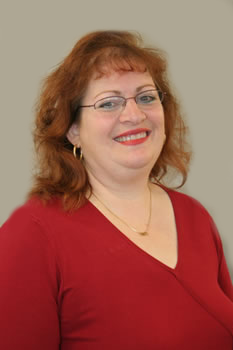 Laurie Brown is a tenured nursing professor at Clark College. A graduate of Washington State University Vancouver (WSUV), Laurie earned a Masters of Nursing Science and specialized in community nursing and nursing education. She also holds a dual masters degree in Public Administration and Health Administration from Portland State University. Laurie Brown maintains an advanced Critical Care Certification in Nursing (CCRN). She still actively practices bedside nursing when not teaching.

Beyond critical care, Brown specializes in cardiac care and oncology. The Conference for Clinical Excellence, a national nursing symposium held in 2002, honored Laurie Brown by inviting her to present a poster board of her research on breast cancer (BRCA) genetics. She also created and facilitated a community teaching project on breast cancer and the BRCA gene mutation. Her efforts in community nursing won her WSU's outstanding graduate student of the year award in 2002.
Between 2001 and 2004, Laurie Brown received service recognition awards from Hambleton Project, an agency serving women with cancer. In 2001, she was recognized with Washington State University's Julie Ebreck Nursing Award. From 2001 through 2003, she served on Washington State University's Diversity Task Force. Laurie Brown has been the advisor for the Student Nurses Association of Clark College (SNACC) for the past six years.
Additionally, she is a volunteer with the Clark County Public Health Department's Medical Reserve Corps (MRC). Under Brown's guidance, SNACC won the "volunteer of the year" award from MRC in 2008.