Faculty Speakers Series - Spring 2010
From Mourning to Memoir:
One Writer's Journey Into Her Story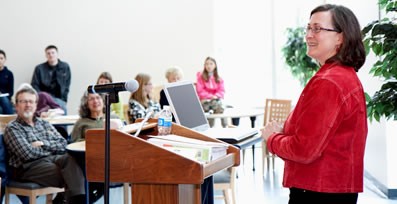 Clark College English professor Gail Robinson had been working on a book of essays about family when she went to her writer's group with a poem she'd written about suicide. Robinson knew something about the topic: Her younger sister, Carol, had committed suicide at age 22.
"As we were having a really rich conversation about this poem and I got their feedback, I had this great epiphany," Robinson recalled. "I said, 'Oh my God, that's really my story, isn't it: my sister's suicide."
Watch Professor Robinson's presentation
As a result of this epiphany, Robinson reshaped her work into a memoir about how Carol's suicide affected her surviving family. That book, which is nearing completion after years of writing, provided the theme for Robinson's presentation as the spring 2010 presenter in Clark's Faculty Speaker Series, held Tuesday, April 20 in the Penguin Student Lounge. During her lecture, "From Mourning to Memoir: One Writer's Journey Into Her Story," Robinson shared two chapters from the book as well as her experiences with memoir writing.
"Memoir is very much about making sense of things—not only what happened in the past, but what it means for us in the present," she said.
Robinson spoke candidly about the many secrets her family had kept hidden until her sister's suicide began to expose them, and about her own secrets and struggles with concepts like filial loyalty and religious faith. Afterward, she took questions from the audience of more than 50 people, many of whom seemed curious about how she balanced the creative-writing aspect of her memoir with the need to stay based in fact. She answered that she strived for a "true felt sense" in her narrative, in which certain elements—dialog, timelines, clothing—might be smoothed out to improve narrative flow, but no events were invented or falsified.
Robinson also credited Clark College with helping her get the book into its current form by giving her two sabbaticals to work on it. "I wouldn't have what I have if that hadn't happened," she said, holding aloft the massive three-ring binder that holds her almost-completed work. The exchange works both ways: Writing a book has given her more empathy toward her students' struggles with language, which has helped her be a better teacher.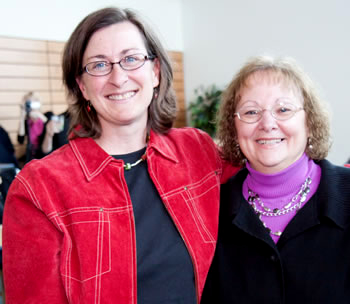 Gail Robinson (left) receives congratulations from student Doran McArthur following Robinson's Faculty Speaker Series presentation.
Doran McArthur, who has taken two online English classes with Robinson as part of the Weekend Degree program, appreciates that empathy. "She has been a great inspiration, not only to me but to all of us [in the class]," she said. "She taught me that failure is okay too, because it can turn into another kind of personal success."
About Gail Robinson
An award-winning educator and writer, Gail Robinson is the recipient of an Oregon Literary Fellowship as well as writing residencies at Caldera in Blue Lake, Ore. and Soapstone in Nehalem, Ore.
A native of South Dakota, Gail earned a Bachelor of Arts degree in English at Miami University in Oxford, Ohio. She earned a master's degree in English at Portland State University.
Gail is a tenured professor of English at Clark College, where she has served as English department chair and interim chair of the humanities division. She has been active in the college's outcomes assessment and eLearning initiatives and has served as a volunteer tutor in the college's Writing Center. During the 1999-2000 academic year, she was honored with the college's Exceptional Faculty Award.
A resident of Portland, Gail has also served as an adjunct faculty member at Marylhurst University, Pacific University and Mt. Hood Community College. Her teaching credits include classes in writing fundamentals, creative writing, English composition, poetry, fiction, American literature, and women in literature. She says her goal in the classroom is "to build student confidence." She adds, "I consider it a great privilege to witness the growth and change in so many students' lives."