Faculty Speaker Series - Fall 2008
Politics, the Press and Polarization:
Clark's Faculty Speaker Series Strikes
A Timely Note on Election Day 2008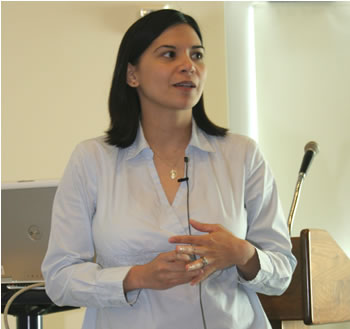 On election day 2008, as voters across the country made their voices heard following one of the most heated election campaigns in U.S. history, Clark College launched its 2008-2009 Faculty Speaker Series with a discussion on "Politics, the Press, and Polarization."
The discussion, led by Clark journalism professor Christina Kopinski, was held on Tuesday, Nov. 4 from noon to 1 p.m. in the Penguin Student Lounge, located in the college's Penguin Union Building.
Kopinski, seen in the photo on the right, has experience as a journalist and educator. She shared her reflections on the current state of the media and ethics.
Discussion highlights included ethical criteria established by the Society of Professional Journalists, the difference between libel and slander, and ethical challenges facing journalists today.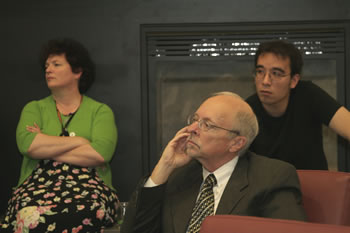 One subject which was discussed was a DVD recently distributed by The Oregonian and other newspapers. The Clarion Fund, a nonprofit founded in 2006 to address what they called "the most urgent threat of radical Islam," spent millions of dollars distributing the DVDs, mostly in battleground election states, triggering controversy across the country.

Other topics included:
Does the race to be first-to-print trump responsible journalism?
Does a blogger qualify as a journalist?
Do different standards apply to public figures versus private citizens?
Is "hate speech" protected as "freedom of speech"?
About Christina Kopinski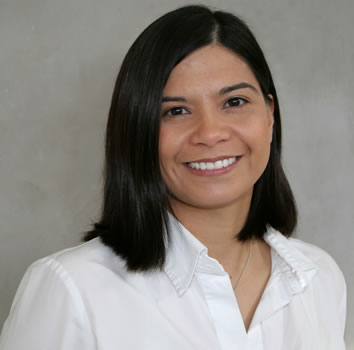 Christina Kopinski joined Clark College in fall 2006 as a tenure-track faculty member. She teaches journalism classes at the college and serves as advisor for The Independent, the college's student newspaper.
Kopinski earned a bachelor's degree in journalism at Lewis University in Illinois. She earned a master's degree in communication studies from Northern Illinois University.
Her academic experience includes teaching experience at Barry University and Miami Dade College, both in Florida. In Illinois, Kopinski taught at South Suburban College, Kishwaukee College, and Northern Illinois University.

Her journalism experience includes serving as an elections correspondent for the Chicago Bureau of the Associated Press. She worked at the Morris Daily Herald (Morris, Illinois) and was producer and co-host of "Sunday Night Politics," a weekly political discussion on WLRA-FM at Lewis University.
Kopinski, who was honored in 2008-2009 by "Who's Who in Collegiate Teaching," has spoken at academic conferences and forums across the United States on topics ranging from "Learning Communities" and "An Analysis of News Media as Propaganda" to "Media Bias and Critical Thinking" and "The First Amendment and News as the Fourth Branch."