Faculty Speaker Series - Spring 2008
Birds, Bees and Biodiversity:
Clark's Faculty Speaker Series Celebrates Earth Week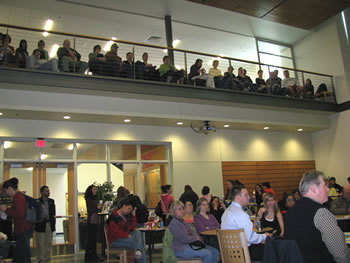 A standing-room-only crowd packed the Penguin Student Lounge – including the second floor area overlooking the lounge – as ecologist and biology professor Kathleen Perillo described how food choices impact the planet during the college's second Faculty Speaker series event.
Held on April 25 during Earth Week, "Birds, Bees and Biodiversity" drew guests from throughout the college and the region. The discussion was also recorded by Fort Vancouver Television (FVTV), which planned to share audio highlights with KBOO radio.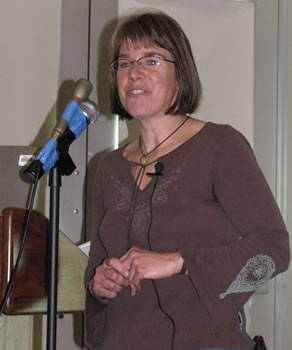 Inspired by her sabbatical experiences, Perillo organized the Center for Eco-dynamic Agriculture – an organization that promotes a new way to grow crops that encourages biodiversity. She told those in attendance how to become "locavores" by determining the environmental benefits to eating local, organically farmed food. She also discussed the differences between polyculture (growing many crops) and monoculture (growing one crop) farming. Perillo said, "Each of us has the power to promote or reduce biodiversity in our own kitchens and in the simple everyday food choices we make."
Perillo also tackled a challenging issue: which is more sustainable if you have to make a choice – local or organic. Perillo said, "The more sustainable food choice is local food, even if it's not produced organically. Obviously, the best choice for a healthy planet is local, seasonal and organic. But if you have to make a choice and want to choose with sustainability in mind, you should select local/seasonal foods over organic." She added, "Many small farms cannot afford to get certified organic but are using sustainable growing techniques and we should support those farms if we want to sustain the quality of life in our own regions."
Perillo offered "10 Ways to Support a Sustainable Food System":
Choose foods that are grown and processed locally.
Buy from farmer's markets, co-ops, community supported agriculture, and encourage your market to carry local products.
Buy organic foods as much as possible.
Buy in bulk with the least packaging.
Purchased food that has been processed as little as possible.
Eat less meat and dairy, choosing grass-fed, organic or free-range items.
Buy products that have been fairly traded to guarantee farm workers and food handlers a living wage.
Grow your own and cook at home.
Spread the word with family and friends.
Eat seasonal and celebrate each season's bounties with delicious long anticipated meals.
About Kathleen Perillo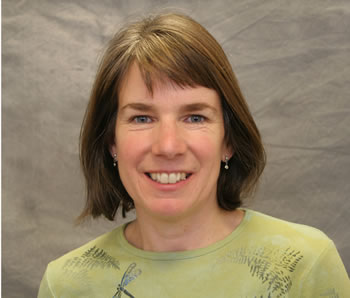 Kathleen Perillo joined the faculty of Clark College in fall 1999 as a tenure-track faculty member in the biology department. Perillo, who received tenure in 2002, teaches a variety of courses in biology and environmental science. Her areas of expertise include wildlife biology, environmental biology, general ecology and birds.
Kathleen Perillo has worked with the Washington Department of Fish and Wildlife, in support of western pond turtle recovery activities in the Columbia River Gorge. Perillo followed this state endangered species for several years (2000-2004) using radio-telemetry techniques to asses their habitat use and survivorship as they were reintroduced into the Columbia River Gorge.
Prior to coming to Clark College, Perillo spent 14 years in the field of environmental education. Working with students of all ages, in pre-kindergarten classes through mature learning, she taught at nature centers and environmental education centers in Delaware, Pennsylvania and Connecticut.
Kathleen Perillo is co-founder and president of the Center for Eco-dynamic Agriculture, a nonprofit organization dedicated to promoting biodiversity in agriculture. She promotes sustainability in her own life by, in her words, "living simply in a modest straw-bale house in the gorge with my dogs and cats." She also supports local markets, grows an organic garden each year and assists with all aspects of her partner's organic vineyard, where grapes are grown to produce small batch organic and sulfite free wines which are sold locally in the Columbia River Gorge and Vancouver/Portland areas.
Kathleen Perillo has a bachelor's degree in physical geography from the University of Delaware and a master's degree in environmental science from the University of New Haven.
In her free time, she enjoys hiking, traveling, gardening and wildlife watching.