At the college and in the community, Clark College is a leader.

At the college and in the community, Clark College is a leader.
China Express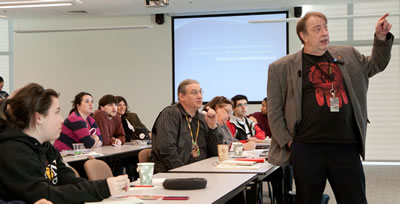 On Tuesday, February 8, Clark College economics professor James M. Craven/Omahkohkiaaiipooyii shared insights from his teaching experiences in China as part of Clark's 2010-2011 Faculty Speaker Series.
The event, which was free and open to the public, was titled "Bridging Cultural Ties and Understanding: International Education Within and from China." It was held in the Penguin Union Building.
Craven/Omahkohkiaaiipooyii is a consulting and visiting professor of economics at Tsinghua University in Beijing and the Chinese Academy of Social Sciences, where he serves on the editorial board of the journal "International Critical Thought." He was last in China in 2010. He had advice for anyone in the audience thinking of visiting China: "Before you go, steep yourself in some of the Chinese classics—the works of Lao Tzu, of Sun Tzu."
Craven/Omahkohkiaaiipooyii returned frequently to the central theme of his lecture, which was that Americans had at least as much to learn from China as the Chinese did from America. He pointed out that currently, 140,000 Chinese students are studying in the United States, while only about 14,000 American students are studying in China. "There's education that's possible here, but it has to go both ways," he said.
Watch Professor Craven's presentation.
Craven, a dual U.S. and Canadian citizen, is a veteran of the U.S. Army and a member of the Blackfoot Nation. His Blackfoot name is Omahkohkiaaiipooyii. For more than 30 years, he has taught economics, geography and ethnology from undergraduate to post-doctoral levels. He has taught in the United States, Europe, India, Puerto Rico, Canada and parts of Asia. In addition to English, he speaks six languages and is currently learning Mandarin Chinese. He has been featured in various Marquis "Who's Who" publications including "The World"; "America"; "The West"; "Science and Engineering"; "Finance and Industry"; and "American Education."
Meeting with members of the Government of China as well as leading Chinese educators, Craven/Omahkohkiaaiipooyii has participated in discussions related to international education, national minorities in China, and U.S.-China relations. Additionally, he has been a guest lecturer at Yunnan University in the province of Yunnan and at the Minzu University of China. Located in Beijing, Minzu University has been described as the most prestigious of China's 13 "minzu," or "nationalities" institutions, serving students from minority groups. Founded in 1911, Tsinghua University, China's second oldest and largest university, is considered by many to be the premier sciences university in the country. Its graduates include many members of China's current leadership.