At the college and in the community, Clark College is a leader.

At the college and in the community, Clark College is a leader.
Stories and Journeys:
The Class of 2010
Clark College hosts two celebrations of student success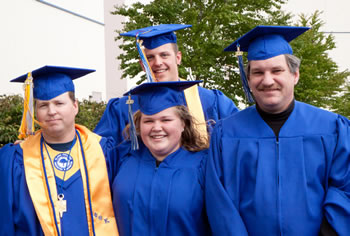 Proud 2010 graduates of Clark's Diesel Tech program
Some of their educational journeys took years; others happened more quickly. Some grew up in Southwest Washington. Others came from across the United States and around the world.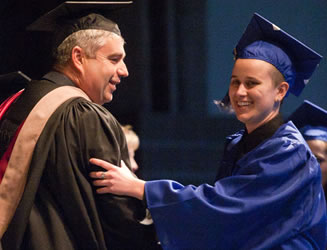 Clark College's 2010 commencement ceremony was the story of the personal journeys and achievements of more than 1,300 men and women who earned degrees and certificates at Clark College during the 2009-2010 academic year.
Approximately 465 graduates participated in the ceremony, which was held on June 17 at the Amphitheater at Clark County.
Clark College President Robert K. Knight said, "As I look out at our graduates, I see so many students with remarkable stories to tell." In introducing graduate Erik Burch, who sang the National Anthem, Knight noted that Burch had earned degrees at Clark in 2005 and 2008. Each time, he was deployed into military service in Iraq and was unable to participate in commencement. Knight said, "Erik told us that being present to graduate means a lot to him to, as he put it, 'finally take the next step.'"


Knight spoke about graduate Michael Logan, who came to America from Liberia after fleeing persecution and civil war. Logan, who is blind, earned his GED at Clark College in 2006. He continued his studies and received an associate degree in business administration during the 2010 commencement ceremony.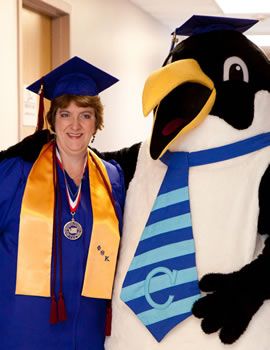 Graduate Carolyn Cox (seen in the photo on the right with Clark mascot Oswald), a member of the 2010 All-Washington Academic Team, told the audience about her struggles as a single parent.
She noted that this was her third attempt at attending Clark College and that "tenacity" was crucial in completing her education.
Cox, who earned an associate degree in applied science in business technology as a medical office specialist, shared a favorite quote: "Nobody can go back and start a new beginning, but anyone can start today and make a new ending."
Award-winning author Heidi W. Durrow was keynote speaker. Durrow is a graduate of Stanford, Columbia's Graduate School of Journalism and Yale Law School. She received writer Barbara Kingsolver's 2008 Bellwether Prize for Literature of Social Change for The Girl Who Fell From the Sky, her first novel.
Heidi Durrow, who overcame a childhood spent in what she has called a rough section of North Portland to become the first member of her family to graduate from a four-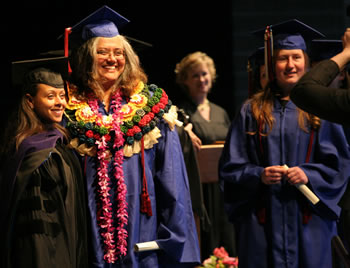 year college— and go on to get advanced degrees from both the
Columbia School of Journalism and Yale Law School, as well as write a best-selling novel based in part on her own experiences as a mixed-race child. "If you believe statistics indicate success, then I was destined to be a failure," she said. "Instead, I decided to be a story."
Durrow (far left in the photo on the left) invited thegraduates to consider their own life stories, and to ask themselves, "What would you do if you knew you could not fail?"

"Already you've defied the statistics, overcome the difficulties of juggling school work, a job and a family," she said. "But still you've found a way to get
done what you needed to do."
Exceptional Faculty & Exceptional Classified Staff Awards


During the ceremony, three faculty members were honored as recipients of the 2009-2010 Exceptional Faculty awards. The honors went to Nadine Fattaleh, professor of chemistry; Dr. Anita Fisher, professor of history, and Karen Swallow, instructor in Adult Basic Education.
May Jolly of the Clark College Bookstore and Jim Meek of Information Technology Systems were honored as recipients of the college's Exceptional Classified Staff awards.
Community College President's Award
Sheila Henrikson, who graduated with an Associate of Arts direct transfer degree, received the President's Scholarship Award. The scholarship is awarded to a Clark College graduate who is transferring to a WSU Vancouver degree program and who has leadership potential, is community service oriented, and who has a strong academic record. The scholarship award is in the amount of full-time tuition (10-18 credits) per year and is renewable for one additional year or a total of four semesters.
Henrikson, who resides in Vancouver, participated in many of the college's Service and Leadership in the Community events -- with programs as diverse as Clark County Habitat Restore and the Columbia Springs Environmental Education Center. Henrikson served as president of the Multicultural Student Union and treasurer of the Native American Indian Council. Her work is seen in the 2010 Phoenix–Clark's literary and arts magazine. She also earned the "Best Ceramics in Show" award in Clark's 2010 Art Student Annual.
In making the announcement, Knight noted that Henrikson had been cited for her "strong work ethic" -- and for being "a compassionate servant leader.who leads with enthusiasm and passion for the good of humanity."
In her application, Henrikson wrote, "My experience in higher education has illuminated my ability to make a difference in the lives of others. Continuing my education will give me the skills I need to succeed in my vision."
Clark's 2010 High School-GED Completion Recognition Ceremony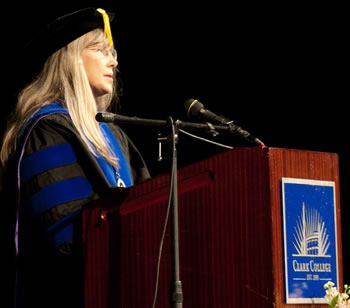 "Today you are all heroes, all with the ability to obtain your dreams." With those words, Dr. Hannah Abraham-Shea, Associate Director of Adult Basic Education (seen in the photo on the left), shared her personal journey with the nearly 70 students who took part in Clark's GED/High School Completion Recognition Ceremony on June 19.
The ceremony was held in Clark's O'Connell Sports Center gymnasium as family members and friends cheered from the bleachers.
A German immigrant who dropped out of school before reaching high school, Abraham-Shea described her own challenges in seeking an education. "I am often asked how I did it," she said. "It seems that the one thing that I did that made the difference was that I persevered. I showed up. No matter what, I showed up." After earning her GED, Abraham-Shea continued her education. Seventeen years later, she had earned a Ph.D.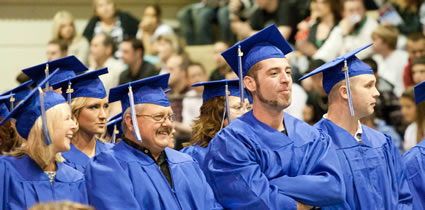 Left to right (starting second from the left): Pat Fencl Scholarship winner Dennis R. Boyd, plus student speakers Troy Brisby and Allen Darst
Clark graduates Allen Darst and Troy Brisby also shared their journeys and their dreams for the future. When Darst came to Clark College, he "had not been to a classroom in 10 years," he said. Darst, who earned his GED, is now taking classes with the goal of earning an associate degree in science then transferring to a four-year university to earn a bachelor's degree in environmental science.
Troy Brisby had dropped out of high school during his senior year to get a job. He eventually found himself homeless and living on the streets. "The staircase is long when you're standing at the bottom looking up," he said of that experience. But with support from family, he started attending classes toward his high school diploma – credits that could be applied toward an associate degree in science. Brisby plans to transfer to WSU Vancouver to earn a bachelor's degree in mechanical engineering.
"Being a student here has been an amazing experience for me," Brisby said. "I never dreamed that it would be this fun and fulfilling." He added, "Now that I'm focused on what's really important, working my way up, I can say that the top of the stairs is getting closer and the future is getting brighter."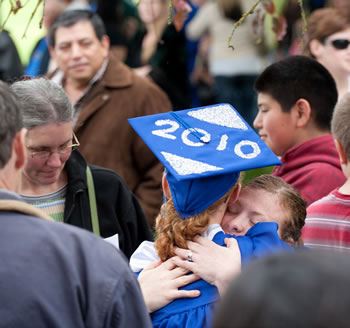 Associate Dean of Workforce Education, Basic Education, and Economic Development Dani Randolph presented the Pat Fencl Scholarship to graduate Dennis R. Boyd. The scholarship is awarded annually to a Clark student who has successfully passed their GED tests and plans to continue their education. It was established by Pat Fencl, a graduate of Clark who taught in Clark's adult basic education program. In May 2010, Pat Fencl and her husband Jim received the Presidential Award of Excellence for their ongoing support of Clark College.
Dennis Boyd left school at age 16, married and raised a family. He worked for the same company for 20 years until he was injured on the job. Randolph described Boyd as "seen by his fellow students as a leader and a mentor." She noted that he "often took it upon himself to set aside his work in order to help a struggling classmate both with course materials and issues of college life." Boyd is now pursuing an associate degree in business at Clark College.