CLARK'S 2007 GRADUATES
HEAR A RECIPE FOR SUCCESS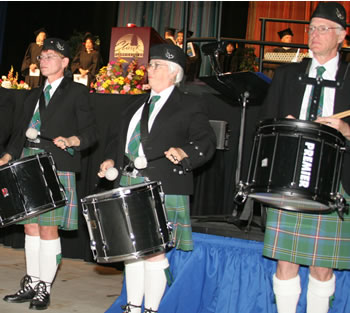 The Fort Vancouver Pipe Band led the way and keynote speaker Wally "Famous Amos" Amos set a joyful tone for Clark College's 2007 Commencement ceremony, held at the Clark County Amphitheatre on June 14.
Wearing a watermelon hat and humming pomp and circumstance on a kazoo, Amos charmed the crowd by sharing children's stories with important life lessons.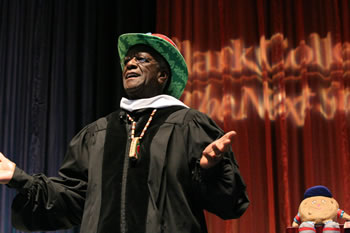 He also shared his own secret for success. "Whatever it is you do in life, it's important to be passionate," Amos said. "I love chocolate chip cookies. I am passionate about that."
During the 2006-2007 academic year:
1,124 Clark College students earned 1,282 degrees and certificates.
27 students graduated with highest honors for achieving a 3.9 grade point average while completing a two-year program.
116 students graduated with honors for achieving a 3.4 grade point average while completing a two-year degree program.
27 students earning a certificate in a professional/technical program graduated with merit for achieving a 3.4 grade point average while completing their programs.
59 Running Start students earned A.A. degrees at the end of Spring and Summer Quarters.
Almost half of the 59 graduates have cumulative GPAs at Clark above 3.4 ("with Honors").
One of the Running Start graduates, Natalya Borodkina, had a perfect 4.0 cumulative GPA at Clark.
Nearly 350 students took part in the commencement ceremony.

Highlights of the evening included the announcement of the 2007 Exceptional Faculty honorees.
English Professor Dr. Marylynne Diggs, Music and Vocal Instructor April Brookins Duvic and Communications Studies Professor Dave Kosloski stood to the cheers of the crowd. (Diggs, left, and Duvic are seen in the photo on the left.)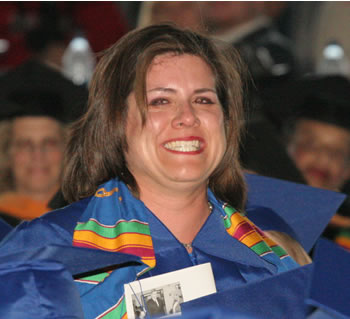 Student Carol Lopez-Gustin, who was honored in May with the Penguin Award for her outstanding contributions to the college, had tears in her eyes as she heard President Bob Knight announce her name as the winner of the 2007-2008 Presidential Scholarship Award. Lopez-Gustin will receive a two-year, full-time tuition waiver to attend Washington State University Vancouver.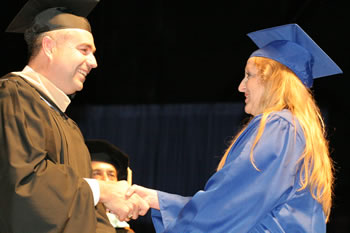 In addressing the graduates, President Knight quoted General of the Army George C. Marshall, who was the only military person to receive the Nobel Peace Prize and was commander of the Vancouver Barracks from 1936 to 1938. Knight said, "There is no limit to the good you can do if you don't care who gets the credit." Knight called them "words to live by...words to lead by."
Knight also reminded the graduates that they are now Clark's newest alumni. As he told them: "Once a member of the Penguin Nation, always a member of the Penguin Nation."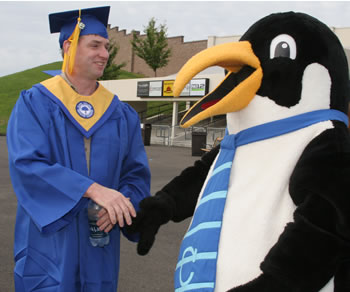 Clark-Vancouver Television (CVTV) covered the event and is airing its commencement coverage during June. A professional photographer took pictures of each student receiving their diploma. You can view these photographs at www.gradphoto.com. You can use CLARKCOL as the password.
We hope you enjoy these additional images from our 2007 Commencement scrapbook.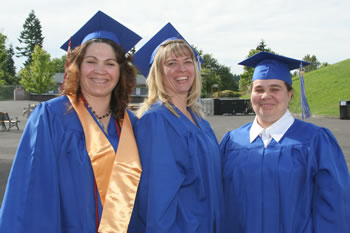 Smiles from members of the Clark College class of 2007!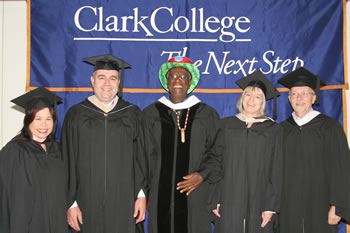 Left to right: Board of Trustees Chair Rhona Sen Hoss, Clark College President Bob Knight, Keynote speaker Wally "Famous Amos" Amos, Board of Trustees Vice Chair Addison Jacobs, Trustee John White.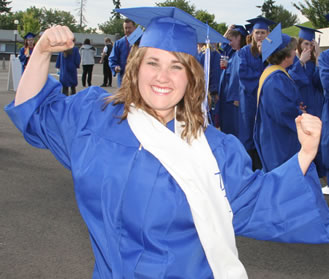 Flexing the power of the Penguin Nation!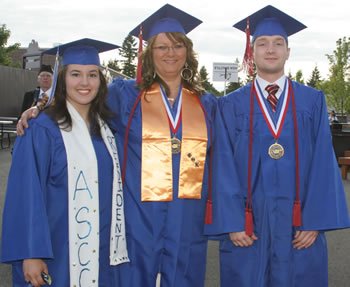 Left to right: ASCC President Amanda Mayoral, 2007 All-Washington Academic Team Member Sue Corey, 2007 All-Washington Academic team member Max Holloway.
Wally Amos and President Bob Knight share a light moment during the 2007 commencement ceremony.