2008-2009 Clark College Exceptional Classified Staff Award Honorees

2008-2009 Clark College Exceptional Classified Staff
Award Honorees
Cindy Heck, Planning and Advancement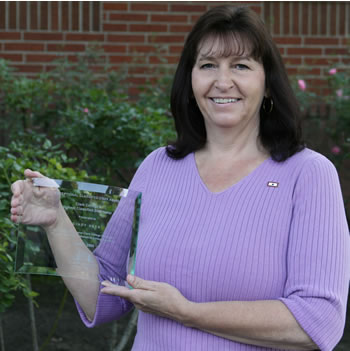 In the book, Good to Great, author Jim Collins describes level five leaders as those who put the well-being of others before their own personal needs. Working quietly and without calling attention to herself, administrative assistant Cindy Heck is a leader – a superb team player not only within the Planning and Advancement unit, but working with Communications and Marketing, the President's Office, as well as all other units at the college.
Cindy Heck has been at Clark for more than 10 years and has served as the primary support staff person during the three years of preparation for Clark's 2008 accreditation. In addition, Heck co-chaired the college's 2006 Combined Fund Drive.
She has also assisted with the college-wide Backpack Project, collecting backpacks full of school supplies for children of students in Clark's Displaced Homemakers program, who have children enrolled at Child and Family Studies, or are work study students. Cindy locates local school supply lists for elementary, middle and high school students and links interested staff with a child in need. During the five years that the program has been in existence, 210 backpacks full of school supplies have been provided to children of students at Clark College.
Cindy Heck is described by colleagues as "deeply committed to Clark College and [someone who] has provided continuity and institutional history to the many projects she has supported." Her nominators wrote, "Cindy is always understated and makes her contributions quietly and efficiently with a ready smile and warm, positive attitude."
They added, "In the year in which the college will host what we know will be a successful accreditation visit and a memorable diamond jubilee, it would be deeply fitting to honor someone who has played such a key role in making both celebrations possible and charting the path for success for our next 75 years."
Mirranda Saari, Assessment Center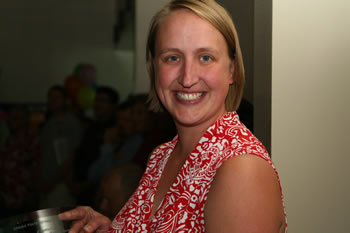 Committed to student success. That's how her colleagues describe Mirranda Saari, program manager in the Clark College Assessment Center. Under Saari's leadership, the Assessment Center has become an example in best practices for the state's GED testing site.
In addition, Saari has successfully transitioned placement testing services from ASSET to COMPASS, the Second Language English Proficiency test to the English as a Second Language exam, and successfully implemented early assessment placement testing at off-site locations, particularly high schools.
With professionalism and humor, Mirranda Saari has enhanced the Assessment Center's information on the college Web site and launched an innovative on-line testing appointment system for Running Start students from 26 area high schools. This new system allowed 1,216 high school students to register for testing from their home computers or their high schools
As a leader for the College Is Possible (CIP) youth development program, Saari created and implemented a CIP group at Harney Elementary School. This group, consisting of 65 fifth graders, participated in a four-part series on the college experience. They learned about applying for financial aid, admissions, registration, attendance and even had a completion ceremony. Her innovative CIP series is expected to become the standard for school-based CIP programs.
Mirranda Saari also volunteered to co-chair the college's 2007 Combined Fund Drive. She serves on the college's Facilities Master Plan Committee and was a member of the 2007-2008 Clark College Leadership Academy Cohort.
Her nominators wrote: "Staff and students can count on her to listen to their concerns and to follow through with solutions and ways to improve the testing center, to improve the information that goes out to advisors so that they can better advise our students, and to create a workplace that feels positive and caring. She is certainly a great role model for all of us."