Student Information KIOSKS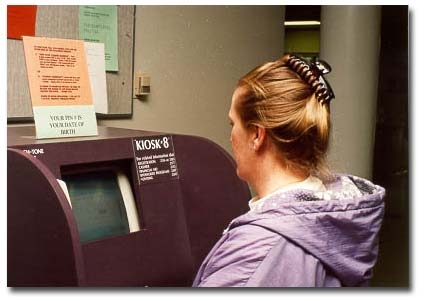 You may access a variety of information at any of the KIOSKS located on campus.

Student KIOSKS are provided at the following locations:
Applied Arts/AA-5 ?Upper Level
Bauer Hall ? Main Floor
Gaiser Hall ? Student Center
Hanna Hall ? West Corridor
Penguin Student Union ? Welcome Center
Scarpelli Hall ? Student Quiet Area

Columbia Tech Center

? First Level, Student Services
Campus KIOSKS provide these services:
Class Schedule Information
Student Schedule
Unofficial Transcript
Financial Aid Information
Change Student PIN
Registration via Web
Schedule Planner

DegreeWorks
Hope Tax Credit Information
Change of Address
Bookstore
Registration Appointment
Pay by Credit Card

You may also access KIOSK information on the web through On-Line Services.