Related Links
Veterans Center of Excellence
Clark College is honored to serve US military service members.
Your self-sacrifice and that of your family members allows our great country to remain the home of the free and the land of the brave. Thank you for serving the USA!
The Clark College Veterans Center of Excellence coordinates comprehensive support services for veteran students. These support services address academic, financial, physical and social needs for student veterans and include Math, Science and English tutors; textbook and calculator loans; textbook purchase; quiet study space; computer lab with printers; practical workshops; break area with comfortable furniture, piano, air hockey table, and TV screen; and more.
Contact us today to learn about the benefits available to you.
Step on the pathway to success
The Clark Veterans Center of Excellence is here to help you be successful. We offer
Employees and VA work study students to help you with your educational journey
Textbook and calculator lending program
Snacks, coffee
Activities to help you connect with other veteran students at Clark
Tutoring for Math, Science, and English
Workshops to help you transition into civilian life
Academic Workshops to help you excel in academics
Computers and printers
Big screen TV
Study area
FUN and networking with other veterans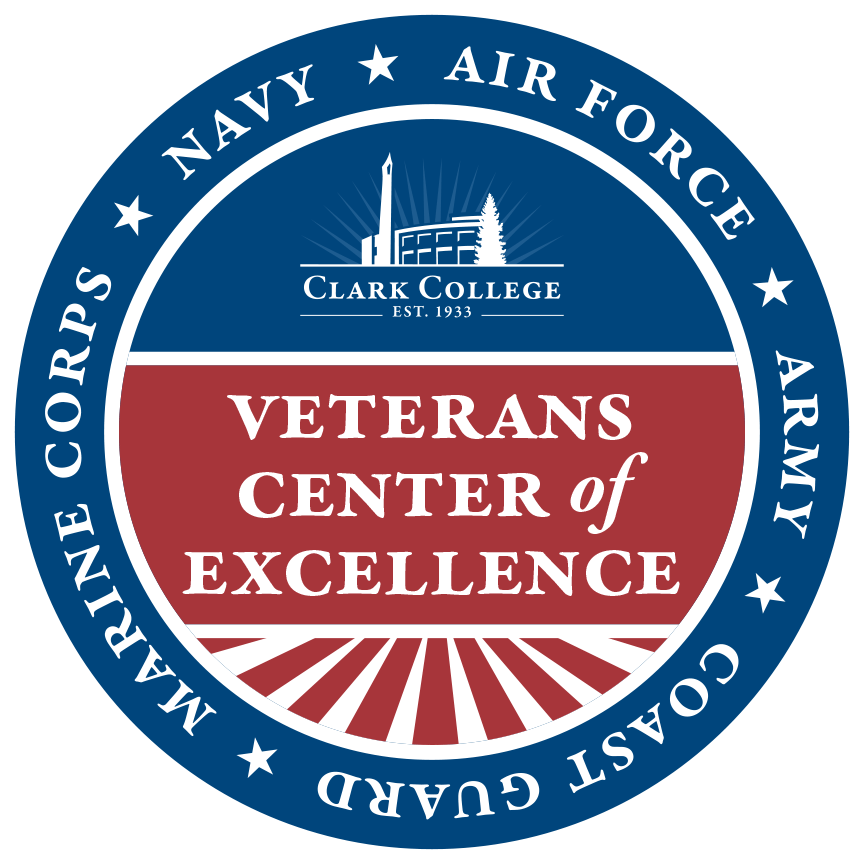 Connect with Us
We are currently serving students in-person and by appointment (virtual and in-person options).
Visit the Center of Excellence
PUB 015
Monday - Wednesday: 8 a.m. - 4 p.m.
Thursday - Friday: by appointment only
Email VCOE
Meet the Team
The Veteran's Center of Excellence (VCOE) staff is here to help you be successful so you can focus on obtaining your degree.
Clark College Veterans COE Staff
Schedule an Appointment
Meet with an Academic advisor to discuss long term plans.
Ask VCOE staff questions regarding VA benefits, options, concerns, and supports to aid in your success.
Schedule an Appointment
VCOE Benefits
Textbooks and Supplies
Veteran Student Lending Library
Priority given to veteran students at the Clark library can help provide textbooks for your classses.
Support for Disabilities
The Clark College Disability Support Services (DSS) office is committed to assuring that its services, programs, and activities are accessible to individuals with disabilities.
Learn more about support for disabilities
Dental Program for Student Veterans
The American Legion Post 176, Bank of America, and the Cowlitz Tribe have graciously donated money to assist our student veterans with oral care. We partner with the Clark College Dental Hygiene program to provide cleanings and fillings for qualified veteran students.
Contact or stop by the Veterans Resource Center to find out if you qualify.
Tutoring for Veterans
The Veterans Resource Center has designated tutors available to help you with your studies in PUB 015.
View Tutoring Schedule
Our vision:
Make Clark College the first choice for veterans and military-affiliated students
Our mission:
Engaging, supporting, and empowering military-affiliated students to reach their educational goals and prepare them for success