Become a Penguin
Apply to Clark
What Type of Student are You?
We are excited that you are thinking about enrolling at Clark College. The enrollment process does vary, depending on what educational experience you have. Discover what kind of student you are and find out the first steps of your educational path.
Getting Started at Clark College
Explore below to get ready to start your academic journey at Clark College..
Get Started at Clark
Want to learn more about Clark, our education paths, more about the campus, and anything else you may need before you apply? Explore the content below to learn more before applying.
Tuition Financial Aid & More
We understand that paying for a college education is a big investment and are committed to keeping tuition low and academic quality high. Learn more about FAFSA, WAFSA and other options below.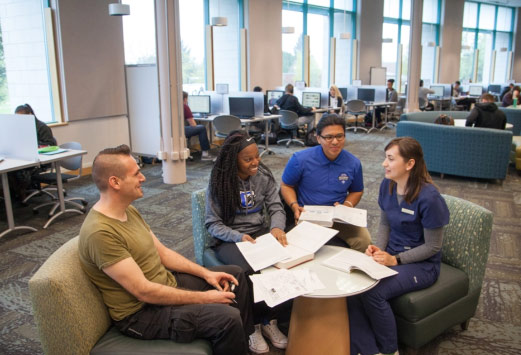 Welcome Center
Connect with our team of helpful Enrollment Navigators and Student Ambassadors. We're here to help you with your questions, admission requirements, highlight resources, and support you through the enrollment process. Our team can take you on a virtual or in-person tour, as well as meet you in a virtual zoom room or in a one-on-one appointment.
Diversity Center
If you're looking for a welcoming and safe space, visit our Diversity Center which offers recurring meet-ups and special events to supports our students across the campus. Meet folxs, attend workshops and luncheons, and have fun at the Diversity Center.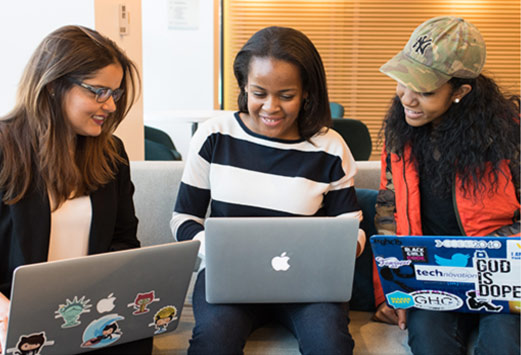 Connect With our Team
Take a tour or attend an info session
The Welcome Center team can book your virtual or in-person tour of Clark College.
Visit the Welcome Center
Safe Spaces, Designed for You
Have you found your community yet? Get connected with the help of our Diversity Center and learn about clubs and networks that you can tap into.
Visit the Diversity Center
Diversity Center Events and Meet-ups
Join a monthly brown bag luncheon, meet-up, or attend a specialty event like the Lavender Graduation (LGBTQIA2S+) or the Students of Color Conference.
Visit the Diversity Center
What Degrees do we Offer?
Interested in a certain degree, and want to know what you need to do what's the journey look like and what classes you will need to prepare. Look at or program maps to help guide your decision in getting your degree.
Bachelor Degrees
BAS | Bachelor in Applied Science
Clark College's BAS degrees are designed to stack on top of an existing associate degree, allowing students to build on their existing education and quickly gain valuable skills that will advance their careers. With the exception of the BAS in Dental Hygiene, students enter BAS programs as juniors and are able to earn their bachelor's degree in two years or less.
Associate Degrees
AA | Associates of Arts
Clark College students can pursue this two-year degree across six areas of study and have the option of focusing studies on specific concentrations or emphasis areas. Most Associates in Arts degrees are AA / Direct Transfer Agreement (DTA) degrees.
AA / DTA | Associates of Arts / Direction Transfer Agreement
The standard Associate in Arts degree is also known as a Direct Transfer Agreement (DTA) Associate degree. The AA-DTA is a statewide agreement between the Washington State community and technical colleges and Washington State public universities, as well as some private colleges and universities. The agreement outlines transferability of coursework and standing; in most cases students who have completed an AA-DTA will also have satisfied general education requirements at the baccalaureate institution and will have junior standing. Students should review their baccalaureate institution to see if they are part of the DTA in Washington State.
AFA | Associates in Fine Arts
Clark College offers two Associates in Fine Arts degrees: AFA in Graphic Design and AFA in Studio Arts.
AST | Associate of Science Transfer
The transfer preparation degrees are designed for students planning to transfer to a college or university to pursue a bachelor's degree program in science and/or engineering. The degree programs focus on coursework specific to the intended major area of study. While coursework in general education, humanities, and Social Sciences is included, additional coursework in these areas will be required.
AAT | Associates of Applied Technology
Students must complete the courses listed in their career plan, plus electives as needed to meet the ninety (90) credit requirement. All Associate in Applied Technology degree programs require at least seventy-five (75) credits of major-related requirements.
AAS | Associates of Applied Science
Students must complete the courses listed in their career plan, plus electives as needed to meet the ninety (90) credit requirement. Most occupational programs require more than fifty-nine (59) credits of specific requirements.
Certificates
CP | Certificate of Proficiency
Completion of a minimum of forty-five (45) credits of specialized occupational training, including general education requirements and require a minimum GPA of 2.00.
CA | Certificate of Achievement
The Certificate of Achievement is designed for students who wish to receive specialized occupational training for a specialized career objective requiring less than forty-five (45) credits, but more than twenty (20) credits.
CC | Certificate of Completion
The Certificate of Completion is designed for students who wish to gain entry-level skills or for those who wish to upgrade their skills in a short period of time. Certificates of Completion typically consist of three to four courses, requiring twenty (20) or fewer credits.
High School Completion
High School Diploma or GED
Students can work on their foundational skills—reading, writing, math, technology, and English language through Career and Academic Preparation (CAP) classes via Transitional Studies to earn their High School Diploma or GED.
Student Life & Communities
Build Communities
Connect with people who share your passions and interests at Clark College.
Have Fun
From live performances to sports events, and from insightful lectures to cultural celebrations, there's always an event going on where you can explore your interests.
Make Connections
Find your flock at Clark College at events, in clubs, at student resource centers, or in your classrooms.
Career Planning
Students can either become employed at Clark College or work on their employment related skills and awareness with Career Services via MyPlan which helps students explore their career, financial, and academic plan for the future.
Be Healthy
Taking care of your physical and mental health will make it easier to succeed as a student. Explore the many ways we have for you to stay active and get care.
Stay Fed
Face it—nobody studies well on an empty stomach! No matter your tastes or diet, Clark College has options for keeping you fueled up.