Scholarships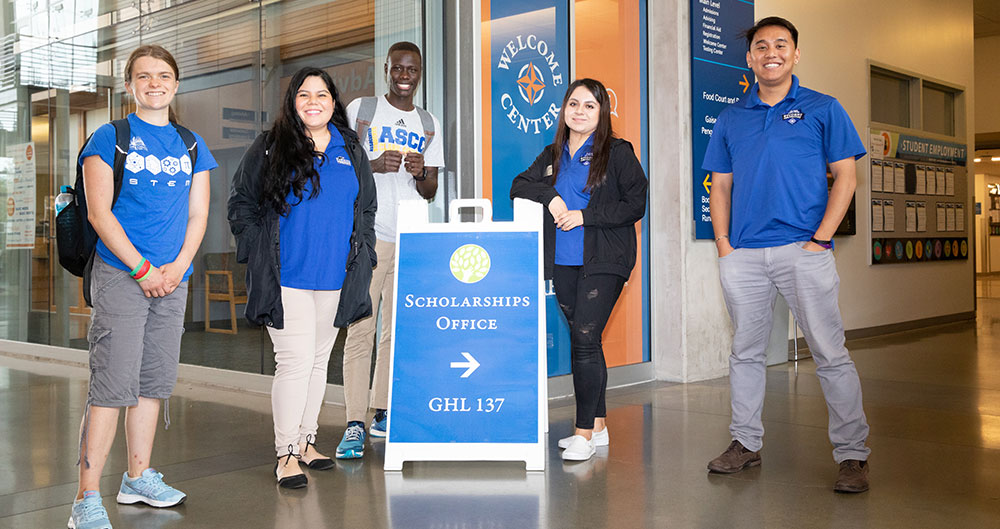 Funding for scholarships comes from local high schools, small businesses, corporations, foundations, local, civic and community organizations and individuals and families. Each year, Clark College Foundation distributes more than $1 million in scholarships, awards and other financial support, like emergency grants, to hundreds of students.
The scholarship application process is separate from the application for federal and state financial aid. Deadlines for scholarship applications are generally in late winter or early spring for the following school year.
Most scholarships are disbursed through the Financial Aid Office and eligibility varies according to the criteria established by the donor. For more information regarding scholarships, please come to the Financial Aid Office and ask for the Scholarship and Outreach Coordinator.

Learn about scholarship opportunities by going to theWashBoard.org. This is a free scholarship clearinghouse for Washington students seeking college scholarships.
Information on College Bound Scholarships can be found online, or you can call 360-992-2584 with any questions.

September 30
October 8
October 15
AmericanMuscle Student Scholarship
October 31
November 1
Drug Lawsuit Source College Scholarship
November 30
Bruce K. Lee Scholarship
Aleut Foundation Educational Scholarships
December 1
PCB Solutions Ai Engstrom National Scholarship
December 5
Rosenfeld Injury Lawyers' Single Mother Scholarship
December 15
SunTec Auto Glass Yearly Scholarship Award
December 22
Inoxoft Software Engineering Scholarship
December 25
Arnold Palmer Memorial Scholarship
View all Donor scholarships
The Hispanic Health Professional Student Scholarship
Application Deadline: September 23, 2022, 11:59 PM Eastern Time
In 2004, NHHF established the Hispanic Health Professional Student Scholarship program for medical, nursing, dental, pharmacy, public health, and health policy students with outstanding academic records, leadership, and who are committed to serving Hispanics. This year, the scholarship will feature an award of up to $5,000 annually for 3 years, as well as individual scholarship awards of $2,000 each. For more information, please visit the website listed above.
Kids Chance of Washington
Application Deadline: November 1, 2022
Kids' Chance know the future can look frightening to those whose parent or spouse has been seriously or fatally injured at work. Entire families must adjust to the many impacts and changes from these accidents. We may be able to help with the additional challenge of funding the education and career goals of the family members.
Office hours:
In Person: Mon-Thurs: 9 a.m. – 5 p.m.
By Phone: Mon-Thurs: 9 a.m. – 5 p.m.
Friday: closed
Email: finaidschol@clark.edu