Scholarships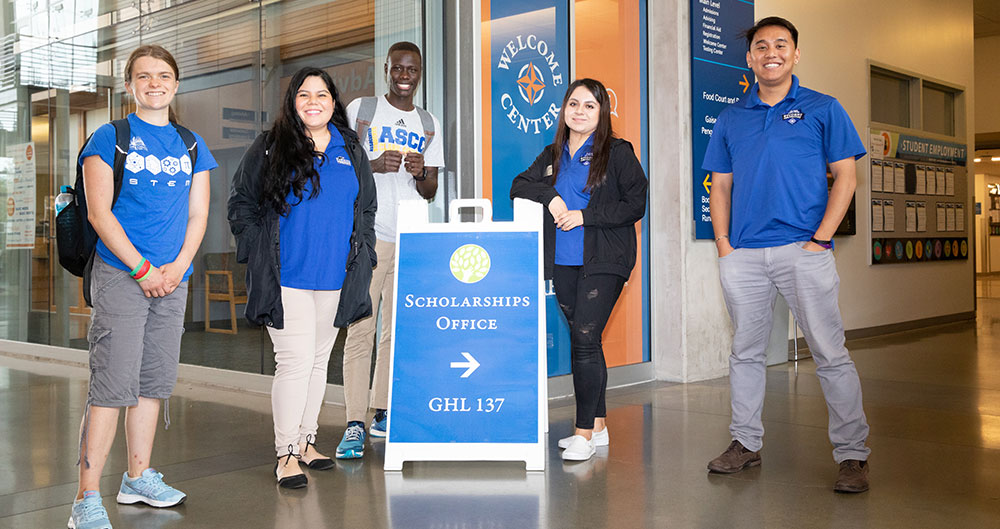 Funding for scholarships comes from local high schools, small businesses, corporations, foundations, local, civic and community organizations and individuals and families. Each year, Clark College Foundation distributes more than $1 million in scholarships, awards and other financial support, like emergency grants, to hundreds of students.
The scholarship application process is separate from the application for federal and state financial aid. Deadlines for scholarship applications are generally in late winter or early spring for the following school year.
Most scholarships are disbursed through the Financial Aid Office and eligibility varies according to the criteria established by the donor. For more information regarding scholarships, please come to the Financial Aid Office and ask for the Scholarship and Outreach Coordinator.

Learn about scholarship opportunities by going to theWashBoard.org. This is a free scholarship clearinghouse for Washington students seeking college scholarships.
Information on College Bound Scholarships can be found online, or you can call 360-992-2584 with any questions.

September 29
October 1
October 15
CJ Pony Parts Scholarship Video Contest
AmericanMuscle Student Scholarship
October 31
ABODO I Heart My School Scholarship
November 15
Business Plan Scholarship for Students with Disabilities
November 30
Aleut Foundation Educational Scholarships
December 1
Barbara Lotze Scholarships for Future Teachers
American Society of Heating, Refrigerating, and Air-Conditioning Engineers (ASHRAE)
CIRI Foundation
December 5
Rosenfeld Injury Lawyers' Single Mother Scholarship
View all Donor scholarships
AmericanMuscle Student Scholarship
Deadline: October 15, 2021
AmericanMuscle is offering 2 currently enrolled students or high school seniors who are pursuing post-secondary education in an automotive themed major. This opportunity awards $2,500 in tuition assistance towards their upcoming semester! The scholarship is ongoing and will be available for both the spring and fall semesters each year.
Washington State Opportunity Scholarship (WSOS)
Winter Term Application Opens: September 21, 2021
Winter Term Application Deadline: October 24, 2021
Spring Term Application Opens: January 5, 2022
Spring Term Application Deadline: February 6, 2022
Washington has one of the fastest growing state economies with more trade, health care and STEM jobs than we can fill. The Washington State Opportunity Scholarship connects our state's leading industries with top Washington talent by reducing barriers to education and training and facilitating entry into high-demand careers for Washington students. Our First-of-its kind public-private partnerships builds pathways into high-demand careers through our Baccalaureate and Career and technical scholarship programs. Flexible financial aid funding, coupled with student support services and industry connections helps us launch low- and middle-income Washington students into Washington jobs.
Rosenfeld Injury Lawyers' Single Mother Scholarship
Deadline: December 5, 2021
Rosenfeld Injury Lawyers believes in the empowerment of single mothers through education. Education has the power to open doors for single mothers and even their children. Having a degree or certification can enable a woman to expand her lifetime earning potential, increase her gross income, and provide her with better job opportunities.
Touchmark Foundation
Deadline: December 31, 2021
The Touchmark Foundation awards scholarships to support students pursuing degrees in nursing. In addition, the Foundation is supporting a special effort to increase the number of nurses available to teach tomorrow's nurses. By helping to develop new nursing teachers, the number of nurses can be increased at a faster rate, and investments in nursing are leveraged for many years.
Office hours:
Monday through Thursday: 8 a.m. – 5 p.m.
Friday: 8 a.m. – 1:00 p.m.