Student Government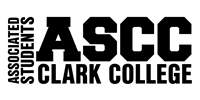 The Associated Students of Clark College (ASCC) Student Government advocates and represents the students of Clark College by serving as the liaison between students and faculty, staff, administration, and the community. By involving students at the college they seek to enhance the community through leadership, respect for difference, engagement and service.
The ASCC Student Government is recognized by the Board of Trustees as the sole representative body of Clark College students. It is the responsibility of the ASCC Student Government to:
Provide representation of student interest, needs and well-being within the college community;
Provide opportunities for individual leadership development and for group participation;
Initiate and coordinate student activities;
Foster cooperative relationships among the students, faculty, staff, administration, and community;
Affirm and support the Clark College Mission, Vision, and Values statement
2023-2024 ASCC Student Government
ASCC President

Emma Sturm

ASCC Vice President

Elizabeth Swift

ASCC Club Coordinator

Alan Dunn

ASCC Finance Director

David Mirenta

ASCC Executive Assistant

ASCC Civics & Sustainability Director

ASCC Student Relations & Promotions Coordinator

Nushi Alam
What does each position entail?
ASCC Student Government Job Descriptions
ASCC Student Government Leader Requirements
Minimum Qualifications
Currently enrolled in eight (8) credits or more at Clark College;
Possess and maintain a 2.50 cumulative grade point average at Clark College;
Compensation
$15.94 per hour

with potential for cost of living increases.

Able to work 10 hours per week;

participating in required meetings and trainings
Applications Process
You will need:
Completed ASCC Student Government Application
A typed cover letter/ qualification statement no less than 250 words and no longer than 500 words
Resume
For more information, contact:
Director of Student Life, Sarah Gruhler at sgruhler@clark.edu
If you need accommodation due to a disability in order to fully participate in these events contact Clark College's Disability Support Services Office at (360) 992-2314 or (360) 991-0901 VP, or visit Penguin Union Building room 013, ASAP