Student Government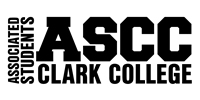 The Associated Students of Clark College (ASCC) advocate and represent the students of Clark College by serving as the liaison between students and faculty, staff, administration, and the community. By involving students at the college they seek to enhance the community through leadership, respect for difference, engagement and service.
The ASCC Executive Council is recognized by the Board of Trustees as the sole representative body of Clark College students. It is the responsibility of the ASCC Executive Council to:
Provide representation of student interest, needs and well-being within the college community;
Provide opportunities for individual leadership development and for group participation;
Initiate and coordinate student activities;
Foster cooperative relationships among the students, faculty, staff, administration, and community;
Affirm and support the Clark College Mission, Vision, and Values statement

Application Form
ASCC President - Grace Moe

360-992-2353 x3353
asccpt@clark.edu

Hello! My name is Grace Moe and I am the ASCC President for the 2017-2018 school year. I am very excited to serve students with my ASCC team, and look forward to an amazing year! If you see me around campus, I encourage you to say hello and introduce yourself. I am always eager to meet new people! In my position, I serve students and work to make Clark College a comfortable space for all. Outside of my position, I am working on my AA business transfer at Clark College and plan to graduate in the spring of 2018. Hobbies that I enjoy include skiing, reading, hiking, listening to music, and playing my violin. Feel free to reach out to me about any questions or concerns that you have!

ASCC Vice President - Ndeye Astou CISSE

360-992-2353 x3640
asccvp@clark.edu

Hello, my name is Ndeye Astou Cisse; I am the 2017-2018 ASCC Vice President. I am currently working on my AA in Chemical Engineering and planning to transfer in order to complete my bachelor in Petroleum Engineering. My goal for this year is to get more students involved in committees on campus and know more about their resources. Ask me more about leadership opportunities on campus!

ASCC Club Coordinator - Jordan Hamilton

360-992-2353 x3169
ascccc@clark.edu

Hi everyone! My name is Jordan Hamilton, and I am the club coordinator for the 2017-2018 year. I am a second year running start student and a senior at Columbia River High School. I am currently pursuing a major in biology and planning to transfer to a four-year university to go into pre-med. As the club coordinator, I am the main source for clubs. If you are interested in creating a club, wanting to join one, or having an event for a club, I can help. In my free time, I like to relax, watch Netflix, and spend time with my friends and family. Thank you and I hope everyone has a great year!

ASCC Student Relations & Promotions Coordinator - Bryce Van Patten

360-992-2353 x3133
asccpr@clark.edu

Hello! My name is Bryce Van Patten; I am the ASCC Student Relations & Promotions Coordinator for the 2017-2018 school year. This is my second year at Clark College, and I am studying for the AFA in Graphic Design. It is exciting to be involved in student government, and I am looking forward to helping students to promote their events. If you have any ideas or questions, you are more than welcome to stop by student life and ask me about it, or to contact me by email.

ASCC Finance Director - Ken Teoh

360-992-2353 x3139
asccfd@clark.edu

Nice to meet you all, I am Ken T. Teoh the new Finance Director in ASCC. This is my third year at Clark College and my major is in Business Administration - Accounting. My plan is to continue my education at a four-year university. For me, this is a great time to communicate and reach out to students on our campus. As ASCC Finance Director, I will work to use the money to provide more opportunities to our campus. With your help and support, we will make a great and pleasant year for the campus and a fun time for the students. Feel free to contact me when if you have any questions.

ASCC Executive Assistant - Ryan Hall

360-992-2353 x3354
asccex@clark.edu

Hello! I am Ryan Hall and I am the Executive Assistant for the 2017-2018 school year. I am currently working on my AA general transfer degree here at Clark College, but I plan to transfer and pursue chemical engineering. As Executive Assistant, I will be maintaining records and making sure that information is exchanged and kept properly. My hobbies are reading, spending time with my family, and playing the cello.

ASCC Activities Director - Lydia Straub

360-992-2353 x3132
asccad@clark.edu

Hello! As the ASCC Activities Director, I coordinate volunteers, create events with an emphasis on civic engagement, and connect students to ASCC. During my time outside of work, I enjoy creating new ideas and concepts through painting, sketching and creative writing. I am artistically minded, which plays a great role in the way I lead and plan activities. I'm graduating in the spring of 2018 with my AA Transfer Degree with a special interest in Art. If you ever have any questions or ideas, feel free to stop by my office in Student Life. I look forward to meeting and representing you.
Student Government Minimum Qualifications:
Enrolled in eight (8) credits or more at Clark College
Possess a 2.50 cumulative grade point average at Clark College
Have completed a minimum of twelve (12) college level credits at Clark College
Compensation:
Paid $12.00 per hour
Must be able to work 12-15 hours per week during regular business hours (Mon-Thurs 8 a.m. - 5 p.m.; Fri 8 a.m. - 1 p.m.)
Applications Process:
You will need:
A typed qualification statement no less than 250 words and no longer than 500 words
A Job Application Form including 2-3 professional references
A petition for candidacy with 50 signatures from currently enrolled Clark College students
A Career Center approved resume
Proof of attendance at required meetings
An unofficial copy of your Clark College transcript. The transcript must include all quarters completed prior to the application deadline.
For more information, contact:
ASCC: ASCC Vice President - asccvp@clark.edu / (360) 992-2353 x3640.