Student Government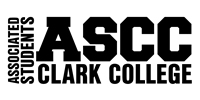 The Associated Students of Clark College (ASCC) Student Government advocates and represents the students of Clark College by serving as the liaison between students and faculty, staff, administration, and the community. By involving students at the college they seek to enhance the community through leadership, respect for difference, engagement and service.
The ASCC Student Government is recognized by the Board of Trustees as the sole representative body of Clark College students. It is the responsibility of the ASCC Student Government to:
Provide representation of student interest, needs and well-being within the college community;
Provide opportunities for individual leadership development and for group participation;
Initiate and coordinate student activities;
Foster cooperative relationships among the students, faculty, staff, administration, and community;
Affirm and support the Clark College Mission, Vision, and Values statement

ASCC Student Government
ASCC President - Bryce Regian

360-992-2353 x3353
asccpt@clark.edu

Hey everyone! My name is Bryce Regian and I'm the ASCC President for the 2018-2019 school year. My team and I are very excited to serve the students of Clark College and I'm looking forward to an awesome year. As the President of student government, I'm here to serve you the students and to help make Clark an inclusive place for all. This is my second year here at Clark and I'm working on completing my AA general transfer degree. I plan to major in Political Science after transferring to a four-year university. A few things that I enjoy are camping, exercise, non-fiction books, and playing the saxophone and various percussive instruments. Please feel free to contact me with any questions or concerns you might have.

ASCC Vice President - Meika Ahn

360-992-2353 x3640
asccvp@clark.edu

Hello my fellow Clark students! My name is Meika and I am your 2018-2019 ASCC Vice President. This is my fourth year at Clark College. In my first two years, I finished pre-nursing and decided to change my major to AA Biology. I will be graduating in spring of 2019 and plan to transfer to a four-year university. My dream is to become a neurosurgeon. As the ASCC Vice President, I will be recruiting, interviewing, and working with the committee members. If you have any questions, please come to the Student Life office and let's meet up!

ASCC Club Coordinator - Randi Richards

360-992-2353 x3169
ascccc@clark.edu

Biography: Hello! My name is Randi Richards, and I am serving as ASCC Club Coordinator for the 2018-2019 year. I just graduated from Ridgefield High School in June 2018, and will be graduating at Clark in 2019 with my AA-General Transfer Degree and my AA-Biology. My goal is to become a biology professor! As Club Coordinator, I am here to answer all your questions about creating, joining, and maintaining clubs. Don't be afraid to ask me about anything! My goal this year is to help make YOUR time at Clark as enjoyable as possible, so if you see me around campus don't be afraid to say hi!

ASCC Promotions Coordinator - Ndeye Astou Cisse

360-992-2353 x3133
asccpr@clark.edu

Hello, my name is Ndeye Astou Cisse, I am the 2018-2019 ASCC Promotions Coordinator. I am currently working on my AA in Chemical Engineering and planning to transfer in order to complete my bachelor degree in Petroleum Engineering. My goal this year is to get more students involved on campus and promote College resources. Please feel free to ask me more about resources and involvement opportunities on campus!

ASCC Finance Director - Shalana Marshall

360-992-2353 x3139
asccfd@clark.edu

Hello everyone! My name is Shalana Marshall and I am the ASCC Finance Director for the 2018-2019 school year. If you are looking at my picture and thinking you've seen me working somewhere else the last two years, you are correct, I was one of two Transitions Peer Mentors for both of those years. I am excited to work with our new team and feel that we will be a great commodity for the students. I am earning my AAS in Business Administration with two Certificates of Proficiency as well. This year is my last year here at Clark College and I am set to graduate this spring. If I could give one morsel of advice it would be, don't be afraid to start something new and always reach for the stars! Please feel free to contact me if you have any financial questions or if you see me around campus fell free to ask me questions about events.

ASCC Executive Assistant - Alyssa Dolan

360-992-2353 x3354
asccex@clark.edu

Hello, my name is Alyssa Dolan and I am the Executive Assistant for the 2018-2019 school year. Being a running start student from Union High-School, I am working on graduating with both a high-school diploma and the AA general transfer degree at Clark College. I plan to transfer and pursue psychology. As the Executive Assistant, I will be organizing records and making sure information is filed and exchanged properly. My hobbies are reading, writing, and drawing. Please feel free to come by the Student Life Office located in Penguin Union Building 160!

ASCC Activities Director - Kailee Hibbs

360-992-2353 x3132
asccad@clark.edu

Hello Penguin Nation! My name is Kailee Hibbs and I am your ASCC Activities Director for the 2018-2019 school year. As Activities Director you will see me working hard at my desk in the Student Life office in PUB 160, registering voters around campus, and inviting students to participate in our quarterly food drives, plus so much more around the college. I am so looking forward to serving the students of Clark this year to the best of my abilities. This is my second year at Clark, my first being out of the Running Start Program. I plan to graduate with my AA general transfer degree with an academic concentration in International Studies this spring, then transfer to a four-year university to study Sociology. Some of the things I enjoy are hiking and backpacking, reading, dancing like no one is watching, and going on long road trips with friends. There are so many opportunities to get involved. I implore you to contact me and the other members of student government to get connected and ask any questions you may have.
Student Government Minimum Qualifications:
Enrolled in eight (8) credits or more at Clark College
Possess a 2.50 cumulative grade point average at Clark College
Have completed a minimum of twelve (12) college level credits at Clark College
Compensation:
Paid $12.24 per hour
Must be able to work 12-15 hours per week during regular business hours (Mon-Thurs 8 a.m. - 5 p.m.; Fri 8 a.m. - 1 p.m.)
Applications Process:
You will need:
A typed qualification statement no less than 250 words and no longer than 500 words
A Job Application Form including 2-3 professional references
A petition for candidacy with 50 signatures from currently enrolled Clark College students
A Career Center approved resume
Proof of attendance at required meetings
An unofficial copy of your Clark College transcript. The transcript must include all quarters completed prior to the application deadline.
For more information, contact:
ASCC: ASCC Vice President - asccvp@clark.edu / (360) 992-2353 x3640.