Student Government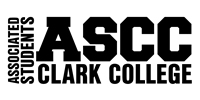 The Associated Students of Clark College (ASCC) advocate and represent the students of Clark College by serving as the liaison between students and faculty, staff, administration, and the community. By involving students at the college they seek to enhance the community through leadership, respect for difference, engagement and service.
The ASCC Executive Council is recognized by the Board of Trustees as the sole representative body of Clark College students. It is the responsibility of the ASCC Executive Council to:
Provide representation of student interest, needs and well-being within the college community;
Provide opportunities for individual leadership development and for group participation;
Initiate and coordinate student activities;
Foster cooperative relationships among the students, faculty, staff, administration, and community;
Affirm and support the Clark College Mission, Vision, and Values statement
ASCC Executive Council
ASCC President - Sarah Moe

360-992-2353 x3353
asccpt@clark.edu

Hi! My name is Sarah Moe and I am the ASCC President at Clark College for the 2016-2017 school year. I graduated from Columbia River High last year where I was a full-time running start student for two years. This is my third year here at Clark College and I will be graduating with my Business Administration Transferable to WSUV in spring 2017. As the ASCC President, I am the ASCC representative to the Board of Trustees, I represent student opinion, and I make sure that everything we do here benefits you. Whenever I am not in the office or studying, know that I am either skiing, relaxing with family or friends, or catching up on some movies/shows. I am here to serve you, so if you ever have questions, concerns, or comments about anything here at Clark, feel free to stop by the Student Life office during my office hours, or send me an email. I am always ready to hear your thoughts!

ASCC Vice President - Ruixuan Bai

360-992-2353 x3640
asccvp@clark.edu

Hello all! I'm Sharon, your 2016-2017 Vice President! I am currently in my second year at Clark College. I am majoring in Biology and Business Administration. My job here is to match students and committees together. Moreover, I help you go through the process and make sure you are prepared for those positions. This opportunity is good for your resume and records to transfer. I am here to stand beside you to be a successful student. I am an outgoing girl. I also like to study, go play sports, and be involved in fun activities, but the only book you'll see me reading is my textbook. I am very pumped for the year here at Clark, and look forward to interacting with all the students as well. Hope everyone has a great school year! Feel free to stop in my office if you have any questions.

ASCC Club Coordinator - Shannon Leininger

360-992-2353 x3169
ascccc@clark.edu

Hello! I am Shannon Leininger this year's ASCC Club Coordinator. I am currently working for an AA in Business Administration and I plan to transfer to Law. I enjoy reading, hiking, playing video games, oil painting, etc. The quote I live my life by is "Nothing is impossible; the very word says 'I'm possible'" by Audrey Hepburn. My job as Club Coordinator is to work with clubs at Clark College, whether it is to facilitate chartering or preparing them to welcome new and returning students. So if you have any questions or concerns about clubs, I am here to help!




ASCC Student Relations & Promotions Coordinator - Marco Morales

360-992-2353 x3133
asccpr@clark.edu

Hello! My name is Marco Morales I will be the 2016-2017 ASCC Student Relations & Promotions Coordinator at Clark College. I graduated from Columbia River High School in 2014 and began attending Clark College spring 2015. I am currently taking classes for an Associates in Business and will graduate in fall 2017. I will do my best to help promote clubs and events here at Clark College so that others may find the hidden treasures of our school. If you need help promoting any events or clubs you can reach me during my office hours or at my email.

ASCC Finance Director - Bill Skates

360-992-2353 x3139
asccfd@clark.edu

Hello, my name is Bill Skates and I am the ASCC Finance Director at Clark College for the 2016-2017 year. I am originally from Southern California where I enjoyed golf, baseball, and surfing during my free time. I have attended classes at Clark for two years and am going to transfer to a four-year school next year to finish a degree in chemical engineering. As Finance Director my goal is to serve the students of Clark College to the best of my abilities. If you have any questions or concerns feel free to stop by student life office and see me during my office hours or email me.

ASCC Executive Assistant - Jennette Kachmar

360-992-2353 x3354
asccex@clark.edu

Hello, my name is Jennette Kachmar and I will be serving as your ASCC Executive Assistant for the 2016-2017 school year. This is my second year at Clark, and I intend to graduate in spring of 2017 with my General Arts-Transfer Degree. I plan on transferring to University of Washington, where I will be majoring in Bio-chem. As an executive assistant it is my job to attend all ASCC meetings, record minutes, and help plan events for the students here at Clark. This year my goal is to work as a dependable member of our student government team and help with as many events as possible. If I'm not in the office or in class, you can find me playing with my two German shepherds or trying to get in that last minute run. Please feel free to stop by my office (during my business hours) or email me if you have any questions. Hope everyone has a great school year!

ASCC Activities Director - Emma Tran

360-992-2353 x3132
asccad@clark.edu

Hi everyone, my name is Emma Tran and I am your ASCC Activities Director for 2016-2017. Currently I am working on my AA Transfer Degree in Biology, and hopefully, I can transfer to WSU Vancouver next academic year to extend my education. As an Activities Director, my duty is to encourage and help students become civically engaged in the community, as well as bring more volunteer opportunities to students at Clark College. Come and visit my office in PUB 160 if you have any cool ideas for upcoming events or any questions because I love hearing from students. Have a great year Penguins and don't forget to enjoy it.
Student Government Minimum Qualifications:
Enrolled in eight (8) credits or more during spring 2017 at Clark College
Possess a 2.50 cumulative grade point average at Clark College
Have completed a minimum of twelve (12) college level credits at Clark College
Compensation:
You will be paid $11.50 per hour
You must be able to work 12-15 hours per week during regular business hours (Mon-Thurs 8 a.m. - 5 p.m.; Fri 8 a.m. - 1 p.m.)
Applications Process:
You will need:
A typed qualification statement no less than 250 words and no longer than 500 words
A Job Application Form including 2-3 professional references
A petition for candidacy with 50 signatures from currently enrolled Clark College students
A Career Center approved resume
Proof of attendance at required meetings
An unofficial copy of your Clark College transcript. The transcript must include all quarters completed prior to the application deadline.
For more information, contact:
ASCC: ASCC Vice President - asccvp@clark.edu / (360) 992-2353 x3640.