Career Clothing Closet
Kick off Career Days 2018 with the Clark College Career Clothing Closet, an event for Clark students to get a professional outfit for their career search at no cost.
Tuesday, April 17th 10:00am - 2:00pm
Wednesday, April 18th 2:00pm - 6:00pm
Thursday, April 19th 10:00am - 2:00pm
Penguin Union Building (PUB) 258
Career Clothing Closet for Clark Students
You MUST be a Clark College student in order to use the Clothing Closet, but each student is allowed a complete outfit, which may include shirt, suit, pants/skirt, tie, accessories and shoes. Clothing is available on a first-come, first-served basis, so come early for best selection. Changing rooms are also available.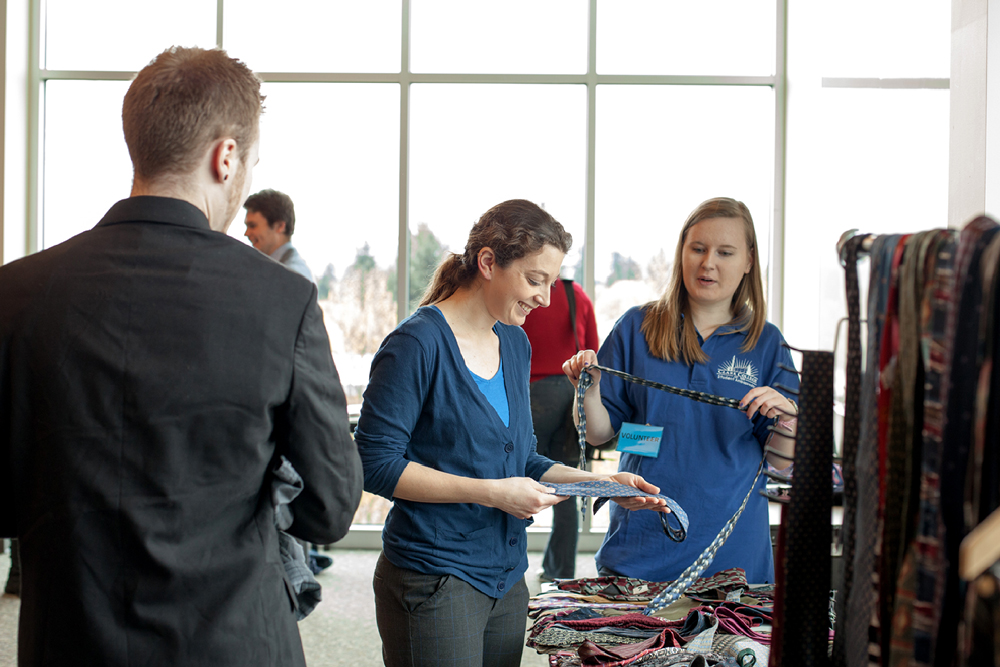 Photo: Clark College/Jenny Shadley
For more information contact:
Clark College, Career Services, PUB 002
1933 Fort Vancouver Way, Vancouver, WA 98663
ldockery@clark.edu
360-992-2902
Donating to the Career Clothing Closet
The Career Clothing Closet depends on donations in order to provide our students with a wide selection of clothing to help them put their best selves forward as they begin their careers. Clark College Career Services welcomes professional clothing and cash donations for its 14th Annual Career Clothing Closet. Last years Clothing Closet provided professional clothing to over 500 students, thanks to the previous donations.
The Career Clothing Closet is currently accepting new or gently used professional, workplace-appropriate clothing for both men and women. All clothing donations must be in excellent condition, laundered or dry-cleaned prior to donation. Undergarments and torn or stained clothing will not be accepted. Cash donations will be used to purchase clothing in underrepresented sizes.
All donations are tax deductible; receipts will be provided.
Donations can be dropped off at:
Clark College Career Services, PUB 002
1933 Fort Vancouver Way, Vancouver, WA 98663
360-992-2902
Monday - Thursday 9:00 am - 4:00 pm
Friday 9:00 am - 12:00 pm
Career Services and the students of Clark College thank you for your donations.