Advising
About
Our team of academic advisors is here to help you develop your plan for reaching your educational goals. We can assist with class selection, degree requirements, major declaration, registration procedures, transfer information, college policies, and more.
For more detailed information about advising services, please view our Advising Syllabus.
If you are a Running Start student, visit the Running Start homepage to view contact information and learn about the program .
Have a quick question?
You can ask an advisor (email) or view the advisor contact information.
Contact
Hours
Mondays: Drop-in visits only
8:00 a.m - 6:00 p.m
Tuesdays: Appointments only
8:00 a.m - 6:00 p.m
Wednesdays: Appointments only
8:00 a.m - 6:00 p.m
Thursdays: Drop-in visits only
8:00 a.m - 6:00 p.m
Fridays: Appointments only
8:00 a.m - 1:00 p.m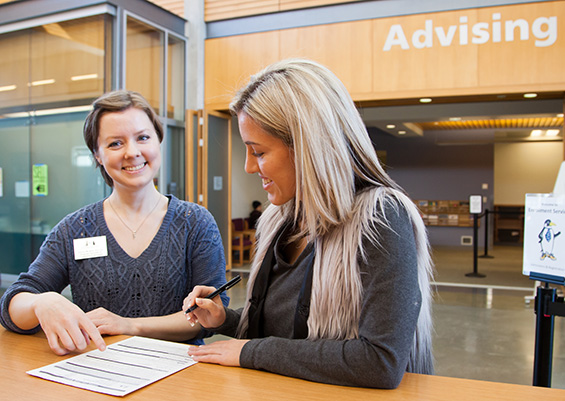 ---
Who is my advisor?
The Advising department is divided into divisions of expertise. We want to ensure you are meeting with a specialist in your desired area:
Health Occupations
College Preparatory & Transfer Programs
Professional & Technical Programs
Running Start
For some programs, such as Engineering, Addictions Counselor, and Early Childhood Education, please view the list of Advisor Contact Information to find the advisor for your area of study.
---
Meet with an advisor
We offer both appointments and walk-in times to meet with a member of our team.
Schedule an appointment
Appointments are offered on Tuesdays, Wednesdays, and Fridays only and may be scheduled up to two weeks in advance. To schedule an appointment, please call Advising at 360-992-2345.

Please arrive 15 minutes prior to your scheduled appointment time. If you check-in late, you should not expect to be seen, and you will need to reschedule.

If you need to cancel your appointment, please call Advising Services to avoid being recorded as a "no show" appointment. Students with two or more "no show" appointments within the past year will be restricted to walk-in advising services only.
Drop-In Days
Advisors are available on a walk-in, first-come, first-served basis Mondays and Thursdays. Check-in ends 45 minutes prior to closing unless the volume of students dictates an earlier time.
Students experience the longest wait times during the hours of 11:00 a.m. and 1:00 p.m. if they are seeking to meet with an advisor. We recommend that you plan around these peak times to maximize your access to our advisors.
Check in times for students will end prior to the Advising Department closing time, which varies according to how many students are in line to see an advisor.