Welding Technology Advisory Committee
The Welding Technology program prepares students for entry-level welder employment in production, job shop, or maintenance positions. Students master basic and advanced welding skills while operating heavy industrial fabrication equipment and state-of-the-art welding equipment. The curriculum places equal focus on the development of fabrication skills and techniques. Student will be expected to not only demonstrate their proficiency with various weld processes but their ability to fabricate projects within specified tolerances using those processes.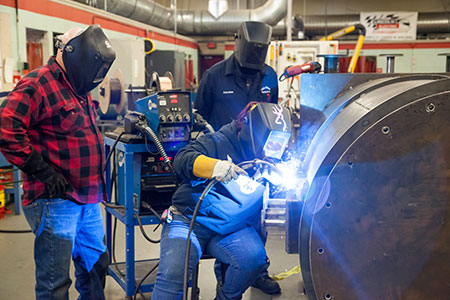 Agenda
Minutes
5-9-18 WELD Minutes (In Process)
Committee Information
Committee Chair: Paul Sibley
Committee Vice Chair: Mark Stanley

If you are a committee member and would like a copy of the member roster, please contact the Advsory Coordinator at advisorycoordinator@clark.edu

Committee Documents
By-Laws
Washington Association of Building Officials Certification (WABO)
WABO welding certifications are sought after by most welding industry employers in the State of Washington. You can get this certification through Clark College Corporate and Continuing Education. http://ecd.clark.edu/. Clark is certified as a WABO facility. Training is delivered by Clark College welding program faculty who are certified to provide WABO training and testing.
The purpose of this certification standard is to provide greater confidence to design professionals, owners, and building officials that welders, welding operators, and tackers are qualified to perform work in building construction. WABO welding certifications are required for specialized code work in the State of Washington, these codes include AWS D1.1, D1.3, D1.4, and D1.8.
For questions about WABO Certifications you can visit the WABO website at www.wabo.org