Healthy Penguin Walkabout
The Effects of Sugar: A Focus on Wellness
Saturday, June 3, 2017
Registration: 9:00 a.m. - 12 p.m.
Walkabout: 10:00 a.m. to 2:00 p.m.
Gaiser Student Center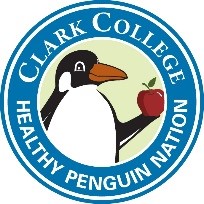 Clark College Business and Health Sciences Unit is hosting the 2nd Annual Healthy Penguin Walkabout!
Community members and anyone interested in good health are invited to participate in this FREE event to stroll the beautiful campus and receive free health assessments.
Free health assessments include:
Blood glucose levels
Risk for dental cavities
Body mass index (BMI) and body fat percent
Balance testing
Diabetes risk-level
Blood pressure and pulse checks
NEW! Sleep quality assessment
Talk to students and faculty in Clark's health care programs
Participants will be able to walk the college's Penguin Pathway while enjoying fun learning activities for the entire family.
Each station on the walkabout will have a children's activity, health assessment, and learning opportunity led by Clark students. Participants will also have the opportunity to:
Collect souvenirs at each station

Enjoy healthy refreshments

Enter a fantastic raffle at the completion of the walk, including an annual membership to the Clark College fitness center.
For questions or more information, contact Brenda Walstead at 360-992-2938 or bwalstead@clark.edu.

This event is a part of the college's focus on interprofessional learning for students in the college's Business, Business Medical, Dental Hygiene, Fitness Trainer, Health and Physical Education, Medical Assisting, Nursing, Pharmacy Tech, and Phlebotomy programs.
If you need accommodation due to a disability in order to participate in this program please contact Clark College's Disability Support Services Office at (360) 992-2314 or (360) 991-0901 (VP), or visit Penguin Union Building room 013.