Penguin Paths
Walking for wellness
Walk, jog, roll or stroll along Clark's Penguin Paths – marked paths that loop through our beautiful main campus designed to encourage community fitness. Be a part of the Healthy Penguin Nation and follow the penguin feet to a healthier you!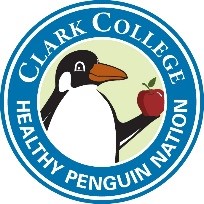 Community members and anyone interested in health and well-being are invited to participate in this FREE anytime, anywhere activity. Stroll the beautiful campus and clear your mind anytime that works for you.
Clark College has three designated paths, and they all begin outside the south entrance of the PUB building.
Humboldt Loop: 0.5 miles
Emperor Loop: 1.3 miles
Rockhopper Loop: 2.0 miles
Path details can be found in the Penguin Paths Brochure. Print one out or pick one up in Human Resources, BRD 133.
Walking Benefits
Increase in physical fitness and an effective way to clear your mind.
Reduces the risk of heart disease and stroke.
Increase strength and endurance
Make Walking Enjoyable
Leave an extra pair of walking shoes at work or in your car.
Check out these places on campus: bee gardens, cherry trees, the Royce E. Pollard Japanese Garden.
Walk with friends.
Additional Ways to Engage
Wear a pedometer and walk anywhere while tracking your steps.
Schedule time on your calendar to take a walking break (this is especially important when working at home).
Take your dog on a walk, kids in stroller, or walk and talk with friends.
For questions or more information, contact Human Resources at hr@clark.edu
If you need accommodation due to a disability in order to participate in this program please contact Clark College's Disability Support Services Office at (360) 992-2314 or (360) 991-0901 (VP), or visit Penguin Union Building room 013.