Theatre Productions: 2022-23 Season

Fall Show:The Shadow Box
by Michael Cristofer
directed by Mark Owsley
November 10, 11, 12 & 18, 19, 2022
Joe, Brian, and Felicity come from different walks of life, different parts of the country, and are in different stages of accepting the things they have in common: they are all dying of cancer, and they are all living out their final days, in company with friends and family, in homey hospice cottages on the green and pleasant grounds of a large California hospital. They are observed, studied, and counseled by an invisible Interviewer as they talk candidly about their emotional and physical struggles, and face interpersonal challenges: Joe's wife Maggie, in denial about her husband's impending death, refuses to go inside his cottage; artistic Brian, busy trying to write and paint enough for twelve lifetimes, must mediate between his ex-wife Beverly and his boyfriend Mark; and Felicity, confused and in pain, refuses to die until she gets a visit from her daughter Claire -- a daughter who has been dead for years. Michael Cristofer's sensitive, emotionally devastating, ground-breaking play exploring the end of life experience won both a Tony Award for Best Play and a Pulitzer Prize for Drama in 1977.
–The Stage Agent
Tickets are FREE for students, faculty, and staff of Clark College who can provide ID.
General admissions: $15.00
Senior Citizens (60+): $12.00
Clark Students, Faculty and Staff: Free with ID
Stay tuned for the Winter and Spring show announcements.
---
Decker Theatre
All shows at 7:30 p.m. in the Decker Theatre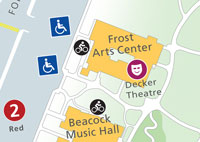 The Decker Theatre is located in the Frost Arts Center.
Please enter through the front entrance, go through the lobby and the theatre entrance is located in the southeast corner of the courtyard.
---

To secure your preferred seats, purchase online today! Unsold tickets will be available for purchase at the Decker Theatre, 30 minutes prior to each performance.
---
Commitment to Diversity
Clark Theatre embraces its role as part of an educational institution that is strongly committed to diversity. Our script selections reflect our mission to educate students and to initiate dialog about important topics. As a result, they may include violence, strong language, or overt sexuality that some audience members may find provocative. If you have questions about our production, we encourage you to research the play in advance or to contact our box office staff.