Theatre Productions: 2022 Season

Spring Show
It's Only A Play by Terrence McNally, directed by Mark Owsley
June 3, 4, 9, 10, and 11, 2022
It's the opening night of The Golden Egg on Broadway, and the wealthy producer Julia Budder is throwing a lavish party in her lavish Manhattan townhouse. Downstairs the celebrities are pouring in, but the real action is upstairs in the bedroom, where a group of insiders have staked themselves out to await the reviews. The group includes the excitable playwright; the possibly unstable wunderkind director; the pill-popping leading lady, treading the boards after becoming infamous in Hollywood; and the playwright's best friend, for whom the play was written but who passed up this production for a television series. Add to this a drama critic who's panned the playwright in the past and a new-in-town aspiring singer, and you have a prime recipe for the narcissism, ambition, childishness, and just plain irrationality that infuse the theatre—and for comedy. But don't worry: This play is sure to be the hit they have all been hoping for.
–Dramatist Play Service
Tickets are FREE for students, faculty, and staff of Clark College who can provide ID. General admissions tickets are $10.00 each. Purchase tickets →
---
Decker Theatre
All shows at 7:30 p.m. in the Decker Theatre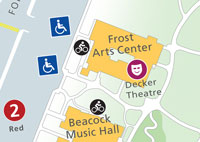 The Decker Theatre is located in the Frost Arts Center.
Please enter through the front entrance, go through the lobby and the theatre entrance is located in the southeast corner of the courtyard.
---

To secure your preferred seats, purchase online today! Unsold tickets will be available for purchase at the Decker Theatre, 30 minutes prior to each performance.
---
Commitment to Diversity
Clark Theatre embraces its role as part of an educational institution that is strongly committed to diversity. Our script selections reflect our mission to educate students and to initiate dialog about important topics. As a result, they may include violence, strong language, or overt sexuality that some audience members may find provocative. If you have questions about our production, we encourage you to research the play in advance or to contact our box office staff.