Theatre Productions: 2022-23 Season

Spring Show: Technical Difficulties
Shorts by:
Leah Barker, Mashuq Mushtaq Deen, Steph Del Rosso, Arlene Hutton, John Cameron Mitchell, Craig Pospisil, C. Quintana, Elaine Romero, Aurin Squire, Ken Urban
Shorts directed by Clark Theatre Alumni
June 1, 2, 3, 9 & 10, 2023
"Playful and inventive, TECHNICAL DIFFICULTIES taps into the delights and frustrations of staying connected."
– Dramatists Play Service
Tickets are FREE for students, faculty, and staff of Clark College who can provide ID.
General admissions: $12.00
Senior Citizens (60+): $10.00
Clark Students, Faculty and Staff: Free with ID
---
Decker Theatre
All shows at 7:30 p.m. in the Decker Theatre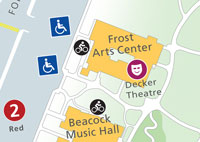 The Decker Theatre is located in the Frost Arts Center.
Please enter through the front entrance, go through the lobby and the theatre entrance is located in the southeast corner of the courtyard.
---

To secure your preferred seats, purchase online today! Unsold tickets will be available for purchase at the Decker Theatre, 30 minutes prior to each performance.
---
Commitment to Diversity
Clark Theatre embraces its role as part of an educational institution that is strongly committed to diversity. Our script selections reflect our mission to educate students and to initiate dialog about important topics. As a result, they may include violence, strong language, or overt sexuality that some audience members may find provocative. If you have questions about our production, we encourage you to research the play in advance or to contact our box office staff.