Theatre Productions: 2022-23 Season

Fall Show: The Great American Trailer Park Musical
Music & Lyrics: David Nehls and Book: Betsy Kelso
Directed by Gene Biby
March 2, 3, 4, 10, 11, 2023
The story has, at its center, a love triangle between an agoraphobe, a highway toll collector and an exotic dancer with an unhinged ex-boyfriend. A Greek-chorus-eque trio of trailer park women helps guide the narrative, playing any character or gender they choose while breaking the fourth wall at whim to air their own dirty laundry. The result is a sense of informality and community – the lifeblood of neighborhoods everywhere.

​More than a decade after its New York premiere, "The Great American Trailer Park Musical" continues to connect with audiences and sold-out crowds. Beyond the broad comedy and Jerry Springer-worthy confrontations, the show is about rising above our impulses, our mistakes and our surroundings to make a future we can believe in despite the past.
https://www.trailerparkmusical.com
Tickets are FREE for students, faculty, and staff of Clark College who can provide ID.
General admissions: $15.00
Senior Citizens (60+): $12.00
Clark Students, Faculty and Staff: Free with ID
Stay tuned for the Winter and Spring show announcements.
---
Decker Theatre
All shows at 7:30 p.m. in the Decker Theatre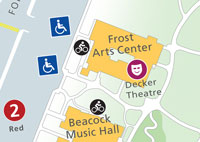 The Decker Theatre is located in the Frost Arts Center.
Please enter through the front entrance, go through the lobby and the theatre entrance is located in the southeast corner of the courtyard.
---

To secure your preferred seats, purchase online today! Unsold tickets will be available for purchase at the Decker Theatre, 30 minutes prior to each performance.
---
Commitment to Diversity
Clark Theatre embraces its role as part of an educational institution that is strongly committed to diversity. Our script selections reflect our mission to educate students and to initiate dialog about important topics. As a result, they may include violence, strong language, or overt sexuality that some audience members may find provocative. If you have questions about our production, we encourage you to research the play in advance or to contact our box office staff.