History Faculty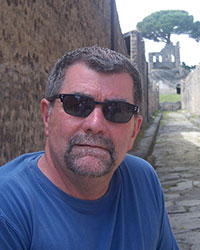 Van Forsyth
Van Forsyth earned degrees in History from the University of California, Berkeley and San Francisco State University. He spent six years teaching abroad in Switzerland and Italy as well as the Caribbean before returning to the states to teach in the community college classroom of California. He moved to accept a position teaching History at Clark College in the '90s and has enjoyed that decision immensely. Scholarly publications include "The Cuban Missile Crisis---Revisited" and a three volume US History anthology. Mr. Forsyth is the current Chair of the History Department and the Social Sciences Division Chair.
Travel is a major component of his vacation agendas. His most recent trips have taken him south of the equator to hike the historic Inca Trail to Machu Picchu in the Andes of Peru and to the Ecuadorian Amazon jungle via river boat. With family living in southern Italy, he is a frequent visitor of the ancient city of Pompeii.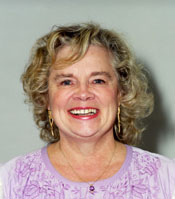 Dr. Anita Fisher
Dr. Anita L. Fisher teaches World and Women's History and has been doing so at Clark College for over 25 years. Dr. Fisher received her Ph.D. in History from the University of Oregon after also attending the University of London. Travelling extensively around the world, she has visited over 70 countries, and has lived in Panama and London. Dr. Fisher has also been the faculty advisor for the Model United Nations classes and also long-time advisor to the History Club on campus. With her students, she has made trips to England and Egypt, and has plans to take them to Istanbul, Turkey in the near future. Bringing back artifacts and replicas from the various cultures she has visited, she enjoys sharing them with her students as aides for her kinesthetic learners.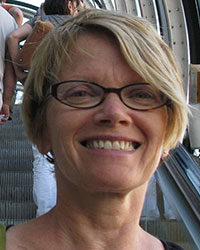 Dr. Katherine Sadler
Dr. Katherine Sadler has undergraduate degrees in International Studies and Women's Studies from Portland State University, and a Master's Degree in African Area Studies from UCLA. She also has a doctorate in History from UCLA, where her research focus was anti-government protests by South African women. Since her arrival at Clark College, she has added courses in African History and the History of Genocide to the Clark College catalog, and has developed a Women in U.S. History course for the State of Washington Open Education Resources Library. She regularly teaches classes in the History of World Civilizations, U.S. Women's History, the History of Africa, and the History of Genocide, as well as advising students in the Honors Program. In 2009 she received an award for Excellence in Teaching from Clark College and the Clark College Foundation.
Dr. Sadler has accompanied groups of Clark College students to Washington D.C. and Berlin, and in the fall of 2013 conducted a study abroad program for Washington students in Cape Town, South Africa. She is currently working on an oral history project involving women's participation in WWII, and is an area project director for the Women and Modern Empires project [forthcoming 2017].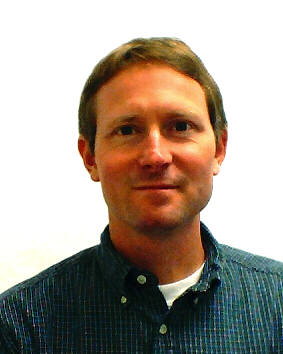 Sam Triebs
Sam Triebs, an instructor of US History at Clark College, earned a Bachelor of Arts degree in Political Economy and History from the University of Hartford and a Master of Arts degree in History from Duquesne University. Mr. Triebs has previous teaching experience at the Kolin Foundation School in Arandis, Namibia; the Academy of Tourism in Telc, Czech Republic; and Chemeketa Community College in Salem, Oregon. He began teaching full-time at Clark College in 2003 and teaches each of the three survey courses in United States History as well as African-American History and Latin-American History.
Bill Morris
Bill Morris received his Master's degree in United States History from San Jose State University in 2003. He started teaching at Clark shortly, thereafter, specializing in Pacific Northwest History and US Foreign Policy. Mr. Morris enjoys gardening in his spare time, and has recently published his first novel.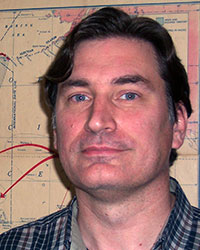 John Jarvie
John Jarvie received a bachelor's degree in history from the University of Oregon in 1995. He then spent five years teaching in Hungary where he earned a master's degree in European history from Central European University in Budapest in 2000. Mr. Jarvie has taught history courses for Clark College, Clackamas Community College, Chemeketa Community College, and Mt. Hood Community College.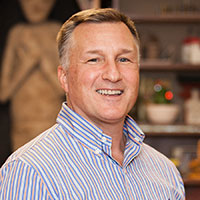 Joe Cavalli
Joe Cavalli received his BA degree in History at Portland State and his MA in History at the University of Portland. He has taught history around the world including in Zagreb Croatia, Rome and Florence Italy, Kingdom of Bahrain, Portland Oregon and has been teaching World Civilization and US History at Clark College since 2006. He is also the director for the Model United Nations program. Mr. Cavalli served in the US Army from 1986-1990 both in the Continental US and in the Republic of Korea. He has an intelligent small mix breed terrier named Capri.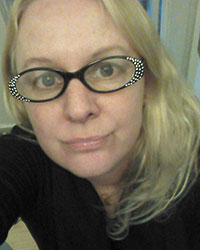 Dr. Cindie Landrum
Dr. Cindie Landrum earned her BA at University of Delaware, her MA at University of South Dakota and her PhD in American Indian History at Oklahoma State. She teaches Native American History, US History, Public History, Women's History and Museums and American Indians. Prior to beginning her teaching career Dr. Landrum worked in Collections Management, Conservation, and Curatorial Departments at a number of museums including the National Museum of Natural History at the Smithsonian Institution. In addition to her museum curator and teaching roles, Dr. Landrum is well published, mostly in the field of Native American History. With her husband and three children she enjoys traveling about the U.S.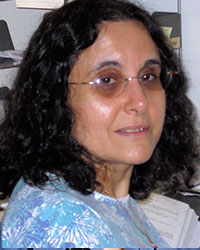 Dr. Loni Bramson
Dr. Loni Bramson's undergraduate degree is in History from Bryn Mawr College. She has a Master of Arts degree in Postsecondary Education Administration from Portland State University and a PhD in History and Religious Studies from the Catholic University of Louvain in Belgium. Her father was career Air Force, so she grew up in Europe, Africa, Canada, and the United States. She has taught in colleges and universities in Nigeria, Belgium, and the United States and has been teaching online since 1997.
Her current teaching assignments are in History and she publishes in the fields of History, Religious Studies, and Women's Studies. Since 2000 she has served as an editor for the peer-reviewed e-journal, The Journal of International Women's Studies. Currently Dr. Bramson lives in Oregon and is taking advantage of living walking distance from a public library, reading as much as she can. Eventually she will move back to Europe and hopefully will be able to visit her favorite city---Munich.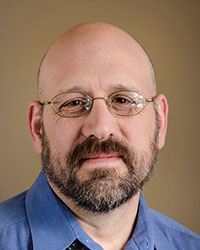 Russ Peterson
Russ Peterson earned his B.A. in history from Colorado State University before attending the University of Northern Colorado for an M.A. and the University of Oregon for an M.Ed. Prior to teaching at Clark College he taught at UNC as a graduate fellow and Oregon Coast Community College. His areas of academic interest are ancient Egypt, 19th century Central Europe and the Near East (the Ottoman Empire), and 20th century American foreign policy. He is also very interested in women's history and medieval (T'ang dynasty) China. For nearly a decade Mr. Peterson has been teaching the World Civilization and US History surveys at Clark.