Strategic Enrollment Management Plan
During the spring and summer of 2021, a cross-functional team developed a new, collegewide Strategic Enrollment Management Plan. With feedback and input from departments across campus, the plan is designed to advance racial, social, and economic justice by achieving equitable student outcomes in terms of aspirations, access, economic progress, and educational and career attainment.
The 3-year plan leads with social equity to achieve a 5% increase in enrollment to identify, recruit, enroll, retain, close equity gaps, and graduate the student body. The plan also integrates with Guided Pathways, the college-wide effort to identify and close equity gaps by ensuring a transparent and student-centered structured experience for students that contributes to student's academic success or obtainment of career/living wage jobs.
Year 2 Highlights

→ Download the CWSEM Year 2 Update
→ Download the CWSEM Year 2 Update PDF
The plan includes five goals to be achieved by 2024:
Goal I: Increase prospect pool by 20%, increase conversion from prospect to applicant by 10%, increase applicant to enroll students by 5%, and experience flat enrollment.
Goal I: Strategies
Review, revise, and implement comprehensive prospective student recruitment and marketing systems.
Create systems and models to support enrollment management.
Create enrollment funnel to determine where students fall out of the funnel and implement intentional supports to pull students through.
Increase outreach and recruitment efforts to Transitional Studies students.
Develop and Implement placement prep Math boot camp that can be offered with a condensed COLL101 in Summer.
Streamline Running Start Enrollment Process.
Increase number of students who apply for Financial Aid.
Goal II: Increase fall-to-fall retention of all students by 10%.
Goal II: Strategies
Through an equity-focused lens, reengage and revitalize college-wide guided pathways work by enhancing the student experience
Engage data coaches, use data-informed strategies, and data dashboards to guide programming and assessment.
Increase the number of fully online degree pathways available to students and focus on high quality content and engagement.
Implement "all-user" adoption of an Early Alert System
Create, within the framework of caseload advising, checkpoints for all students.
Implement optimal annual course scheduling designed to allow student to efficiently complete degrees and certificates or transfer.
Implement evidence-based placement practices.
Implement College 101 or outcomes in every pathway.
Expand use of Open Educational Resource (OER)
Successful completion of English and Math in first year with supports.
Reactivate identity-based student clubs.
Implement Case Load Appreciative Advising.
Implement Auto Enrollment for existing cohort programs.
Identify pathways where COLL101 or embedded outcomes are not present.
Goal III: Reduce the equity gap by 50% for non dominant historically underrepresented students in retention, progression, and completion.
Goal III: Strategies
Implement culturally inclusive programming, engagement, services and activities (e.g., culturally responsive orientation; academic appreciative advising; holistic supports for systemically non dominant population, through equity competent Career exploration and/or College Success Courses).
Develop co-requisite courses and other student supports to reduce equity gaps in gateway course success.
Embed program-relevant Power, Privilege, and Inequity course work into all degree programs.
Increase the number of systemically non-dominant students entering and completing high-demand, high wage programs.
Enhance academic student supports to reduce equity gaps in course success.
Accelerate rates of English completion within the first year
Accelerate rates of math completion within the first year
Leverage the efforts of TLC, ODEI, and SBCTC to provide equity focused professional development training for faculty & staff.
Create MESA mentorship program to increase historically underrepresented student of color enrollment, retention, and completion in STEM-related programs.
Continue to infuse culturally responsive curriculum throughout Clark programs
Goal IV: Increase student success outcomes by 5%.
Goal VI: Strategies
Intentional Marketing and Outreach Plan
Expand partnerships with industry, community organizations, and K-12
Assess the effectiveness of existing K-12 CTE articulations
Assess & resolve barriers in courses, processes, & placement, etc.
Utilize the program viability process to ensure programs are tied to industry and community needs
Assessment of student support, ensure intentional student milestones (i.e.. Connection to Advisors and Faculty)
Provide opportunities for career connection early in pathway
Develop part-time pathways for degree programs
Goal V: Increase enrollment at CTC & CCW by 5% through Intentional Pathways and Holistic Support Services.
Goal V: Strategies
Rebrand Columbia Tech Center
Provide Holistic Support Services at CTC and CCW
Create CCW as Home to Allied Health Pathways
Maximize course scheduling for Running Start participation at CTC/CCW, and plan for Boschma Farms campus
Generate student and community interest in Boschma Farms campus.
Identify High-Demand BAS Programs to be located at CTC/CCW
Develop and expand partnerships with industry and labor partners around CCW (e.g., Legacy, PeaceHealth, SIEU, etc.). Includes pathways for incumbent workers; internships/externships; placement upon completion.
Create course schedules that maximize simplicity for Running Start participation at CTC/CCW, including district-specific class offerings and alternate day/time/location to meet part-time needs
College-wide Strategic Enrollment Plan - Launch 2021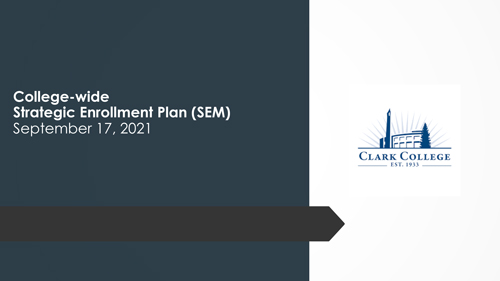 → Download the SEM Plan PowerPoint
College-wide Strategic Enrollment Management Committee Members
Michele Cruse, Vice President of Student Affairs
Shelley Ostermiller, Interim Associate Dean of Enrollment Services and Registrar
Vanessa Watkins, Director of Entry Services
Cath Busha, Dean of Student Engagement
Julie Robertson, Director of Grant Development
Kevin Damore, Director of Marketing