Clark College Leadership

Clark College President
Dr. Karin Edwards, President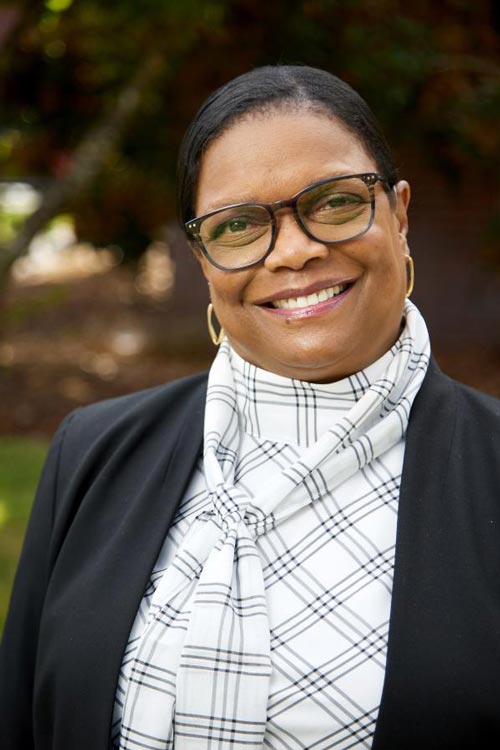 Dr. Karin Edwards is currently President of the Clark College, where she is responsible for providing vision and strategic direction for the college. As the chief executive officer, she has oversight for all programmatic, instructional, financial and student support services. Dr. Edwards is very active in community outreach and engagement, and workforce development. She plays a critical role in creating promising pathways for students and ensuring equitable student success. Before arriving in Portland in 2014, Dr. Edwards worked in the Connecticut and New York State Community College systems.
She holds a bachelor's degree in Psychology and a master's degree in Education Administration both from the State University of New York at Albany. She also earned a doctorate in Education Leadership from Johnson and Wales University in Providence, Rhode Island. Dr. Edwards has over 35 years of experience in higher education administration and has demonstrated an unwavering commitment to the mission of community colleges, which has three primary areas of focus. Community colleges provide access to quality education and training, promote economic and community development, and respond to local and regional workforce needs. Equity is also inherent in the mission of community colleges. Dr. Edwards has championed diversity, equity, and inclusion throughout her career.
Karin is a native New Yorker, born and raised in the South Bronx. For leisure, she enjoys reading, attending cultural events, exploring the Pacific Northwest, and dining out at the fantastic restaurants. She also enjoys giving back to her community by serving on various boards.
As a long-time educator, she has witnessed the transformational power that community colleges have in the lives of students and in the communities they serve.

Clark College Executive Cabinet
Sabra Sand, Interim Vice President of Operations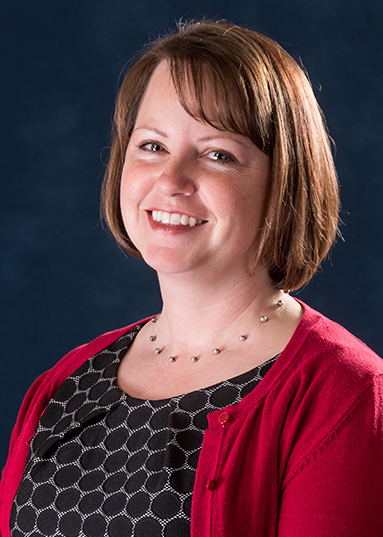 Sabra Sand serves as the Director of Business Services at Clark College. Sabra first joined Clark College in 1998 as a fiscal technician in the cashier's office. She is active at the state level serving on the Budget, Accounting and Reporting Council for all of the community and technical colleges.
Dr. Michele Cruse, Vice President of Student Affairs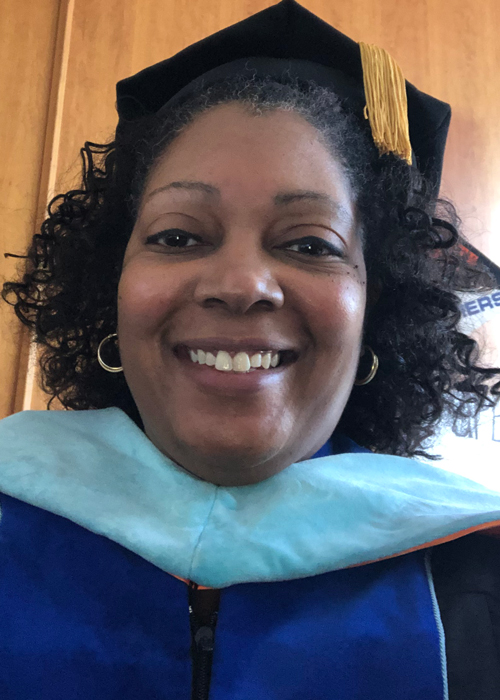 Dr. Michele Cruse joined Clark College in October 2020 as Interim Vice President of Student Affairs. She was hired into the permanent position in November 2021. Prior to coming to Clark, she served as Vice President and Dean of Student Affairs and Associate Dean of Student Affairs and Experiential Education at the University of Pittsburgh at Bradford in Pennsylvania. A native Pittsburgher, Dr. Cruse earned her associate degree from the Community College of Allegheny County, her bachelor's degree in public administration from the University of Pittsburgh, her master's degree in public administration and nonprofit management from Portland State University, and her doctorate in community college leadership from the University of Oregon.
Dr. Cruse's work experience includes both faculty and staff positions at Portland Community College, including dean of student development. She has owned her own business and served as co-founder of an organization focused on workshops and education for community members, women, disenfranchised youth, and those in alternative education.
At Clark College, Dr. Cruse leads Student Affairs, a unit that includes a wide range of services and programs including enrollment services, athletics, career services, international programs, financial aid, disability support, the Veterans Resource Center, and the Counseling and Health Center, among others.
Paul Wickline, Vice President of Instruction
Paul Wickline will join Clark College as Vice President of Instruction in January 2022. He brings with him many years of experience in both teaching and leading in a variety of educational settings. He began his educational journey at Edmonds Community College studying vocal music. From there, he went on to earn a Bachelor of Education degree from Western Washington University and his Master of Education degree from Central Washington University. He is currently working on his doctoral dissertation in the Higher Education Leadership program at Portland State University.
Wickline began his teaching career as a high school English and drama teacher in Walla Walla, Washington. He then began teaching theatre at Walla Walla Community College. In 2008, he moved to the College of the Canyons in Southern California, where he served in a series of roles that brought increased leadership: faculty member, department chair, faculty outcomes and assessment coordinator, Academic Senate President, dean of the School of Social and Behavioral Sciences, Assistant Vice President of Educational Pathways, and finally Associate Vice President of Instruction. He is a past faculty fellow of the Association of American Colleges and Universities Collaborative Project and a mentor in the Association of California Community Colleges Association mentorship program.
Brad Avakian, Vice President of Human Resources
Brad Avakian earned his bachelor's degree from Oregon State University and his doctorate of law from Lewis & Clark University. For many years he worked as a lawyer specializing in civil rights cases. Later, he served in the Oregon House of Representatives and the Oregon Senate representing parts of northeast Washington County.
Avakian also served three terms as Oregon's Commissioner of Labor and Industries, during which time he was a strong advocate for career and technical education programs, as well as for equity for women, people of color, and LGBTQ+ individuals.
Since leaving public service, Avakian has taught Politics and Public Policy for Managers in Willamette University's MBA program and worked in private practice as a mediator and arbitrator.
Vanessa Neal, Interim Vice President of Diversity, Equity and Inclusion
Vanessa Neal (she/her) rejoined Clark College in September 2022 as Interim Vice President of Diversity, Equity, and Inclusion. She earned her bachelor's degree in journalism and mass communication from the University of New Mexico and her master's degree in leadership and organizations with an emphasis in human capacity from the University of Denver. With over a decade of experience in Higher Education, she has served in private and public institutions in student and employee-facing roles.
She initially joined Clark College in 2016 as a Classified staff member in Human Resources. Eventually, she served as the College's Director of Talent Acquisition and Development, where her key focus was diversity, equity, and inclusion in hiring, development, and retention. She also served on the Title IX team as a FETI-trained Title IX investigator and supported various HR-related functions.

In past roles, Vanessa has served as a Co-President for the Colorado Local Education Adult Resource Network (Colorado LEARN), a Manager of Enrollment, a Senior HR Business Partner, a Director of People Practices, and as an Interim Chief People & Culture Officer alongside her own consulting work. During her time at Clark College, Vanessa partnered closely with the Office of Diversity, Equity, and Inclusion (ODEI) and the Teaching and Learning Center (TLC) to deliver various equity-centered trainings, events, and discussions and to host the inaugural Multicultural Graduation Reception. Through cross-departmental collaboration, she set the vision and direction for the accessible college-wide Professional Development Dashboard (PDD), implemented college-wide supervisory training, and supported the framework for the leadership development effort, L.E.A.D. During the early stage of COVID, Vanessa was instrumental in leading, developing, and transforming college-wide policies that allowed the College to pivot quickly during a critical time.
Das Gupta, Interim Chief Information Officer
Das Gupta serves as Interim Chief Information Officer at Clark College. Das joined Clark during the early stage of Covid in June of 2020 and has successfully implemented a new accessible ITSM tool to improve the customer service experience for our students and staff. He has a BBA in Information Systems from Walsh College in Troy, Michigan, and brings 25 years of combined experience in K12, Higher-ED, and Industry leadership. Das's recent work experience includes IT Manager at Portland Community College and Senior IT Manager at Portland Public Schools.