Clark College Leadership

Clark College President
Dr. Karin Edwards, President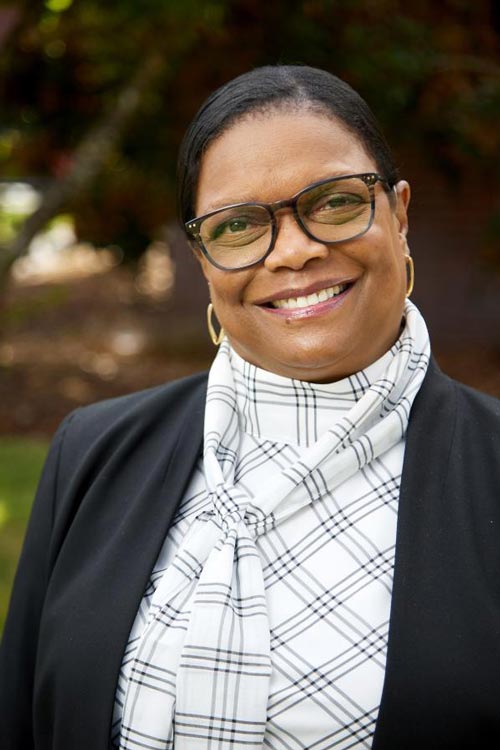 Dr. Karin Edwards is currently President of the Clark College, where she is responsible for providing vision and strategic direction for the college. As the chief executive officer, she has oversight for all programmatic, instructional, financial and student support services. Dr. Edwards is very active in community outreach and engagement, and workforce development. She plays a critical role in creating promising pathways for students and ensuring equitable student success. Before arriving in Portland in 2014, Dr. Edwards worked in the Connecticut and New York State Community College systems.
She holds a bachelor's degree in Psychology and a master's degree in Education Administration both from the State University of New York at Albany. She also earned a doctorate in Education Leadership from Johnson and Wales University in Providence, Rhode Island. Dr. Edwards has over 35 years of experience in higher education administration and has demonstrated an unwavering commitment to the mission of community colleges, which has three primary areas of focus. Community colleges provide access to quality education and training, promote economic and community development, and respond to local and regional workforce needs. Equity is also inherent in the mission of community colleges. Dr. Edwards has championed diversity, equity, and inclusion throughout her career.
Karin is a native New Yorker, born and raised in the South Bronx. For leisure, she enjoys reading, attending cultural events, exploring the Pacific Northwest, and dining out at the fantastic restaurants. She also enjoys giving back to her community by serving on various boards.
As a long-time educator, she has witnessed the transformational power that community colleges have in the lives of students and in the communities they serve.

Clark College Executive Cabinet
Dr. Michele Cruse, Interim Vice President of Student Affairs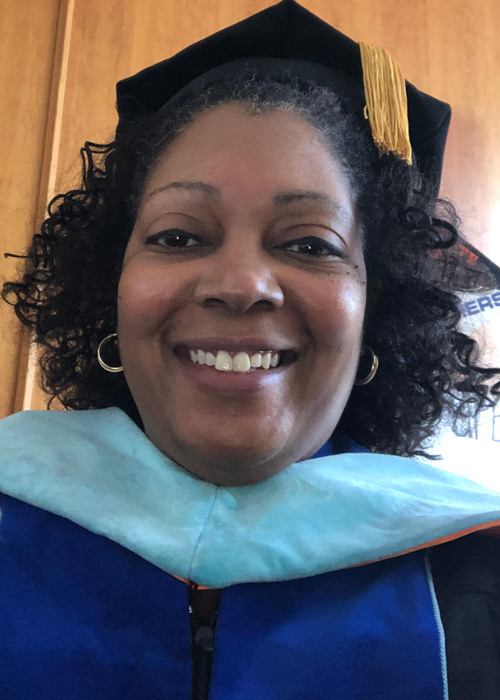 Dr. Michele Cruse is the Interim Vice President of Student Affairs at Clark College. Dr. Cruse started her academic journey by earning an associate degree from Community College of Allegheny County, in Pittsburgh, Pennsylvania. She earned her bachelor's and master's degree in Public Administration from the University of Pittsburgh, and Portland State University, and PhD in Community College Leadership from Oregon State University. Dr. Cruse feels that her role is to foster an environment where students feel valued, respected, and that they belong here at Clark as well as ensuring that students have meaningful and inclusive experiences while pursuing thier academic goals.
Dr. Genevieve Howard, Interim Vice President of Instruction
Darcy Rourk, Interim Vice President of Human Resources
Kelly Love, Chief Communications Officer
Kelly Love joined Clark College in March 2019. She has a wide range of communications experience. Before coming to Clark College, she worked as a public relations specialist at Legacy Salmon Creek Medical Center and Legacy Cancer Institute for three years. Before that, she served five years as CEO of the Greater Vancouver Chamber of Commerce. Love also served as U.S. Representative Brian Baird's District Director from 2005 to 2010. She began her career as a broadcast news reporter at KGW-TV in Portland.
A longtime resident of Vancouver, Love is an alumna of Clark College. She earned her bachelor's degree in communications from Washington State University Vancouver. She currently serves on the boards of Columbia Credit Union, and Pink Lemonade Project. Additionally, she has served on the boards of The Children's Center, the Association of Washington Business, Southwest Washington Workforce Development, Leadership Clark County, Cascadia Tech Academy and the Council for the Homeless of Clark County Washington.
Valerie Moreno, Chief Information Officer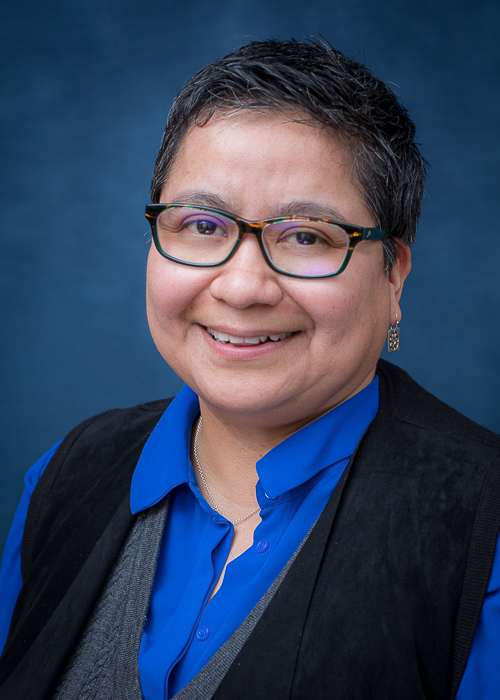 Valerie Moreno is Clark College's first full-time Chief Information Officer and brings more than 30 years of IT leadership to the college. She holds a Bachelor of Science degree in Network and Communication Management from DeVry University as well as several professional certifications, including certificates in Incident Command, Project Management, and ITIL.
Prior to Clark, Moreno was the Director of Information Technology at Portland Community College. In that role, she was responsible for overseeing PCC's network engineering, server administration, private cloud services, information security, NOC, data center, and voice teams supporting more than 87,000 faculty, staff, and students. She was responsible for daily operational oversight as well as for helping to create information-security policies and providing strategic direction for the college.
Moreno's other previous work experience includes Northwestern University in Chicago, AT&T, and QWEST Communications, among others. In the community, Moreno serves on the board of directors for Centro Cultural, a nonprofit serving the Latino community of Portland. She also has served on the board of several Chicago-based organizations, including Chicago Women in Trades and Girls in the Game, a nonprofit sports and leadership program. She was named Mentor of the Year by the Youth Job Center of the nonprofit Women Invested in Learning and Livelihoods (WILL).
Rashida Willard, Vice President of Diversity, Equity and Inclusion
Rashida Willard is the Vice President of Diversity, Equity and Inclusion at Clark College. Throughout her career, she has been able to develop and oversee initiatives that help promote diversity, equity and inclusion.
With twenty years' experience in risk mitigation, she consistently brings an equity framework to her management and leadership style as well as her daily interactions. In 2011, as a part of the founding DEI team at The Standard, she identified and launched programs for new employees of color, developed strategies to retain qualified employees and worked to create an effective networking channel strategically aligned to The Standard's diversity and inclusion goals. These efforts included: equity consultation with all levels of the organization, events, training, awareness and communication around diversity, equity and inclusion.
At Clark College, Rashida is committed to creating culturally engaging spaces for systemically non-dominant employees and students, as well as encouraging development for all people across the learning continuum. In the community, she is a strong advocate for historically underserved populations.
Rashida was a participant and graduate of Social Justice Leadership Institute for the Washington State Community College System for 2017-2018 and was nominated as a Real Hero for the Learn Here Project in 2018. She is also a part of the Vancouver Police Chief's Diversity Advisory Team.
Rashida holds a Master's in Business Administration, a Bachelor's in Business Administration and an Associate in Organizational Dynamics. She is currently attending Concordia University, pursuing a Doctorate in Education with a concentration in Professional Leadership, Inquiry and Transformation. Her current research explores how the campus racial climate affects students of color attending predominantly white institutions and their persistence and completion rates. This research will be used to examine and identify strategies to close the equity gap among students of color in higher education.
Sabra Sand, Interim Vice President of Administrative Services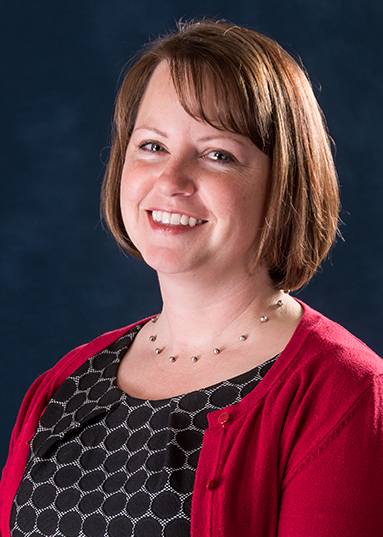 Sabra Sand serves as the Director of Business Services at Clark College. Sabra first joined Clark College in 1998 as a fiscal technician in the cashier's office. She is active at the state level serving on the Budget, Accounting and Reporting Council for all of the community and technical colleges.