WRITING WOMEN INTO HISTORY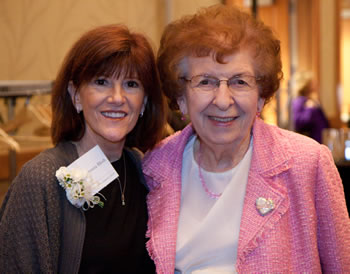 Woman of Achievement Donna Bleth (left) is congratulated by former State Rep. Val Ogden.
In 1980, President Jimmy Carter issued a proclamation declaring the week of March 8 as the first National Women's History Week. Thirty years later, the 2010 Women of Achievement celebrated that fact with the theme "Writing Women Into History" at the annual awards luncheon, held Friday, March 19 at the Hilton Vancouver Washington. Hosted by KOIN-TV anchor Kelley Day, the event drew more than 650 people attending -- an all-time record for the Women of Achievement celebration.
| | |
| --- | --- |
| | |
| Rainy Atkins, chief operating officer at Southwest Washington Medical Center, inspired the audience by sharing her experiences serving others. | KOIN-TV news anchor Kelley Day told the audience that she was honored to serve as emcee for the 2010 Women of Achievement celebration. |
The annual awards recognize women in Southwest Washington for their contributions to the region's community. Now in its 26th year, Women of Achievement was the inspiration of Pat Watne, who was serving as Director of Women's Programs at Clark College in 1985. Today, the event is co-sponsored by Clark College and the YWCA Clark County. Watne created an awards program that would recognize women and commemorate National Women's History Month and International Women's Day in March.


"Because of the combined efforts of YWCA Clark County and Clark College, the Women of Achievement celebration was the largest and most successful ever," said Kathy Murphy, who as a staff member of Clark College's Communications and Marketing Department was instrumental in putting the event together. "The room was bursting at the seams with family, friends and admirers of these successful women."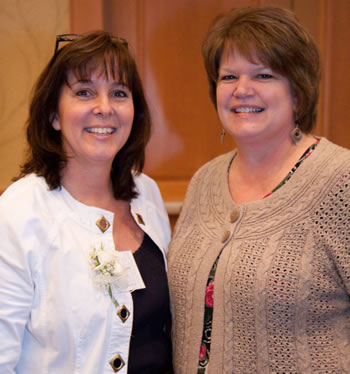 Woman of Achievement Nancy Simmons receives congratulations from Barbara Miller, Executive Assistant to the Vice President of Instruction at Clark College
One of Clark College's own was honored as a Woman of Achievement: Nancy Simmons, who serves as community partnership program coordinator at Larch Corrections Center, was the last honoree to speak at the luncheon. She credited President Bob Knight (who helped introduce the luncheon with an opening speech) with helping her succeed as a community leader. Prior to joining Larch, Simmons worked for the Clark College Foundation.
"Working at the college and having someone believe in me led me to my current position at Larch," she said. She also noted that, as part of the college's partnership with Larch, Knight decided to come to Larch with some of Clark's basketball players for an informal game. Afterward, he chatted with some of the offenders and told them to call him if they wanted to attend Clark after their release. Two did, and both received scholarships after Simmons and Knight encouraged them to apply.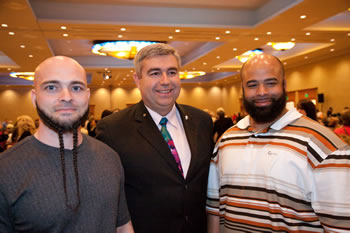 Left to right: Gary Warden, Clark President Bob Knight and Randall Henderson. After leaving Larch, Warden and Henderson each received scholarships and are attending Clark College.
Those two students -- Gary Warden and Randall Henderson -- were in the audience, enthusiastically cheering their former teacher. Both are currently earning 4.0 GPAs, one in Automotive Technology and one in Computer Science. "You don't know how the work you do today can impact lives tomorrow," said Simmons.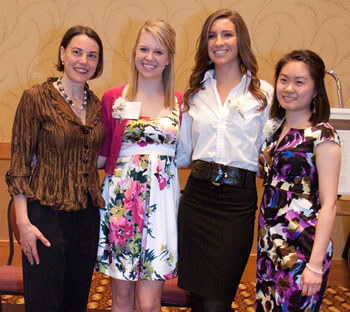 YWCA Clark County Executive Director Kathy Kniep congratulates Young Women of Achievement Holly Vogel, Nadia Mousleh and Jing Xue.
Young Woman of Achievement Holly Vogel, who attends Ridgefield High School and hopes to be an education lobbyist one day, said she found the event both gratifying and inspiring.
She said being a young woman trying to create change in the world can pose challenges, but that the stories of the women being honored showed the power of standing up for what's right. "I think when you're younger, people think you're a little girl, you're blonde, and they don't always take you seriously," she said. "But I've learned that sometimes I have to put my foot down and speak out for what I believe in, even if I'm not the biggest fish in the pond. After all, if all the little fish get together, we can make one heck of a splash."


Clark College Board of Trustees Vice Chair Jack Burkman congratulates Rev. Marva Edwards, who was written into history as one of Southwest Washington's 2010 Women of Achievement.

Young Women of Achievement Jing Xue (left) received a $1,500 scholarship from Clark College faculty emeritus Donna Roberge. Roberge established the first Young Woman of Achievement scholarship.

Clark College guests at the celebration included (left to right) Associate Vice President of Human Resources Dr. Darcy Rourk, Director of Advising Andrew Long, and Interim Associate Vice President of Student Affairs Ted Broussard.