Theatre Productions: 2018-2019 Season

Fall Show
The Clean House

by Sarah Ruhl


November 9, 10, 15, 16, 17
Directed

by Mark Owsley
The Clean House by Sarah Ruhl, a Pulitzer Prize finalist in 2005, is a romantic comedy about loss, love, change and redemption. The Clean House is both whimsical and touching. A career-oriented doctor has hired a quirky Brazilian maid who hates to clean. Instead, she longs to be a comedienne. The doctor is deserted by her husband, who leaves her for his mistress, a passionate, older woman upon whom he recently performed a mastectomy. Sarah Ruhl's play reminds us that there is humor and beauty to be found in life's most unlikely messes.
---
Winter Musical
Godspell 2012 Music and new lyrics by Stephen Schwartz Book by John-Michael Tebelak

February 22, 23, March 1, 2, 7, 8, 9
Directed

by H. Gene Biby, Vocal Direction by April Brookins Duvic
Godspell 2012 is a masterful retelling of the original musical sensation, injected with contemporary references and dazzling new arrangements. It was the first major musical theatre offering from three-time Grammy and Academy Award winner, Stephen Schwartz (Wicked, Pippin, Children of Eden); and it took the world by storm. A small group of people help Jesus Christ tell different parables by using a wide variety of games, storytelling techniques and a hefty dose of comic timing. An eclectic blend of songs, ranging in style from pop to vaudeville, is employed as the story of Jesus' life dances across the stage.
---
Spring Show
Proof by

David Auburn


May 17, 18, 23, 24, 25

Director TBD
Winner of the 2001 Pulitzer Prize.
On the eve of her twenty-fifth birthday, Catherine, a troubled young woman, has spent years caring for her brilliant but unstable father, a famous mathematician. Now, following his death, she must deal with her own volatile emotions; the arrival of her estranged sister, Claire; and the attentions of Hal, a former student of her father's who hopes to find valuable work in the 103 notebooks that her father left behind. Over the long weekend that follows, a burgeoning romance and the discovery of a mysterious notebook draw Catherine into the most difficult problem of all: How much of her father's madness—or genius—will she inherit?
Purchase Tickets

To secure your preferred seats, in advance, purchase online today!
Unsold tickets will be available for purchase at the door, 30 minutes prior to each performance.
To order season tickets, select tickets to all three plays. The season ticket discount will be calculated when you check out.
Season Ticket Prices
Fall, Winter, and Spring Shows included in Season ticket price:

Students (with ID): $25




Alumni (with membership): $25




Senior Citizens: $35




General Admission: $45
Fall, Spring and Summer Shows
Individual Ticket Prices
Students (with ID): $10
Alumni (with membership): $10
Senior Citizens: $12
General Admission: $15
Winter Musical Ticket Prices
Students (with ID): $10
Alumni (with membership): $10
Senior Citizens: $16
General Admission: $20
Decker Theatre
All shows at 7:30 p.m. in the Decker Theatre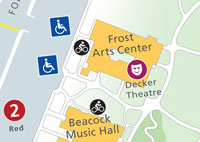 The Decker Theatre is located in the Frost Arts Center.
Please enter through the front entrance, go through the lobby and the theatre entrance is located in the southeast corner of the courtyard.
Commitment to Diversity
Clark Theatre embraces its role as part of an educational institution that is strongly committed to diversity. Our script selections reflect our mission to educate students and to initiate dialog about important topics. As a result, they may include violence, strong language, or overt sexuality that some audience members may find provocative. If you have questions about our production, we encourage you to research the play in advance or to contact our box office staff.