Theatre Productions: 2019-2020 Season

Fall Show
A Bright New Boise b
y Samuel D. Hunter


November 15, 16, 21, 22, 23, 2019

Will, who has fled his rural hometown after a scandal at his Evangelical church, comes to the Hobby Lobby, not only for employment, but also to rekindle a relationship with Alex, his brooding teenage son. Alex works there along with Leroy, his adopted brother and protector, and Anna, a hapless young woman who reads bland fiction but hopes for dramatic endings. As their manager, foul-mouthed Pauline, tries ceaselessly to find order (and profit) in the chaos of small business, these lost souls of the Hobby Lobby confront an unyielding world through the beige-tinted impossibility of modern faith.
---
Winter Musical
bare book by Jon Hartmere and Damon Intrabartolo
music by Damon Intrabartolo, lyrics by Jon Hartmere
Feb. 21, 22, 28, 29, March 5, 6, 7, 2020
A coming of age rock musical that features a group of high school seniors at a Catholic boarding school who face issues of sexuality and personal identity. As they struggle to come to terms with who they are, and who the world thinks they should be, they seek answers from their Church, their friends, and ultimately, from within themselves.
---
Spring Show
CANCELED: Dead Man's Cell Phone
by Sarah Ruhl
May 15, 16, 21, 22, 23, 2020
We are canceling the upcoming spring production due to COVID-19 restrictions. Thank you for supporting Clark College Theatre, announcement will be made in fall on upcoming shows.
Purchase Tickets
Please Note: Tickets are no longer available in-person at the bookstore.

To secure your preferred seats, purchase online today! Unsold tickets will be available for purchase at the Decker Theatre, 30 minutes prior to each performance.
Season Ticket Prices
Fall, Winter, and Spring Shows included in Season ticket price:

Students (with ID): $25




Alumni (with membership): $25




Senior Citizens: $35




General Admission: $45
To order season tickets, select tickets to all three plays. The season ticket discount will be calculated when you check out.
Fall, Spring and Summer Shows
Individual Ticket Prices
Students (with ID): $10
Alumni (with membership): $10
Senior Citizens: $12
General Admission: $15
Winter Musical Ticket Prices
Students (with ID): $10
Alumni (with membership): $10
Senior Citizens: $16
General Admission: $20
Decker Theatre
All shows at 7:30 p.m. in the Decker Theatre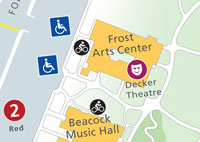 The Decker Theatre is located in the Frost Arts Center.
Please enter through the front entrance, go through the lobby and the theatre entrance is located in the southeast corner of the courtyard.
Commitment to Diversity
Clark Theatre embraces its role as part of an educational institution that is strongly committed to diversity. Our script selections reflect our mission to educate students and to initiate dialog about important topics. As a result, they may include violence, strong language, or overt sexuality that some audience members may find provocative. If you have questions about our production, we encourage you to research the play in advance or to contact our box office staff.