Staff Teaching & Learning Days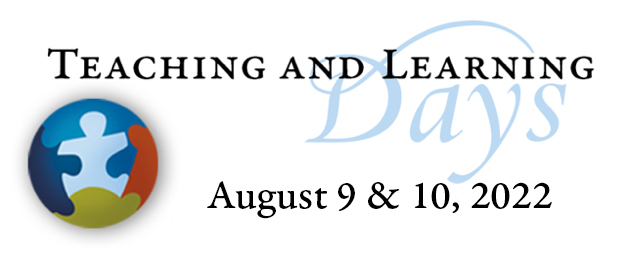 Clark College's Teaching and Learning Days Conference – Staff Development Days!
August 9 & 10, 2022
This two-day event provides training and professional development for Clark College classified, part-time, and administrative/exempt staff. Classes will remain in session, but all business offices will close to the public to allow all staff the chance to participate. Faculty are welcome to voluntarily participate as their schedule allows.
Conference Theme: Back to Basics

Our conference this year is centered around a theme of reconnection - refreshing our skills, meeting new faces at the college, and learning about all of the changes that different departments have gone through. Between the pandemic, remote operations, and general transitions happening over the last two years, we could all benefit from some time getting "Back to Basics."
Schedule
Sessions will be held between 9:00 a.m. and 4:30 p.m. each day in person on Clark College's main campus.
View the presentation materials here.
Location
With the restrictions lifting, we are looking forward to meeting in person again on Clark College's main campus. Lunch will be provided for both Teaching and Learning Days.
Unfortunately, due to staffing shortages and other logistical purposes, we won't be offering virtual options at this year's conference. Session slides and handouts are available up above.
COVID-19 Health Screening
All attendees will be required to complete the Clark College Health Questionnaire prior to participating in the conference. Please fill out this online health screening questionnaire before your trip. Check-in Health Screening Kiosk will be available during the conference in Gaiser Hall.
Face masks are encouraged but not required while indoors. During the opening sessions we will have volunteers directing conference attendees to Health Screening Kiosks.
View the College's response to COVID-19.
Important Reminders
Don't forget to bring a mask, water bottle, handheld fan, sunscreen or anything else to help you stay comfortable and well during the event. We will have flyers to help you navigate the water refill stations on campus.
Contact
2021-2022 Teaching and Learning Days Planning Work Group Members:
Alyssa Voyles, Vanessa Bural, Wendé Fisher, Michelle Golder, Degundrea Harris, Tre Sandlin, Carolyn Stark, Haley Tucker
Please contact, events@clark.edu with any questions.
If you need accommodation due to a disability in order to fully participate in this event, you should contact Clark College's Disability Support Services Office at 360-992-2314 or 360-992-0901 VP as soon as possible.