Sakura Festival History
John Kageyama, President of America Kotobuki Electronics, Inc., presented a gift of 100 Shirofugen cherry trees to the City of Vancouver to commemorate the 100th anniversary of Washington's statehood.

On April 11, 1990, as a celebration of Arbor Day and Earth Day, the trees were planted on Clark College's main campus in Vancouver's Central Park. The first tree was dedicated by Kageyama, who was joined by Vancouver Mayor Bruce Hagensen and Washington Governor Booth Gardner. Gardner had come to the college that day to sign the "Learning by Choice" bill, which included the creation of the Running Start program.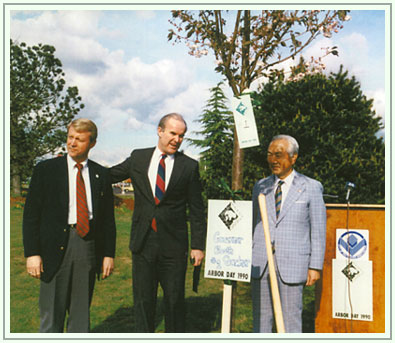 More than 300 residents of the community–as well as representatives of business and industry–joined members of the college community as teams of five (or more) spread mulch around each tree to complete the planting, which had been done earlier by staff members of Plant Services (now Facilities Services.)
News coverage of the event appeared in the April 12, 1990 issue of the college newsletter, Run of the Mill.

Today, the cherry trees bring beauty to the college and the region. They are the site of the annual Sakura Festival each April.
Left to right: Vancouver Mayor Bruce Hagensen, Washington Governor Booth Gardner, and John Kageyama, President of America Kotobuki, dedicate the first of 100 cherry trees in celebration of Arbor Day and Earth Day 1990. [Photo courtesy John Kageyama]