Women of Achievement Day: 25 Years in the Making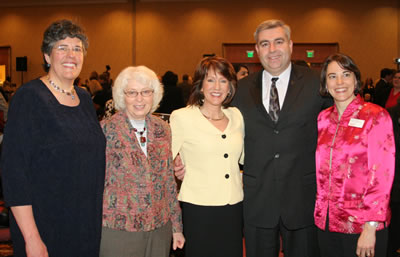 Left to right: English as a Non-Native Language professor and 1985 Woman of Achievement Priscila Martins-Read, former director of women's programs and Women of Achievement event founder Pat Watne, KGW-TV anchor and Women of Achievement emcee Laurel Porter, Clark College President Bob Knight, and YWCA Clark County Executive Director Kathy Kniep.
On March 23, 2009, Vancouver Mayor Royce Pollard read a proclamation declaring "Women of Achievement Day" in America's Vancouver before the 625 guests at the 25th Women of Achievement celebration, hosted by Clark College and YWCA Clark County.
For the 2009 silver celebration, which was emceed by KGW-TV news anchor Laural Porter, guests were also treated to video greetings from Gov. Chris Gregoire and Senators Maria Cantwell and Patty Murray.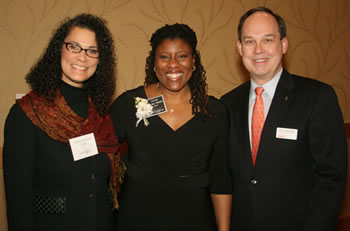 Director of Equity and Diversity and 1998 Woman of Achievement Leann Johnson (left) and Trustee Jack Burkman (right) congratulate Vancouver-area consultant Carol Parker Walsh for being named a 2009 Woman of Achievement.
In addition, Pat Watne, who established the celebration in 1985 when she was director of women's programs at Clark College, addressed the crowd and received a commemorative plate in honor of her work in pioneering the event. Twenty-five years after the initial photography exhibit and tea, 200 women have been honored as "Women of Achievement."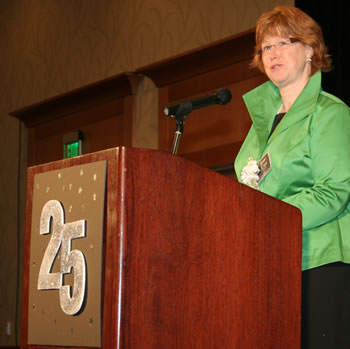 Associate professor of accounting and academic director of the WSU Vancouver Business School Jane Cote shares life lessons she's learned – including secrets from her gourmet cooking group, The Tastebuds – with attendees.
The 2009 Women of Achievement honorees are: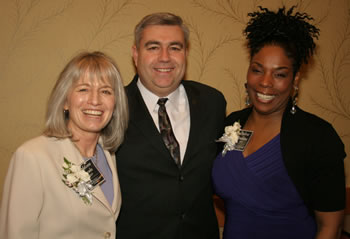 Clark College President Bob Knight (center) congratulates two of the 2009 Women of Achievement, both of whom have ties to the college: Addison Jacobs, director of public affairs for the Port of Vancouver and member of the Clark College Board of Trustees (left), and Debra Jenkins, professor of early childhood education and psychology at Clark.
Each honoree had the opportunity to address the crowd – many bringing laughter, some bringing tears – and shared their stories of what motivates and inspires them. "We can do so much more when we release our collective talents," noted Addison Jacobs, who is also a member of the Clark College Board of Trustees. "One of the things that I keep in my mind every day is: What gifts am I here to leave?," shared Clark College Professor Debra Jenkins.
In addition, three Young Women of Achievement were honored during the 2009 celebration. They are: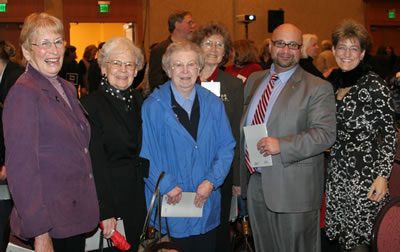 Left to right: Jo Fuller, Clark swimming instructor and 1988 Woman of Achievement; Arlene Scarpelli, wife of the late Dr. Antonio Scarpelli; Clarissa Farnsworth, wife of the late Ted Farnsworth; former Clark College professor and athletic director Gaydena Thompson; Clark College Foundation Vice President of Development Ara Serjoie; and Clark College Foundation President/CEO Lisa Gibert at the 2009 Women of Achievement luncheon.