Visitor's Guide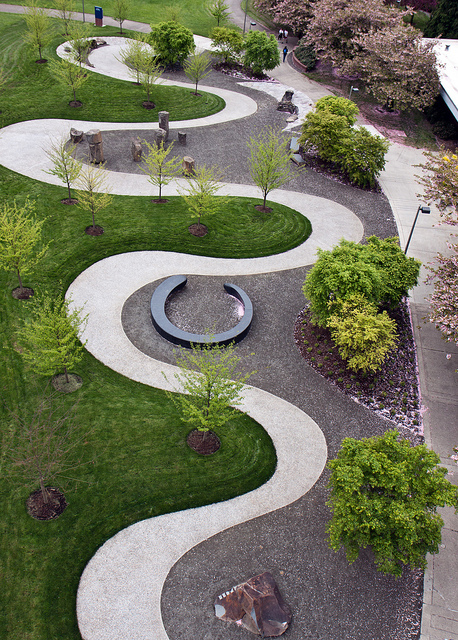 Clark College sits on a 90-acre arboretum. The grounds are open to the public, including the Royce E. Pollard Japanese Garden. In the spring the public is welcome to enjoy the 100 Shirofugen cherry trees in bloom. In the warm months, the Andersen Fountain is running outside of Gaiser Hall, and is a great place to have a picnic lunch in the sun.
The campus also has a theater, art gallery, dental clinic, fitness center, career services, child care, computer, and more, available to the public. Learn about upcoming signature events. We also host the annual Jazz Festival, the Science Olympiad, as well as signature events. See a complete listing of all Clark services available to the public.
Southwest Washington
Vancouver, where Clark College's main campus is located, is the fourth-largest city in the state and the county seat of Clark County. It also is a part of the Portland-Vancouver metro area, the 24th-largest metropolitan area in the country. Clark County is composed of the city of Vancouver and many close-knit towns and cities connected by plains, farms, hills, forests, and rivers.
Recreation
Hiking, bicycling, camping, fishing and kayaking are some of the outdoor opportunities available. Winter sports include skiing and snowboarding in the Cascade Mountain Range. The scenic beauty and geologic history of the nearby Columbia River Gorge draws visitors from around the world. The gorge also offers sailboarding and kite-sailing athletes a chance to compete in world-class conditions.
Employment
Clark County attracts major employers such as Sharp, WaferTech, Hewlett Packard, and SEH America, as well as a growing number of smaller tech firms and corporate headquarters for Nautilus Inc. and The Holland, parent company of the Burgerville, a Northwest restaurant chain. The Port of Vancouver USA operates on the Columbia River and handles more than 400 ocean-going vessels annually. As the largest workforce training provider in Southwest Washington, Clark College continually meets the needs of the business community and ensures that students are equipped with high-demand, relevant skills, whether they are full-time students entering the workforce or incumbent workers developing new skills to improve the productivity of their employers.
Services
The county features two state-of-the-art hospitals, several nationally recognized K-12 school districts, and, in addition to Clark College, Washington State University Vancouver, a branch campus offering baccalaureate and graduate degrees. Two interstate bridges—the I-5 and Glenn Jackson bridges—cross the Columbia River to connect Clark County to Oregon, where many residents work or access the area's international airport, regional transportation, schools and shopping.