Related Links
Clark College is working to become a Bee Campus!
Photo credit: Rich Hatfield
What is a Bee Campus?
A Bee Campus USA affiliate is a college campus that includes a bee habitat. In the spring of 2023, students, staff, visitors, and, importantly, BEES, will see native flowers sprouting up in gardens across campus. These flowers and natural areas where bees can make nests and lay eggs will help Clark establish this important bee habitat.
Clark College—and other Bee Campus USA affiliates—show that the built environment (such as campuses, neighborhoods, city parks, and even roadsides) can feature a thoughtful design that allows bees to thrive in shared areas.
In 2023 Clark College hopes to be certified as a Bee Campus USA affiliate.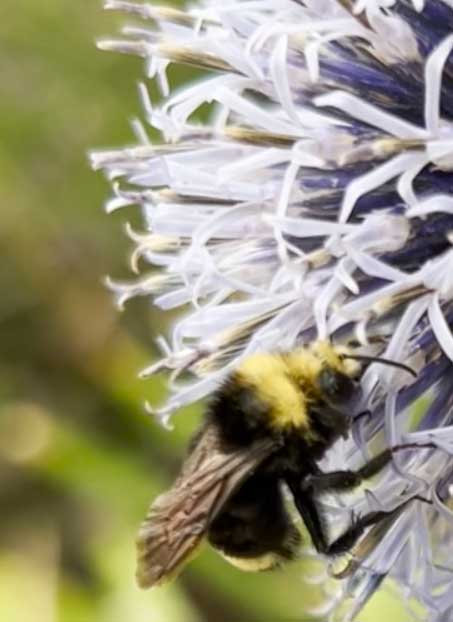 Native Bees Rarely Sting...
Most of us think we've been stung by a bee. But truth be told, those of us who have been stung were probably stung by something other than a native bee.
Plant More Native Flowers…
Flowers provide bees with all the food they need. Bees use the pollen and the nectar to feed themselves.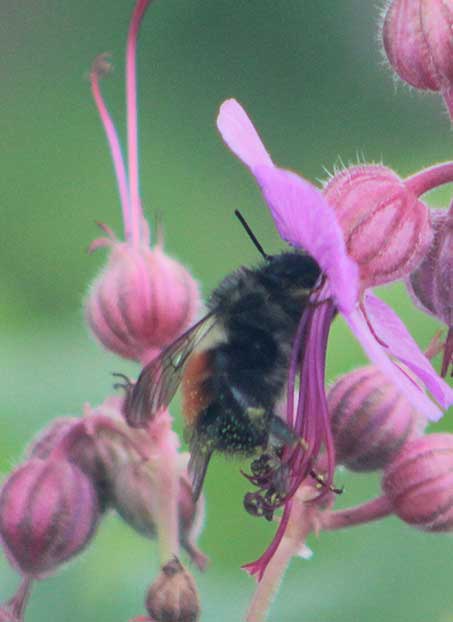 Though it's always good to be cautious,
bees on flowers tend to ignore humans and they are not aggressive. And many of them don't even retain the capability to sting!
Education
Upon becoming a Bee Campus USA affiliate, Clark College will commit to offering education to students and community members about the region's native pollinators. This education might be in the form of biology labs, Community Science research contributions, environmental science service learning, Continuing Ed seminars, and Bee Units offered to nearby elementary schools.
How Do We Get There?
Work has already begun to obtain Bee Campus USA certification!
Fall/Winter 2023 - Establish sites across campus for tilling to create flower gardens for the bees.
Winter 2023 - Plant native flower seeds. We will plant native flower seeds at several locations across campus.
Winter 2023 - Tilling will occur at 13 different locations across campus to prepare them for seed sowing.
Winter/Spring 2023 - Offer our first Bee Campus class. Beginning in February, Clark Community and Continuing Education will offer the college's first bee-focused class. The course will cover bee evolution and the life cycles of a few native bees. See Clark's Community and Continuing Education program for more information.
Seed Sowing: On February 21, at 2 PM and again at 2:40 we will have a ceremonial native flower seed sowing event. The public is welcome to join us as we take another step on our Bee Campus USA journey. We will meet in the lobby of the STEM building at the north end of campus and go out to the freshly tilled soil to scatter wildflower seeds. These flowers will blossom in the spring and be the first crop of nutrition that our Bee Campus offers.
Join the Hive
Can you bee-lieve it?
There are more species of native bees in the Pacific Northwest (over 600) than there are species of native birds (under 400)!
90% of bees are solitary—they don't live in a hive but rather the female makes a solo nest and lays her eggs there. Then she alone provides for the eggs by storing bundles of pollen for them to eat when they hatch.
Join us to learn more!
Do you have any questions about Clark's Bee Campus?
Any ideas?
Are you interested in learning more about Bee Campus?
Are you interested in learning more about native bees?
Would you like to get involved or volunteer?
Would you like someone to talk to your group about bees?