InternationalEducationWeek
Prospective Students
|
Current Students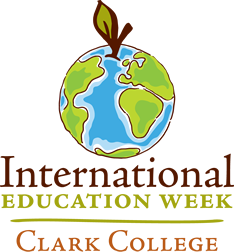 From November 17-21, 2014, Clark College will host International Education Week.
International Education Week (IEW) is a joint initiative of the U.S. Departments of State and Education to highlight the importance of international education and cultural exchange.
Clark College will host a wide range of events this week including films, speakers and music. All events are free and open to the public–please encourage students to attend.
International Education Week 2014
Monday, November 17 - Friday, November 21, 2014
Monday, November 17:
10:00 – 10:50a.m.
Penguin Student Lounge (PUB 161)
Study Abroad in Mexico/Spring Break 2015
Want to travel to Mexico this spring break with and learn more about the country's rich history and culture all at a VERY affordable price? Attend this session to find out more.
11:15 – 12:00p.m.
Penguin Student Lounge (PUB 161)
Florence, Italy Study Abroad Presentation
Clark College Communication Studies Instructor Dave Kosloski will be teaching on a quarter-long study abroad program in romantic Florence, Italy during Spring 2015. This session will highlight the opportunity for students to participate in the program.
12:00 – 12:50p.m.
Penguin Student Lounge (PUB 161)
German Studies in Berlin Presentation
Clark College German instructor Julian Nelson will led a group of Clark College students to Berlin, Germany during summer 2015 in a short-term study abroad program through the Clark College World Languages Abroad Program. Learn more about the program and how you can apply!
2:00 – 2:50p.m.
Penguin Student Lounge (PUB 161)
Study Abroad 101: Funding Your Study Abroad Experience!
This information session will cover the basics of getting started with Study Abroad and you will hear from the Clark College Financial Aid experts on applying Financial Aid toward your Study Abroad experience. Scholarship opportunities will also be discussed.
Tuesday, November 18:
11:00 – 11:50a.m.
Penguin Student Lounge (PUB 161)
International Speaker's Bureau: Takunda from Zimbabwe
Come to the quarterly international student speakers' series sponsored by the Clark College Office of International Programs. Takunda Masike, an international student from Zimbabwe, will speak about his home country and about his experience studying in the U.S.
12:00 – 12:50p.m.
Penguin Student Lounge (PUB 161)
Camino del Norte: A College Student's Pilgrimage through Northern Spain
You won't want to miss Clark College student Cory Fox's firsthand account of hiking for 30 days along the infamous Camino del Norte in northern Spain. In this talk, he will highlight a day in the life along this scenic and culturally rich trail and provide tips on how you too can make your dream adventure come true!
Wednesday, November 19:
11:00 – 1:00p.m.
Gaiser Student Center
International Student Exhibition
The 3rd Annual International Student Exhibition celebrates the art and experiences of our current international students, Clark students who participated in Study Abroad, Day of the Dead celebration, Garbology exhibit and students from various clubs on campus. There will also be a variety of NGOs and non-profits doing meaningful international work. Plus, live music by Marimba Mike and the winners of the International Photo Contest will be announced!
Thursday, November 20:
10:00 – 1:00p.m.
Penguin Student Lounge (PUB 161)
Student Showcase
The title says it all! Attend a showcase of student talent and experiences, including student presentations about travel in Azerbaijan and Togo and live musical performances by various students.
6:00 – 8:00p.m.
Anna Pechanec Hall, room 201
Mexican Film: Santo en el museo de cera (Samson in the Wax Museum)
Come and join us to see Samson in the Wax Museum (Santo en el Museo de Cera). This film is one of the most emblematic B wrestling-zombies movies ever filmed! Free coffee, Mexican sweet breads and bring your "luchador" paraphernalia to win a taco.
Friday, November 21:
11:00 – 2:00p.m.
Anna Pechanec Hall, room 201
Mexican Documentary Film: Hecho en Mexico
The World Languages Abroad Program will host this documentary feature film, "Hecho en Mexico", on some of contemporary Mexico's most iconic artists and performers. [2012, Rated R for some language, sexual references and brief drug use].
6:30 – 9:30p.m.
Foster Auditorium
A sparkling cocktail for the senses: Midnight in Paris
The Clark College French Club and the Clark College Swing Dance Club present "Midnight in Paris", 2011, PG-13. English with French subtitles. Food & dance sampling at 6:30p.m. prior to the screening.
International Photo Contest: Winners announced on 11/19!
Current Clark College students, alumni, faculty, and staff are invited to participate in the 2nd Annual International Photo Contest! Photo submissions will be displayed at each of Clark College's campuses for voting during October and November, leading up to International Education Week. Winning photos will be selected by majority vote and a selection panel,and will be displayed during the International Student Exhibition event on Wednesday, November 19th in Gaiser Student Center. Prizes and recognition will be awarded to the top three winning photos
Voting & Photo Display Location Timeline
Main Campus (November 18 – 21)
For Questions contact International Programs, GHL 215, 360-992-2390 or
international@clark.edu