International Education Week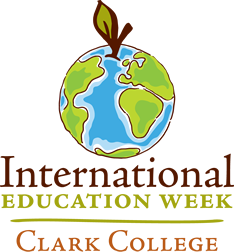 International Education Week 2015
Monday, November 16 - Friday, November 20, 2015
From November 16-20, 2015, Clark College will host International Education Week. International Education Week (IEW) is a joint initiative of the U.S. Departments of State and Education to highlight the importance of international education and cultural exchange.

Clark College will host a range of events this week including films, speakers, international cuisines and music. All events are free and open to the public - please help us encourage students to attend.
International Games
10:00 - 11:50a.m. in PUB 161
Monday, Nov. 16 and Wednesday, Nov. 18
Try your hand at various games from around-the-world! Students will facilitate the games at small round tables; try one or master them all.
International Student Exhibition
11:00 - 2:00p.m. in Gaiser Student Center
Monday, Nov. 16
The 4th Annual International Student Exhibition celebrates the art and experiences of our current international students, Clark students who participated in Study Abroad, a Day of the Dead celebration and students from various clubs on campus. There will also be a variety of NGO's and non-profits doing meaningful international work. Opening remarks by Bill Belden, Vice President of Student Affairs.
"ELLIS" | A Short Film + Discussion
3:00 - 4:30p.m. in PUB 161
Monday, Nov. 16
This short-film (15 minutes) starring Academy Award Winner Robert DeNiro, makes a powerful statement about immigration by taking the audience back to the early years of Ellis Island, and and stepping into the experience of one immigrant. Ellis tells for forgotten story of immigrants who built America, while questioning the policy for those who currently seek the opportunities and safety in this country and in other parts of the world. This screening will pair JR's original film with a meaningful discussion led by Clark College faculty Van Forsyth and Julian Nelson focused on Ellis Island, the films' artist and his photography projects, current challenges around immigration and more. This event is sponsored by the World Languages Department. Visit the Ellis Movie website for more information about the film and to view the trailer.
International Sports + Recreation
10:00 - 11:50a.m. in O'Connell Gym
Tuesday, Nov. 17 and Thursday, Nov. 19
Try your hand at various sports and recreational activities from around-the-world! All are welcome - come prepared for high intensity activity and/or to spectate.
Thousand Waves' "West Meets East": A Koto Performance
1:00 - 2:00p.m. in PUB 161
Tuesday, Nov. 17
The 'Bring Japan to Clark' series presents Thousand Waves' "West Meets East" event featuring a live Japanese Koto concert with guitar and flute. Grab a friend and enjoy the beautiful sounds of Japan! This event is sponsored by the Associated Students of Clark College.
World Wise: An Employer Panel Presentation
4:00 - 5:00p.m. in PUB 161
Tuesday, Nov. 17
Representatives from Nike, Sigma Design and Boeing will form a panel to discuss the importance of cross-cultural communications in a business context. This event is sponsored by the BEAM Business Club and Career Services.
The Wind Rises, A Japanese Anime Film
10:30 - 12:30p.m. in Gaiser Student Center
Wednesday, Nov. 18
The Wind Rises is a 2013 Japanese animated historical drama film, a fictionalized biopic of Jiro Horikoshi (1903-1982), a designer of the Mitsubishi A5M fighter aircraft and its successor, the Mitsubishi A6M Zero, used by the Empire of Japan during World War II. The Wind Rises was the highest-grossing Japanese film in Japan in 2013 and received critical acclaim. It won and was nominated for several awards, including nominations for the Academy Award for Best Animated Feature, the Golden Globe Award for Best Foreign Language Film, and the Japan Academy Prize for Animation of the Year. Free Japanese snacks will be served! This event is sponsored by the Activities Programming Board (APB).
Student Showcase
PUB 161 - Time and day is TBD
The title says it all! Attend a showcase of student talent and experiences, including student presentations about studying abroad in Mexico, Italy and South Africa.
eWaste in China, a 30 Clicks Presentation
4:15 - 4:45p.m. in Cannell Library 103
Wednesday, Nov. 18
International Programs Director Jane Walster will talk about how eWaste that we think is being recycled is often dumped in poor communities in Asia and Africa. This event is sponsored by Cannell Library.
Fifty Years of Culture Shock: Adaptation, Acceptance and Commitment
TLC's Faculty Speaker Series event
4:30 - 5:30p.m. in Foster Auditorium
Wednesday, Nov. 18
Business instructor Lucia Worthington will talk about teaching and learning the cultural dimensions of living in six different countries throughout Europe, the Middle East, Asia and North America. This event is sponsored by the Teaching and Learning Center.
Study in London!
1:00 - 2:00p.m. in PUB 161
Thursday, Nov. 19
Clark College English instructor Toby Peterson will be teaching on a quarter-long study abroad program in London, England during Fall 2016. This session will highlight the opportunity for students to participate in the program.
French Film on Friday
6:30 - 9:30p.m. in Foster Auditorium
Friday, Nov. 20
The Clark College French Club will show a French film. Stay tuned for update on film selection.
International Photo Contest - Voting is now OPEN!
The photo submission period is now closed.
Selection of Winning Photos:
Photos will be displayed for in-person viewing and voting for the "People's Choice" award at the main campus, Columbia Tech Center, Economic and Community Development, and WSUV. Votes may also be submitted through the Clark College International Programs Facebook page at: Clark College International Programs Two winning photos will also be selected by the IEW committee. Winners will be announced at the International Student Exhibition on Monday, November 16 at 12:30p.m. in Gaiser Student Center.
For Questions contact International Programs, GHL 215, 360-992-2390 or international@clark.edu