International Education Week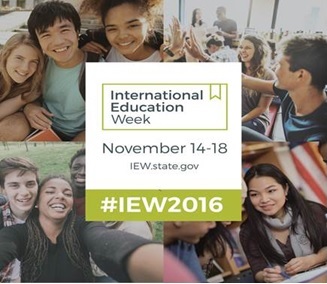 INTERNATIONAL DAY 2016
Thursday, November 17th, 11 am – 4 pm
Free and open to the public!
11 – 12 International Employer's panel PUB 161
12 - 4 International Day Festival Gaiser Student Center
12:00 Welcome and proclamations from Vancouver Mayor Tim Leavitt and Clark College President Bob Knight
12:00 International food tasting
12:30 West African drumming featuring Okaidja Afronso
1:00 International student panel
2:00 Cultural presentations
2:30 Japanese traditional Martial Arts demonstration: Shinto-muso-ryo Jo
2:45 El Dia del los Muertos performance
3:00 Mariachi music featuring Los Probadores de Michoacan
4:00 International photo contest winner announcement
Friday, November 18th
10 - 12:00 Mexican Cooking Class (Columbia Tech Center, CTC) - $40 per class
1 - 3:00 Mexican Cooking Class (Columbia Tech Center, CTC) - $40 per class
2 - 3:00 International Service Learning in Mexico (GHL 213)
Contact
international@clark.edu, 360-992-2390 or GHL 215 to volunteer or get involved.

International Day is part of International Week (November 14 – 18, 2016), a join initiative between the U.S. Department of State and the U.S. Department of Education, to "promote programs that prepare Americans for a global environment and attract future leaders from abroad to study, learn and exchange experiences". The national theme for IEW 2016 is "Empowering Youth through International Education". Clark College is celebrating the national event by planning international and cultural activities with the campus and community. Watch this website for updates.