InternationalEducationWeek
|
Current Students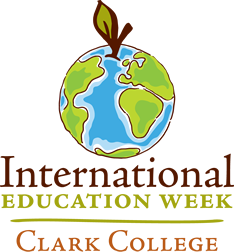 Save the Dates: November 16 - 20, 2015!
From November 16-20, 2015, Clark College will host International Education Week. International Education Week (IEW) is a joint initiative of the U.S. Departments of State and Education to highlight the importance of international education and cultural exchange.
Clark College will host a wide range of events this week including films, speakers and music. All events are free and open to the public–please encourage students to attend.
International Education Week 2015
Monday, November 16 - Friday, November 20, 2015
For Questions contact International Programs, GHL 215, 360-992-2390 or international@clark.edu