International Education Week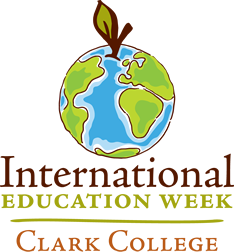 International Education Week 2015
Monday, November 16 - Friday, November 20, 2015
From November 16-20, 2015, Clark College will host International Education Week. International Education Week (IEW) is a joint initiative of the U.S. Departments of State and Education to highlight the importance of international education and cultural exchange.

Clark College will host a range of events this week including films, speakers, international cuisines and music. All events are free and open to the public - please help us encourage students to attend.
International Photo Contest - Call for Submissions!
The Office of International Programs is now accepting (JPEG) photo submissions now through Friday, October 16 @ Noon
What: Photo contest exploring the theme "Access for All" (Access to cultures, people, nature, etc.). You are invited to submit your best international photo (of any country that is not your home country)!

Open to: Current Clark College students, alumni, faculty and staff. Your '940' SID number is required.

Deadline: Friday, October 16, 2015 - 12:00p.m.

Winners: There will be three winning photos, one selected by popular vote and two by the IEW committee

Details: Winning photos will be displayed during IEW (Nov. 16-20) and will receive a prize.

Submission Guidelines:
Limit of one JPEG photo submission per person
No selfies
Photo must be taken by the person who submits it
Digital submissions only
Must be no larger than 2MB; JPEG only; medium to high resolution
Photo must be taken within the last 5 years
Photoshop or other photo editing software may not be used
No captions or borders allowed
To Enter: E-mail your photo to international@clark.edu by Friday, October 16 at 12p.m. with the following information:
Name
SID number (940-_ _- _ _ _ _)
E-mail Address
Telephone number
Clark Affiliation (Student/Alumni/Faculty/Staff)
Location and Year of Photo
Selection of Winning Photos:
Photos will be displayed for in-person viewing and voting for the "People's Choice" award at the main campus, Columbia Tech Center, Economic and Community Development, and WSUV. Votes may also be submitted through the Clark College International Programs Facebook page at: Clark College International Programs Two winning photos will also be selected by the IEW committee. Winners will be announced at the International Student Exhibition on Monday, November 16 at 12:30p.m. in Gaiser Student Center.
*Entrants retain the ownership and all other rights to future use of the photographs they enter. Your entry to the contest constitutes your agreement to allow your entered photograph - and your name, and title (ie: "student") - to be published on the Clark College website and Facebook pages as well as printed and displayed for contest purposes.
For Questions contact International Programs, GHL 215, 360-992-2390 or international@clark.edu