CLARK COLLEGE & MARYLHURST UNIVERSITY TAKE THE NEXT STEP IN CREATING OPPORTUNITIES FOR STUDENTS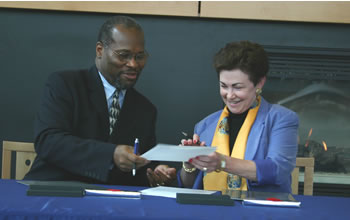 With the stroke of two pens, the presidents of Clark College and Marylhurst University signed an historic co-admissions agreement, the first between institutions of higher learning in Southwest Washington and Northwest Oregon. The agreement formalizes a partnership to improve student access to undergraduate education, increase the efficiency of joint efforts in support of students, and improve the success of student transfer rates through the completion of associate degrees and baccalaureate degrees.
The new partnership will provide numerous benefits for Clark College students, including coordinated federal financial aid disbursement, a waived application fee for Marylhurst, special scholarship opportunities for co-admitted students, coordinated student and academic services, credit for prior learning, one application, joint library services, on-site academic advising, access to computer services and coordinated degree completion.
Clark College students will be encouraged to enroll in classes at Marylhurst University only after completing 70 transferable credits and will be encouraged by staff at both institutions to complete an associate degree en route to completion of the baccalaureate degree. Clark College students may transfer up to 120 credits to Marylhurst University. Students who complete their program of study at Clark College and satisfy all requirements (including grade point average) will be guaranteed transfer into the specified program at Marylhurst University.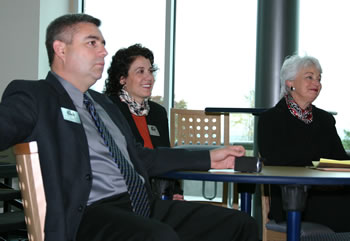 As part of the agreement, both institutions have established mutual goals including faculty exchange and professional development activities, career path programs, technology connections (access to student records, library services, course and classroom linkages and other faculty/student communication), as well as a comprehensive evaluation process for assessing the outcomes of the partnership agreement.
This partnership agreement will provide new educational opportunities for students. Marylhurst offers outstanding baccalaureate programs including degree programs not widely available in the northwest including music therapy and real estate studies. Students interested in pursuing art therapy, interdisciplinary studies or religious studies may work toward a master's degree in those subjects at the graduate level.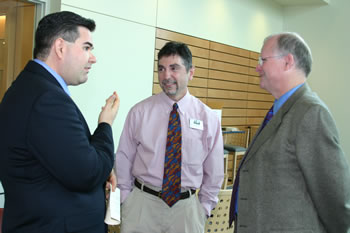 Information about Marylhurst University can be found on the Internet at www.marylhurst.edu or by calling 503-699-6268 or toll free 800-634-9982 x6268. Marylhurst University is located at 17600 Pacific Highway (Hwy 43) in Marylhurst, Oregon.lty can seek like projects or see reports from other specific departments, etc.