At Clark College, it's all about the student.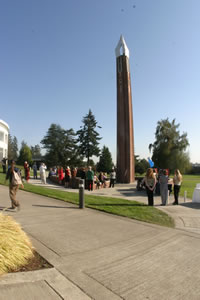 If you're in high school and want to get a "running start" on higher education, Clark College is the next step.

If you want to get a four-year degree, Clark College is the next step for a two-year degree.

If you're ready for a new career, Clark College is the next step for a certificate.

If you're looking for professional growth or continuing education, Clark College is the next step for classes.

If your business needs customized training, Clark College is the next step for a needs assessment.
Whether you want a career or already have one, or your company needs to better the skills of your employees, or you have just enough leisure time for a class that enriches your life our commitment to education, training, workforce education and lifelong learning have been a cornerstone of our region for nearly 80 years.
And how do we know? Ask our alumni.
Denis Hayes is the founder of Earth Day. Randy Myers became a professional baseball player. Richard Blaisdell was honored as a Culinary Olympic Gold Medalist. Al Bauer, Jr. served in the Washington State Senate. Don Bonker became a U.S. Congressman. Dr. Patricia Wirth loved education so much that she became a community college president. Tom Koenninger was the editor of Vancouver's "Columbian" newspaper.
Or ask the companies that have benefited from our knowledge base, such as Columbia Vista and New Edge Networks.
Or the people who depend upon the college for learning in their "leisure years," such as Hilma Speights, whose involvement in our mature learning program led her to generously bequeath millions of dollars to support our nursing education program.
Or those high school students in our Running Start program who have enjoyed tremendous success, such as Rosalyn Hart, who received the 2005 General George C. Marshall Youth Leadership Award and was named to the 2005 All-Washington Academic Team. Or Running Start student Renata Fusso, who won the 2008 General George C. Marshall Youth Leadership Award.
All of those people - with all of their diverse goals and aspirations - chose Clark as the next step in their lives.
So, if you're looking for high academic standards in a welcoming and supportive environment, a commitment to student success and excellence in teaching, Clark is the next step. Now that you've taken the first step by visiting our web site, I hope you'll explore it to see everything that Clark College has to offer. If you have questions or want more information, call us, write to us, or -- better yet -- visit our beautiful main campus or our vibrant facilities at Clark College at Columbia Tech Center and WSU Vancouver.
And we're still growing. We've added new programs including medical radiography. Each year, we host hundreds of events for the college and community -- from the Science Olympiad and Regional VICA-Skills USA contest to the annual celebration honoring Women of Achievement in Southwest Washington. We offer plays, concerts and great art. We welcome nationally-recognized speakers and performers.
For nearly 75 years, Clark College has been empowering learners who enrich the social, cultural and economic vitality of our region and the global community.
At Clark College, it's all about the student. Whatever your ultimate goal is, Clark College is The Next Step for you.
Robert K. Knight

President