The Clark College Jazz Festival
SAVE the DATE ~ 60th Annual Jazz Festival ~ January 25-27, 2024

Registration for the 2024 Festival will open on September 1, 2023: High School Registration | Middle School Registration
As rich as the heritage of Clark College itself, the Clark College Jazz Festival has been host to one of the largest jazz festivals in Southwest Washington for over 50 years! Held the last weekend in January in Gaiser Hall on the beautiful Clark College campus, the festival attracts over 60 middle and high school instrumental jazz ensembles for the three day competitive festival. During the day, groups perform to an esteemed panel of adjudicators made up of renowned jazz educators and performers for the privilege of returning to perform in the evening finals competition where they will be ranked for 1st, 2nd, and 3rd place. On the final evening of the festival, one band from the entire festival is selected to receive the coveted Sweepstakes Trophy, a tradition which has been passed down since 1963.
Please read through our middle school and high school rules. If you have any questions, please contact Festival Director, Dr. Doug Harris, at 360-992-2188 or daharris@clark.edu.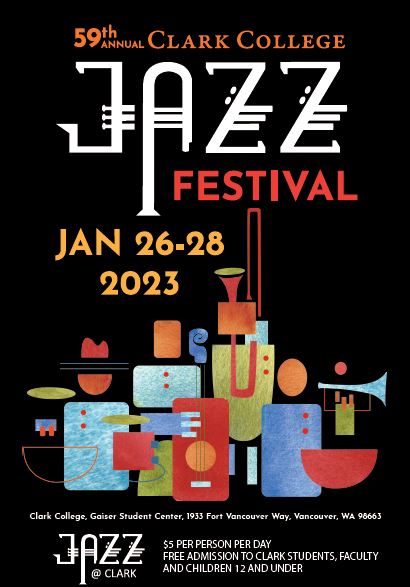 The vision of the Clark College Jazz Festival intends to meet three goals:
To promote the ideals of jazz music, jazz education, and jazz performance to the Clark College community, the participating high schools, and the local community.
To provide a learning and motivating opportunity to all participating high school jazz students and their directors early in the festival season.
To enhance the education of the students of Clark College by providing the opportunity to experience the administrative and organizational skills required to produce an event of this magnitude.

We hope you will join us in January!

Doug Harris
Jazz Festival Director