Iris Awards History
The Iris Awards - Honoring women of achievement in Southwest Washington
In March 1985, Pat Watne, the Director of Women's Programs at Clark College, organized a photography exhibit to recognize the outstanding contributions made by eight women in Southwest Washington.
The project was held to commemorate National Women's History Month, to recognize International Women's Day, and to honor volunteer efforts and community leadership of women in Clark County. The women recognized in the photo exhibit were also celebrated at a tea. From that humble beginning, the Women of Achievement luncheon was born. Within four years of its inception, the event moved from the college to the Red Lion Inn at the Quay. In 1991, YWCA Clark County joined Clark College in sponsoring the annual celebration. In 2005, the event moved to the Hilton Vancouver Washington, having become the largest event of its kind in Southwest Washington.
In 2009, the event marked two milestones: 25 years of honoring women in Southwest Washington, and reaching a total of 200 honorees recognized. The following summer, both organizations, faced with reduced funding in tough economic times, made the difficult decision to put the much-loved event on hiatus while they worked to restructure it in a way that would be sustainable for future years.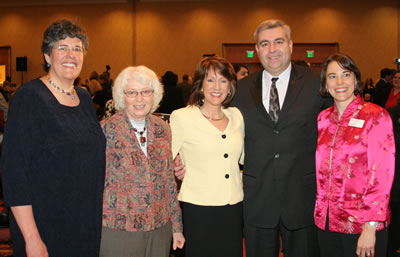 The 2009 Women of Achievement celebration. Left to right: English as a Non-Native
Language professor and 1985 Woman of Achievement Priscila Martins-Read, former director
f women's programs and Women of Achievement event founder Pat Watne, KGW-TV anchor
and Women of Achievement emcee Laurel Porter, Clark College President Bob Knight,
and YWCA Clark County Executive Director Kathy Kniep.
Then in 2012, the event was reintroduced as the Iris Awards. Still with the same core mission – honoring women – but with additional partnerships in Clark College Foundation and The Vancouver Business Journal, the event was moved back to the Clark College campus. The partner organizations also jointly agreed to reduce the honorees from eight to three women for their outstanding contributions in the categories of public, private and philanthropic service.
In 2013, the Vancouver Chamber of Commerce joined as a partner, and today the event continues to be the largest event of its kind in Southwest Washington.
Why
Iris Awards
?
Iris is the Greek word for rainbow. In Greek mythology, Iris was the goddess of the rainbow, the messenger of the Olympian gods. Her name contains a double meaning, being connected both with iris, "the rainbow," and eiris, "messenger."
Iris is also associated with communication and new endeavors, both of which are exemplified by women in their public and private roles throughout Southwest Washington and beyond. The organizers of the Iris Awards note that women's lives today "represent a rainbow of possibilities."
Learn more about the: