Pharmacy Technician
About
Pharmacy technicians assist and support licensed pharmacists to prepare prescription medications, provide customer service and perform administrative duties within a pharmacy setting. Pharmacy settings can include retail, clinics, long-term care, hospitals, and specialized compounding pharmacies.
The Pharmacy Technician program includes courses in pharmacy calculation, pharmacy law, and hands-on experience in a lab that mirrors industry settings.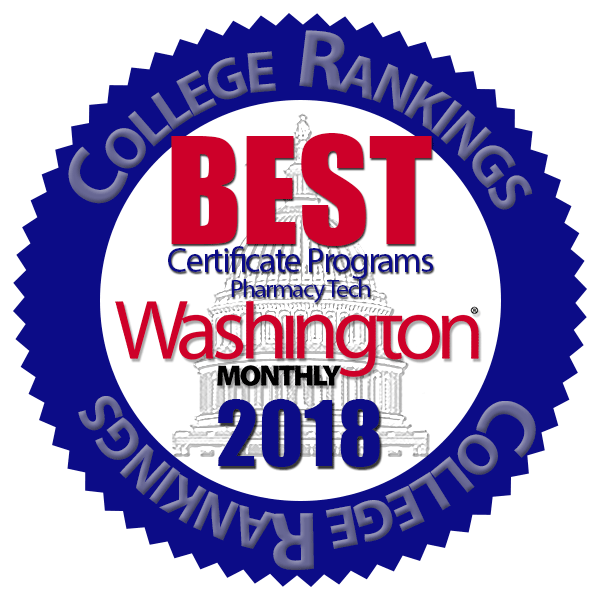 Clark's Pharmacy Tech Certificate has been rated as the best in the nation in Washington Monthly's college rankings.
Program Maps
Degrees and Certificates
Request Information
Contact
Welcome Center
360-992-2078
Attention Students:
Vaccination against COVID-19 is required of all Pharmacy Technician students.
We are not able to provide clinical placement options for unvaccinated students; thus no vaccination exemptions are allowed.
Enrollment in the Pharmacy Technician program
The next cohort begins in Fall 2022. We hope to see you begin a career in a field that is continually growing with a large community need.
Program Info Sessions:
Join us for monthly Pharmacy Tech Program Info Sessions! We will meet the last Thursday of each month via Zoom at 10:30 am. Use this link: https://us02web.zoom.us/j/89580862328?pwd=VVAwNG9oc25HcnprTnFkOFBWbEhGZz09
Now is a good time to take any preparatory coursework you need to enter the program. Contact our Welcome Center at start@clark.edu to learn more.
WorkSource tuition assistance
Hands-on Experience in the Pharmacy
As health care becomes more technically complex, the need for individuals with dynamic thinking and problem-solving skills is important. Whether in a pharmacy, clinic, or hospital, pharmacy technicians use their skills to ensure patients receive the proper assistance and medication. In recent years, an increase in degreed pharmacy technicians has allowed medical providers to increase the quality of services provided and decrease medication errors.
Pharmacy Technicians have a keen sense for detail and work well in a fast-paced environment. Students in Clark's program learn in a mock Pharmacy lab setting to gain hands-on experience in a controlled environment. From there, students progress to two quarters of externship experience in local Portland/Vancouver pharmacies.
Courses offered for the AAT in Pharmacy Technology focus on developing skill in leadership, business relations, and professional development. With these additional skills aspiring pharmacy technology students gain a significant advantage in securing entry-level positions as well as advancing their career.
Certification
Clark College offers a Certificate of Proficiency and expanded Pharmacy Technology curriculum leading to an Associate in Applied Technology (AAT) degree in Pharmacy Technician Leadership.
For both Washington and Oregon, national certification through the Pharmacy Technician Certification Exam (PTCE) is required to obtain a license and work as a pharmacy technician. As of 2020, in order to sit for the PTCE, a candidate must complete a program approved by the Pharmacy Technician Certification Board (PTCB). Clark College's Pharmacy Technician Program is approved by the PTCB.
Career Opportunities
Now has never been a better time to be a pharmacy technician. Opportunities are abundant in retail and hospital settings, as well as longterm care pharmacy and others. Linked below are some of the pharmacy technician program's clinical partners that are currently hiring for both full- and part-time pharmacy technician positions in the Portland/Vancouver metro area, some with sign-on bonuses!
Employment opportunities for Pharmacy Technicians exist in a variety of medical environments. The U.S. Department of Labor and Statistics forecast Pharmacy Technician jobs growing at a rate of 4% between 2019 and 2029, with a current median wage in the Portland-Vancouver metro area estimated at $20.65 per hour.