Scholarships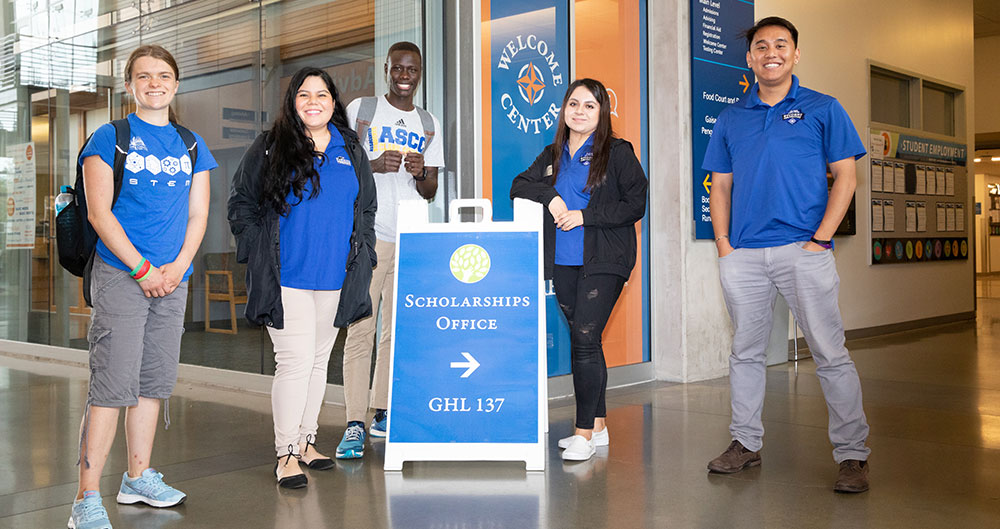 Funding for scholarships comes from local high schools, small businesses, corporations, foundations, local, civic and community organizations and individuals and families. Each year, Clark College Foundation distributes more than $1 million in scholarships, awards and other financial support, like emergency grants, to hundreds of students.
The scholarship application process is separate from the application for federal and state financial aid. Deadlines for scholarship applications are generally in late winter or early spring for the following school year.
Most scholarships are disbursed through the Financial Aid Office and eligibility varies according to the criteria established by the donor. For more information regarding scholarships, please come to the Financial Aid Office and ask for the Scholarship and Outreach Coordinator.

Learn about scholarship opportunities by going to theWashBoard.org. This is a free scholarship clearinghouse for Washington students seeking college scholarships.
Information on College Bound Scholarships can be found online, or you can call 360-992-2582 with any questions.

September 29
October 1
October 11
October 15
October 16
October 26
October 31
November 1
November 30
December 1
December 5
Clark College Foundation Scholarships
Deadline: October 26th, 2020
Clark College Foundations offers hundreds of scholarships. Each year the foundation distributes more than $1 million in scholarships, awards and other financial support to more than 550 students. Since its inception in 1973, Clark College Foundation has provided Clark College with $73 million in college-related support.
To apply for foundation scholarships, click on the link associated with the application. Online applications require applicants to sign up for an account with the SmarterSelect scholarship software program. Be sure to complete and submit applications by the deadline in order to be considered. Most applications require transcripts and letters of recommendation.
Women's Independence Scholarship Program (WISP)
Deadline: All year
The Women's Independence Scholarship Program, Inc. began as a program of The Sunshine Lady Foundation (SLF) in 1999 and for 8 years provided scholarships to women survivors of intimate partner abuse who were changing their lives through education. WISP is available nationally to women who have left an abusive domestic situation and who are pursuing an education designed to provide economic independence for themselves and their children.
ChildCare Aware of Washington - Bachelor's Degree Completion Scholarship
Deadline: Accepted year round
Washington Scholarships is a statewide program that provides scholarships to Washington State licensed child care center staff and family child care providers. The purpose of the Bachelor's Degree Completion Scholarship is to provide each scholarship recipient with the opportunity to achieve a Bachelor's degree in Early Childhood Education or another acceptable ECE field , from any Washington State four year college or university. These scholarships are awarded annually and can be renewed based upon funding at the time of award.
Courage to Grow Scholarship
Deadline: This is scholarship is available every month
The simple application only asks, "Why do you believe that you should be awarded this scholarship?"
Apply every month for a chance to win $500.
Office hours:
Monday through Thursday: 8 a.m. – 5 p.m.
Friday: 8 a.m. – 1:00 p.m.