Scholarships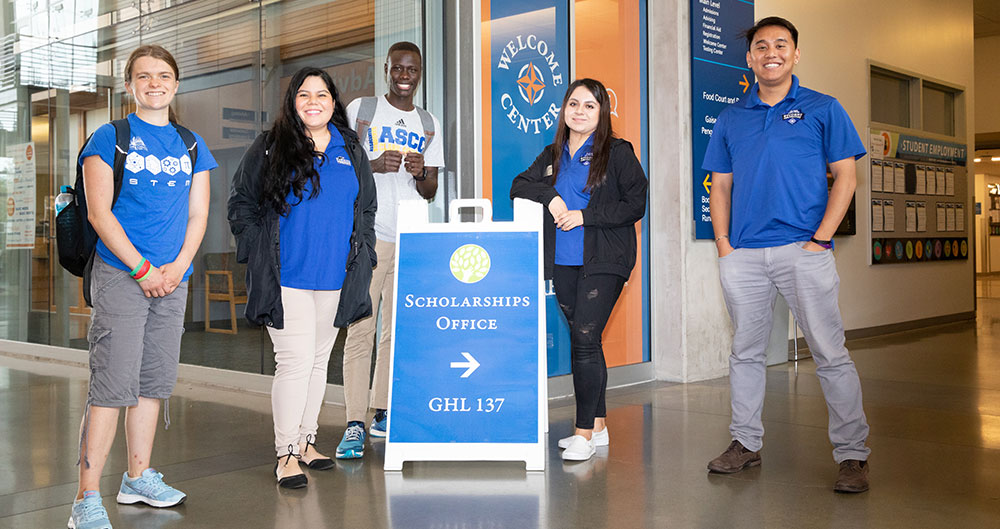 Funding for scholarships comes from local high schools, small businesses, corporations, foundations, local, civic and community organizations and individuals and families. Each year, Clark College Foundation distributes more than $1 million in scholarships, awards and other financial support, like emergency grants, to hundreds of students.
The scholarship application process is separate from the application for federal and state financial aid. Deadlines for scholarship applications are generally in late winter or early spring for the following school year.
Most scholarships are disbursed through the Financial Aid Office and eligibility varies according to the criteria established by the donor. For more information regarding scholarships, please come to the Financial Aid Office and ask for the Scholarship and Outreach Coordinator.

Learn about scholarship opportunities by going to theWashBoard.org. This is a free scholarship clearinghouse for Washington students seeking college scholarships.
Information on College Bound Scholarships can be found online, or you can call 360-992-2584 with any questions.

February 12
February 15
February 24
February 28
March 1
March 10
March 31
April 1
April 15
April 20
April 30
Washington State Opportunity Scholarship-Baccalaureate
Deadline: February 11, 2021
The Baccalaureate Scholarship provides up to $22,500 in financial aid support and access to career-launching support services for students pursuing high-demand STEM and health care majors. This scholarship can be used to cover tuition, fees and other indirect costs of attendance such as housing, transportation, food and more. Funding can be used for any eligible STEM or health care degree at any eligible public or private college or university in Washington state.
Career and Technical Scholarship
Deadline: February 11, 2021
The Career and Technical Scholarship (CTS) supports Washington students on their path to high-demand trade, STEM and health care occupations. To be eligible, Scholars must enroll in an approved program, such as welding, manufacturing or IT, at one of Washington's 34 community and technical colleges. Scholars are eligible to receive up to $1,500 each quarter for the duration of their associate degree, certificate or apprenticeship program. These scholarship funds are flexible and can be used to cover tuition, fees and other costs of attendance such as housing, transportation, food and more.
Vancouver Rotary Scholarship
Deadline: February 24, 2021 at 11:59 PM PST (Midnight)
VANCOUVER ROTARY was founded in 1921, and we are proud to be part of this worldwide organization. Here in Vancouver, we give back to our community through service projects such as helping at food banks, placing "Peace Poles" at schools, and sponsoring the community Christmas tree lighting. Most importantly, we award scholarships to deserving students, who by their actions exemplify our motto of SERVICE ABOVE SELF. To date, we have awarded more than a million dollars to help local students achieve their educational goals.
By filling out this application, you are becoming a part of a century-old tradition of community service.
Welcome to Rotary!
Bonnie J Tinker Scholarship
Deadline: February 28, 202
This Scholarship was established in 2012 by the Saturday in the Park PRIDE Board of Directors to provide support for LGBTQ Youth and Families in the SW Washington Five (5) County Area. In 2016, the Saturday in the Park PRIDE Board of Directors chose to name the Scholarship after Bonnie J Tinker who was an inspired voice for the LGBTQ Community. The Scholarship is funded through donations, variety shows, and community fundraisers. Along with this, ten percent of the funds from all other events and programs coordinated by Saturday in the Park PRIDE are given to the Scholarship Fund. The Scholarship(s) are between $500 and $2000 each year. The final amount granted to each Scholarship Recipient(s) is determined by the Scholarship Review Committee.
Clark College Foundation Scholarships
Deadline: April 19, 2021
Clark College Foundations offers hundreds of scholarships. Each year the foundation distributes more than $1 million in scholarships, awards and other financial support to more than 550 students. Since its inception in 1973, Clark College Foundation has provided Clark College with $73 million in college-related support.
Most of the funding is awarded through the Clark College Foundation Scholarship Application process that is open twice each academic year.
To apply for foundation scholarships, click on the link associated with the application. Online applications require applicants to sign up for an account with the SmarterSelect scholarship software program. Be sure to complete and submit applications by the deadline in order to be considered. Most applications require pdf files of transcripts and letters of recommendation to be uploaded.
Office hours:
Monday through Thursday: 8 a.m. – 5 p.m.
Friday: 8 a.m. – 1:00 p.m.