Scholarships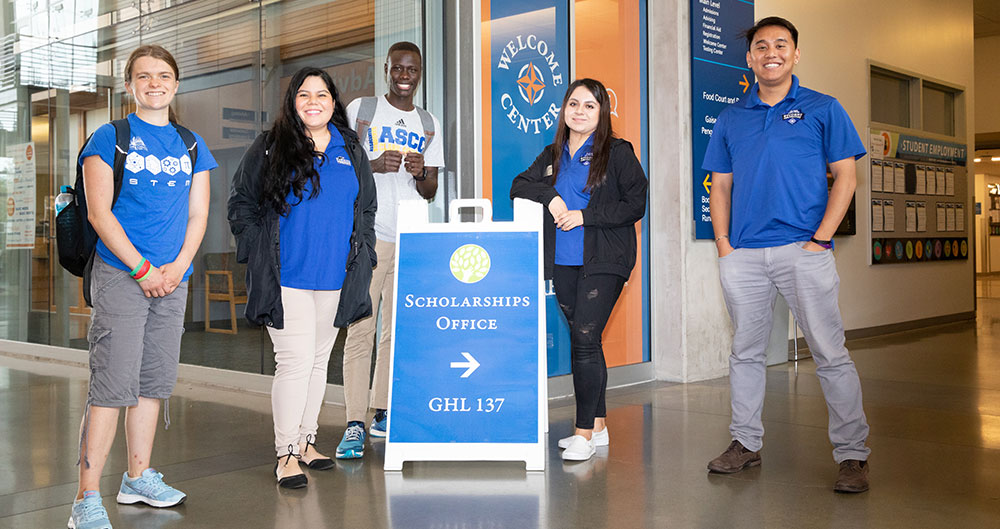 Funding for scholarships comes from local high schools, small businesses, corporations, foundations, local, civic and community organizations and individuals and families. Each year, Clark College Foundation distributes more than $1 million in scholarships, awards and other financial support, like emergency grants, to hundreds of students.
The scholarship application process is separate from the application for federal and state financial aid. Deadlines for scholarship applications are generally in late winter or early spring for the following school year.
Most scholarships are disbursed through the Financial Aid Office and eligibility varies according to the criteria established by the donor. For more information regarding scholarships, please come to the Financial Aid Office and ask for the Scholarship and Outreach Coordinator.

Learn about scholarship opportunities by going to theWashBoard.org. This is a free scholarship clearinghouse for Washington students seeking college scholarships.
Information on College Bound Scholarships can be found online, or you can call 360-992-2582 with any questions.

July 31
August 1
August 18
August 31
September 1
September 29
October 1
October 11
October 15
October 31
AAUW / Hazel Deffenbaugh 2020
Deadline: July 31st, 2020
For female students who are returning to college after an absence. The Hudson's Bay Branch of AAUW has established a scholarship fund to assist women who are returning to school at Clark College. The fund reflects the deep and continued interest in helping women explore their educational options.
TwinStar Credit Union Higher Education Scholarship
Deadline: July 31st, 2020
Each year TwinStar Credit Union offers eight scholarships of $2000 each to members pursuing higher education. You must have been out of high school for at least one year to apply.
ChildCare Aware of Washington - Bachelor's Degree Completion Scholarship
Deadline: Accepted year round
Washington Scholarships is a statewide program that provides scholarships to Washington State licensed child care center staff and family child care providers. The purpose of the Bachelor's Degree Completion Scholarship is to provide each scholarship recipient with the opportunity to achieve a Bachelor's degree in Early Childhood Education or another acceptable ECE field , from any Washington State four year college or university. These scholarships are awarded annually and can be renewed based upon funding at the time of award.
Share Education IDA Program
Deadline: Continuous until spots are filled
Share and Clark College Foundation have partnered to provide an 8:1 savings match for students who qualify for the Share IDA Program. Students agree to save $500 and will be matched $4,000 for tuition, books and fees that will be paid directly to Clark College. Spots are limited, sign up as soon as possible!
E-mail rmoeller@sharevancouver.org to start the process.
Please stop by the Scholarship Wall next to the Welcome Center Information Desk. You can also visit our office in Gaiser Hall, room 137, across from the food court.
Office hours:
Monday through Thursday: 8 a.m. – 5 p.m.
Friday: 8 a.m. – 1:00 p.m.