Scholarships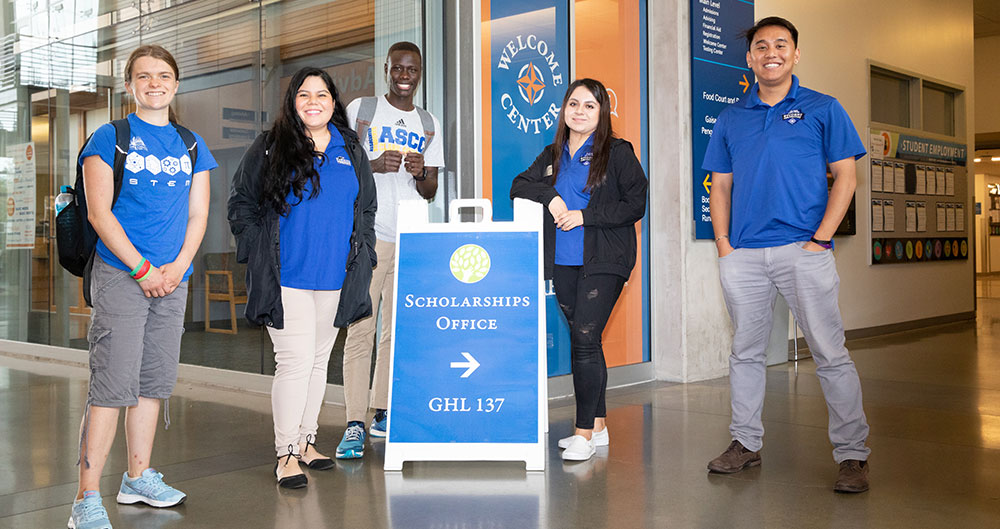 Funding for scholarships comes from local high schools, small businesses, corporations, foundations, local, civic and community organizations and individuals and families. Each year, Clark College Foundation distributes more than $1 million in scholarships, awards and other financial support, like emergency grants, to hundreds of students.
The scholarship application process is separate from the application for federal and state financial aid. Deadlines for scholarship applications are generally in late winter or early spring for the following school year.
Most scholarships are disbursed through the Financial Aid Office and eligibility varies according to the criteria established by the donor. For more information regarding scholarships, please come to the Financial Aid Office and ask for the Scholarship and Outreach Coordinator.

Learn about scholarship opportunities by going to theWashBoard.org. This is a free scholarship clearinghouse for Washington students seeking college scholarships.
Information on College Bound Scholarships can be found online, or you can call 360-992-2584 with any questions.

April 10
April 15
April 20
April 30
May 1
May 15
May 31
June 1
June 15
June 30
July 1
WWIN Star Scholarship
Deadline: April 10, 2021at 11:59 PM PST (Midnight)
WWIN is accepting applications now through April 10 for new Star Scholars! We select women who represent WWIN's values and are ready to transform their lives through higher education. Our Scholars receive up to $5,000 per year towards their cost of attendance, and those who remain eligible receive support until they graduate. They also have access to our Resiliency Fund to help with financial setbacks that arise outside of school and could impact their education.
Applicants must meet WWIN's eligibility criteria to be considered
Clark College Foundation Scholarships
Deadline: April 19, 2021
Clark College Foundations offers hundreds of scholarships. Each year the foundation distributes more than $1 million in scholarships, awards and other financial support to more than 550 students. Since its inception in 1973, Clark College Foundation has provided Clark College with $73 million in college-related support.
Most of the funding is awarded through the Clark College Foundation Scholarship Application process that is open twice each academic year.
To apply for foundation scholarships, click on the link associated with the application. Online applications require applicants to sign up for an account with the SmarterSelect scholarship software program. Be sure to complete and submit applications by the deadline in order to be considered. Most applications require pdf files of transcripts and letters of recommendation to be uploaded.
Community College Presidents' Scholarship
Deadline: April 30, 2021 at 11:59 PM PST (Midnight)
Washington State University Vancouver is pleased to announce the WSU Community College Presidents' Scholarship for fall 2021. This scholarship is for full-time Clark College students transferring to Washington State University Vancouver. The award is for community college transfer students who have leadership potential, are community-service oriented, and have an excellent grade point average.
The scholarship award is in the amount of full-time tuition (10-18 credits) per year beginning fall semester 2021 and is renewable for one additional year or a total of four semesters.
Office hours:
Monday through Thursday: 8 a.m. – 5 p.m.
Friday: 8 a.m. – 1:00 p.m.