Exceptional Faculty Awards
The Clark College Exceptional Faculty Awards are presented annually to full-time and part-time faculty members. Nominations can be submitted by Clark College students, faculty, classified employees, administrators, alumni, Board members, and Foundation directors. Students are particularly encouraged to submit nominations.
Full and part-time faculty members are eligible for the award -- this includes instructors, librarians, counselors, and department heads -- as long as they have not received the award in the past four years. Members of the Exceptional Faculty Awards Committee will not be eligible. See below for a list of past winners and current committee members.
Nominations for the 2018-2019 awards are now being accepted!
Congratulations to the 2017-2018 Exceptional Faculty Award Recipients!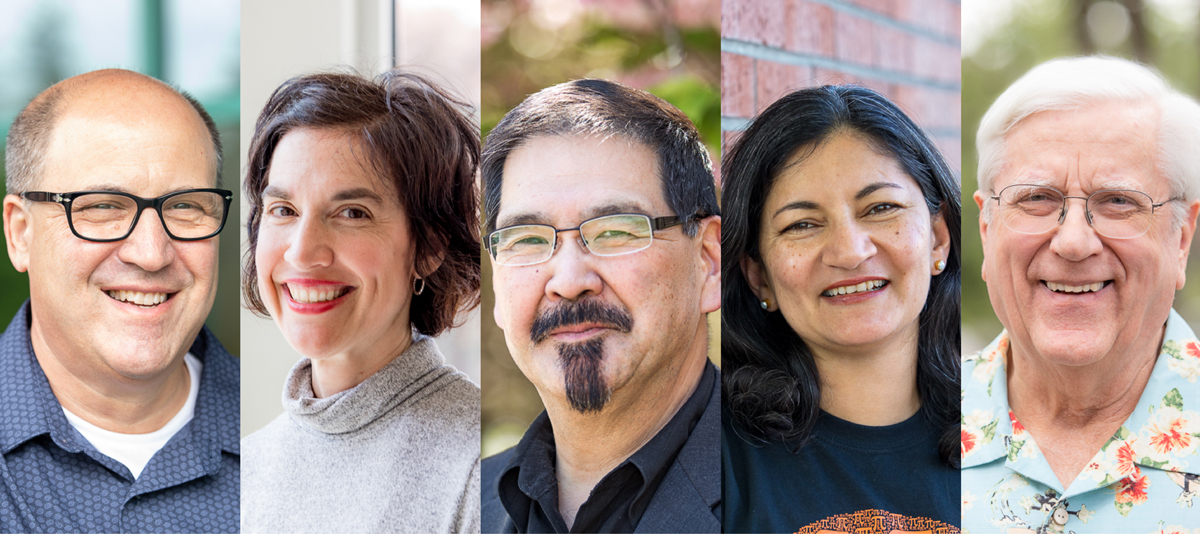 Clark College's 2017-2018 Exceptional Faculty Award recipients are, left to right, computer technology instructor Bruce Elgort; English as a Second Language professor Sara Gallow; music professor Richard Inouye; mathematics professor Dr. Kanchan Mathur; and addiction counselor education instructor Don Wissusik. Read more about the recipients.
Past Exceptional Faculty Award Recipients
Clark College is proud to honor the full-time and part-time faculty members who have received this prestigious award. Read about recent recipients on Clark's online news site, or visit our archives to learn about past recipients.
2016-2017
Patricia A. Atkinson, Economics
Dr. John Caruso, English
Becky Engel, American Sign Language
Dr. Nicholas Macias, Computer Science & Engineering
Brian McVay, Welding

2015-2016
Joseph Cavalli, History
Dr. Kathleen Chatfield, Business Technology
Heather McAfee, Geography
Doug Mrazek, French
2014-2015
Steven Clark, Biology
Alison Dolder, Bakery
Michiyo Okuhara, Japanese
Matthew Gallaher, English
2013-2014

Kelly Fielding, Psychology
Chris Martin, Graphics Communication
Sarah Theberge, Early Childhood Education
Jim Wilkins-Luton, English
The awards are made possible through an endowed trust fund established by the Washington State Legislature and the Clark College Exceptional Faculty Endowment Fund, which was established in 1993. That fund provides recognition of exemplary work performance, positive impact on students, professional commitment, and other contributions to the college.