ESL
Step One: Apply for Admission
Step Twp: Complete CASAS Placement Testing
Step Three: Sign up for New Student Orientation
Apply for Admission
All new students must complete an application for admissions. A non-refundable, one-time application processing fee of $25 is requires at the time of application. You can apply for admission any time during the year. You are encouraged to apply early to meet the Admission Deadlines.
ESL classes are for adults. Students between the ages of 16-18 without a high school diploma or GED need a signed release form (pdf)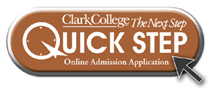 Application for Admission Online
Application for Admissions (pdf)
CASAS Placement Testing
You must complete the CASAS test before registering for ESL classes. You will be tested in reading and listening. CASAS testing is offered on a walk-in basis. Visit the Assessment Center page for testing times. Please do not bring children to the Assessment Center.
New Student Orientation
All new students must complete a three hour ESL orientation at Clark College. During the orientation you will learn about the ESL program, meet other ESL students, learn about student resources at Clark, and register for your official ESL classes. Visit the orientation page and login with your student ID number (SID) and birth date to view the ESL orientation schedule.
Contact & Tips
Visit the Transitional Studies page for more information about the ESL class schedule.
Call 360-992-2770 or e-mail atam@clark.edu for help applying to Clark College.
Please see the International Office if you are visiting on a student, au pair/exchange, or tourist VISA (F-1, M-1, J-1, B-1 or B-2).
Remember to bring photo identification (ID) when visiting Clark College.