Counseling and Health Center
About
The Clark College Counseling and Health Center supports student success by providing a range of professional counseling and medical services that are both affordable and conveniently available on campus.
Our staff is committed to social equity and non-discrimination. We value and affirm all student identities.
Schedule an Appointment
Please call, email, or drop by to schedule an appointment for mental health counseling or to see the nurse practitioner.
We are located in the Health Sciences Building (HSC) Room 124
Phone: 360-992-2614
Email: chc@clark.edu
Fax: 360-992-2853
LIMITED HOURS October 22-29
Thursday, 10/25/18:
Closed: 3:30 p.m. – 5 p.m.
Monday, 10/29/18:
CLOSED ALL DAY
Hours
Monday - Thursday
8:00 a.m - 5:00 p.m
Friday
8:00 a.m - 1:00 p.m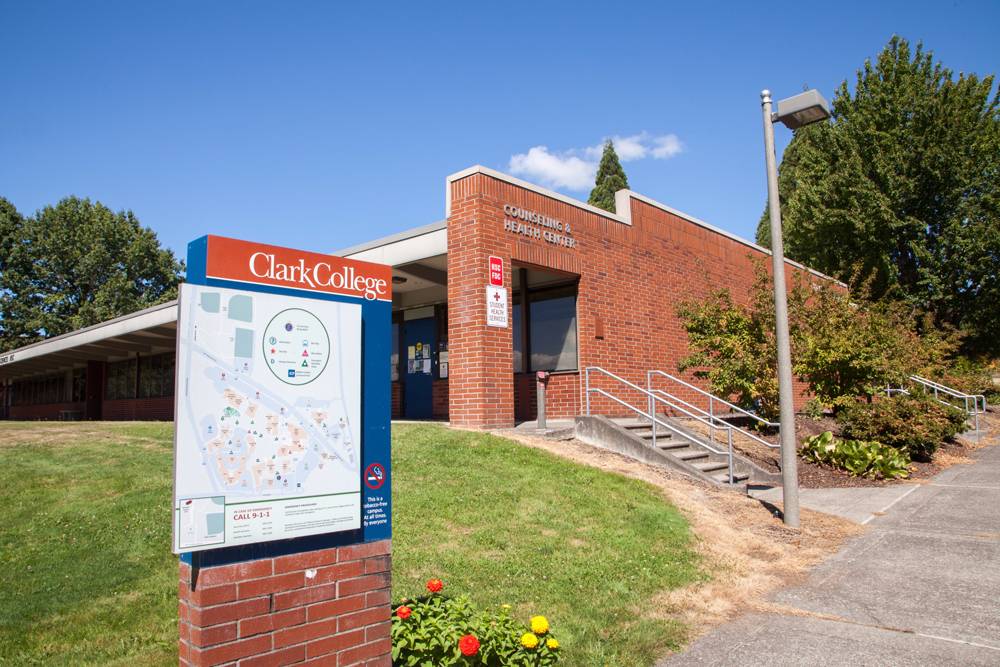 Crisis Line
If you or someone you know is experiencing a mental health emergency, please call the Clark County crisis line:
(360) 696 - 9560 or (800) 273 - talk (8255)
TTY: (866) 835 - 2755
Additional crisis resources available
---
Available Services
Mental Health Counseling
Seeking out mental health counseling is an act of bravery and shows that you are taking an active role in your self-care. We are glad you are here!
Counseling is a collaborative process requiring active participation. Counselors help to navigate issues, identify resources, look at problems from a new perspective, or develop skills that help students find solutions on their own. Our counselors are licensed professionals with extensive education and clinical experience.
Students come to counseling for a variety of reasons, both academic and personal. Some common topics include:
Anxiety or depression
Deciding whether or not to stay in school
Relationship problems
Coping with stress
Suicidal thoughts
Difficulty in class
Confidentiality Disclosure for Initial Screening
Health Services
The Counseling and Health Center has a Nurse Practitioner available to provide a variety of health services.
We keep costs as low as possible, while also providing a high level of professional care. Some of the services we provide include:
Diagnosis and treatment of physical health problems
Immunizations, including all of those required for entry into Health Occupation Programs
Reproductive health exams and STI screenings
Basic first aid
Lab tests
Physical exams
Self-care Resources
The Counseling and Health Center makes a variety of free self-care items available to students. This includes over-the-counter medications, sexual health items, menstrual supplies, hot tea, snacks, and more.
We are also a quiet, peaceful, safe place for students to study, color in our coloring books, admire the artwork of fellow students in our lobby, or just hang out. Students are welcome to drop in anytime during open hours.
---
Upcoming Events
Learn how to improve your well-being through small changes in how you eat, sleep, relax, and move. Run by our Nurse Practitioner, Ashley Schumacher.
The group begins October 17th, and continues on Wednesdays, from 1:00pm - 2:00pm. No appointments necessary!
Call the CHC at 360-992-2614 or email chc@clark.edu with any questions.
On Wednesday, October 24, from 10 a.m. - 2 p.m., Cascade AIDS Project (CAP) of SW Washington will be on campus to administer FREE, rapid STI screenings, and in-person assistance with health insurance enrollment. No appointment necessary.
Call 360-992-2614 with any questions!
Do you identify as a student on the autism spectrum, including Asperger's Syndrome? Intrested in making new social connections, and learning how to identify strengths and challenges? Join our exciting 6-week Autism Success Group! Snacks provided!
Thursdays- October 11- November 15, 10 a.m. - 11 a.m. in room HSC-124.
Questions? Want to sign up? Call Brenda Wierschin at 360-992-2946 or email bwierschin@clark.edu.