Counseling and Health Center
About
The Clark College Counseling and Health Center supports student success by providing a range of professional counseling and medical services that are both affordable and conveniently available on campus.
Our staff is committed to social equity and non-discrimination. We value and affirm all student identities.
Measles Information
MMR vaccines, and titer (blood test) to confirm immunity, are both available here at the CHC for currently enrolled students. MMR vaccine is $80 per dose, and the titer is also $80. For more information about Clark Colleges response to the countywide measles outbreak, please visit the Alerts Page, or Clark 24/7. Additional information can be found at the Centers for Disease Control and Prevention (CDC) website, and Clark County Public Health.
Free MMR vaccines are available March 1, 8, 15 and 22 from 1:00 pm - 7:00 pm at Legacy Family Wellness, 1000 Tech Center Drive, Suite 120. Call 503-413-3083 for more information.
Schedule an Appointment
Please call, email, or drop by to schedule an appointment for mental health counseling or to see the nurse practitioner.
We are located in the Health Sciences Building (HSC) Room 124
Phone: 360-992-2614
Email: chc@clark.edu
Fax: 360-992-2853
Hours
Monday - Thursday
8:00 a.m - 5:00 p.m
Friday
8:00 a.m - 1:00 p.m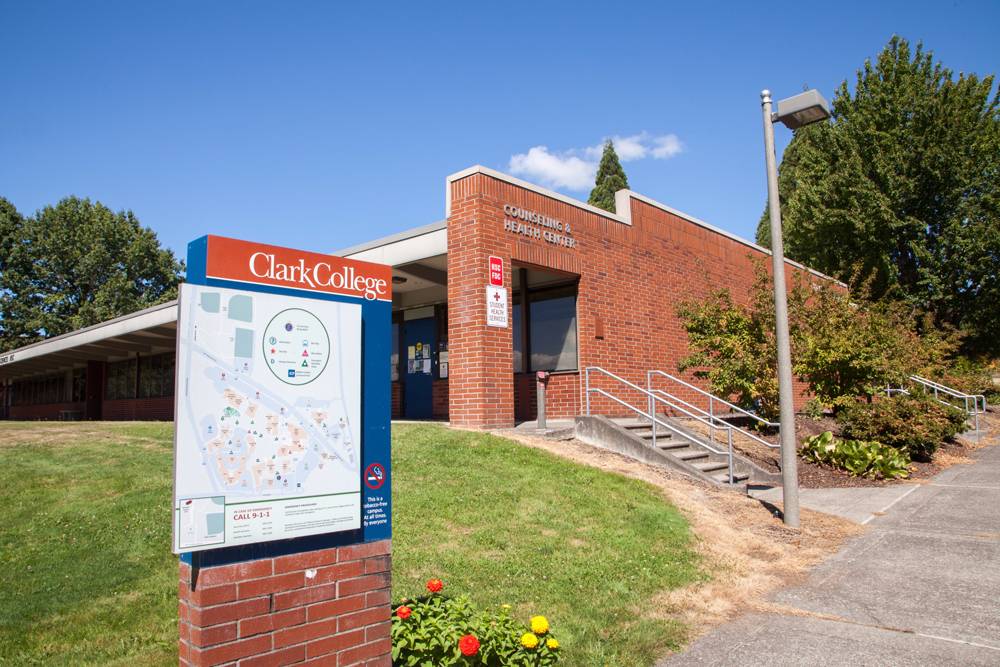 Crisis Line
If you or someone you know is experiencing a mental health emergency, please call the Clark County crisis line:
(360) 696 - 9560 or (800) 273 - talk (8255)
TTY: (866) 835 - 2755
Additional crisis resources available
---
Available Services
Mental Health Counseling
Seeking out mental health counseling is an act of bravery and shows that you are taking an active role in your self-care. We are glad you are here!
Counseling is a collaborative process requiring active participation. Counselors help to navigate issues, identify resources, look at problems from a new perspective, or develop skills that help students find solutions on their own. Our counselors are licensed professionals with extensive education and clinical experience.
Students come to counseling for a variety of reasons, both academic and personal. Some common topics include:
Anxiety or depression
Deciding whether or not to stay in school
Relationship problems
Coping with stress
Suicidal thoughts
Difficulty in class
Confidentiality Disclosure for Initial Screening
Health Services
The Counseling and Health Center has a Nurse Practitioner available to provide a variety of health services.
We keep costs as low as possible, while also providing a high level of professional care. Some of the services we provide include:
Diagnosis and treatment of physical health problems
Immunizations, including all of those required for entry into Health Occupation Programs
Reproductive health exams and STI screenings
Basic first aid
Lab tests
Physical exams
Self-care Resources
The Counseling and Health Center makes a variety of free self-care items available to students. This includes over-the-counter medications, sexual health items, menstrual supplies, hot tea, snacks, and more.
We are also a quiet, peaceful, safe place for students to study, color in our coloring books, admire the artwork of fellow students in our lobby, or just hang out. Students are welcome to drop in anytime during open hours.
Human Development (HDEV) Classes
Faculty counselors teach credit-granting Human Development (HDEV) courses on topics such as career exploration, study skills, relationships, stress management and more! These classes teach important academic and life success skills and many of them are offered in short session, late start, weekend and online formats.
Click here for the full list of HDEV course descriptions.
Not all classes are offered every quarter, so check out the online class schedule for availability.
---
Upcoming Events
3rd Annual Yes Means Yes! Sexual Health and Education Fair
April 24, 2019 10:00 am - 2:00 pm
Gaiser Student Center, with presentations in PUB 161 and PUB 258A
Watch this space for more info!