Nursing
About
Clark's nursing program is located at Clark College at Washington State University
Vancouver.

State-of-the-art laboratories are used for teaching nursing students, including a
simulation lab for creating life-like clinical
situations for student assessment and
response.


Application Deadlines
All applications must be postmarked by:
April 1 for possible selection to Fall class.
July 1 for possible selection to Winter class.
September 1 for possible selection into Spring class.
Selection Notification
May 29 for Fall class
September 4 for Winter class
November 6 for Spring class
Degrees and Certificates
Program Maps
Request Information
Are you interested in the Clark College Nursing program?
COVID-19 and the Nursing program:
The Clark College Nursing Program is closely monitoring the COVID-19 pandemic and how it may affect these upcoming information sessions.
Updates will be posted here as information becomes available.

For updates on the application process, visit Applying to the Program.
Open to the public with no sign up required.
Summer Sessions are Thursdays at 3:00 on June 11, June 25, July 9, July 23, August 6, and August 20.
Meeting ID: 998 5391 4364
Nursing Work Environment
The registered nurse (RN) is a licensed health care professional with a dynamic and essential role on the health care team. RNs practice in a variety of settings; hospitals, clinics, emergency centers, long-term care, rehabilitation facilities, schools, correctional facilities and home health care agencies. Registered nurses care for patients throughout the lifespan, from birth through the end of life.
The practice of nursing is "the protection, promotion, and optimization of health and abilities, prevention of illness and injury, facilitation of healing, alleviation of suffering through the diagnosis and treatment of human response, and advocacy in the care of individuals, families, groups, communities, and populations. (American Nurses Association, 2017)
Critical-thinking and decision-making ability, as well as a life-long commitment to learning, are important assets in this demanding but rewarding profession.
Applying to the Nursing Program
As you consider applying to the Clark College Nursing Program, it is important that you, as a candidate, understand the requirements of the program and the profession.
Students in the Nursing program as well as nurses working in the health care field, experience extended periods of great physical exertion that include long hours of walking, standing, reaching, bending and twisting. Nurses frequently lift and move patients and equipment.
---
The Clark College Nursing Program has ongoing national accreditation by:
Accreditation Commission for Education in Nursing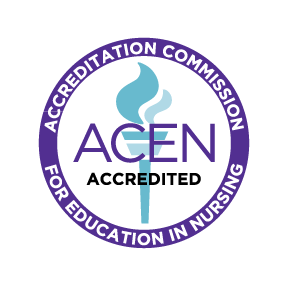 3343 Peachtree Rd.
Suite 850
Atlanta, GA 30326
Phone: (404) 975-5000
Fax: (404) 975-5020