Welcome Center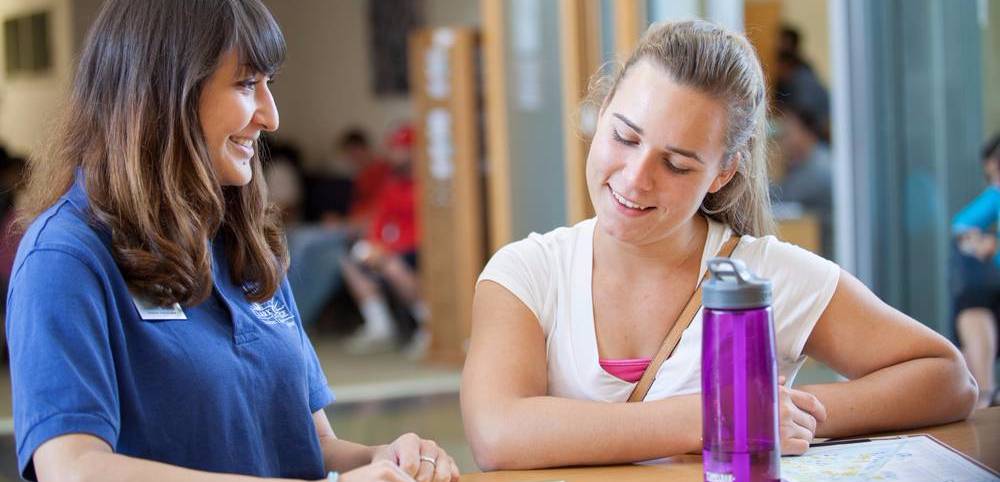 Ready for the next step in your education? Our Welcome Center is the first point of contact for all prospective students, new and current students, and community members.
Staffed by our team of Student Ambassadors and enrollment specialists, the Welcome Center is your place to get help with general questions, directions, admissions, questions about your next steps to enroll, and more. You can find us located in Gaiser Hall along with other student service offices. Welcome to Clark College!
Information Sessions
Get started at Clark College by learning more about program options and the enrollment process! This is a great place for new students to get help and ask questions. Friends and family are welcome to attend. Please bring your photo ID.
Information Sessions are held in Gaiser Hall 213.
Tuesday, February 25 at 5:30 p.m. in Gaiser Hall 213
Tuesday, March 10 at 5:30 p.m. in Gaiser Hall 213
Campus Tours
Visiting a campus is one of the best ways to see if that college is the right fit for you. Our tours, led by our Student Ambassadors, take you around our beautiful 101-acre campus, showing you all the classrooms, landmarks, and resources that are available to students.
To schedule a campus tour, call 360-992-2078 or email campusvisits@clark.edu.
Campus Tour Hours:
Monday-Thursday 10 a.m. - 3 p.m.
Friday 12 p.m. - 3 p.m.
Times may vary for group tours. Please allow two weeks in advance for us to schedule and prepare for your visit. For more information regarding group tours, please contact Amy Tam at atam@clark.edu.
---
Visit or Contact Us
Gaiser Hall, Room 127
1933 Fort Vancouver Way
Vancouver, WA 98663
start@clark.edu
360-992-2078
Hours
Welcome Center Hours
Monday - Thursday: 8 a.m. - 5 p.m.
Friday: 8 a.m. - 1 p.m.
Information Desk Hours
Monday - Thursday: 10 a.m. - 4 p.m.
Friday: 12 p.m. - 4:30 p.m.
Upcoming Campus Closures
Presidents Day Holiday - Monday, February 17
Memorial Day Holiday - Monday, May 25