Become a Student Ambassador
Apply now to be a Student Ambassador for the upcoming 2018 - 2019 school year!
Application re-opened!
The Clark College Student Ambassador Program is a leadership opportunity for students who are dedicated to serving and representing Clark College.
Student Ambassadors conduct campus tours, assist with general information, represent Clark College at various campus and community events, and have weekly office hours. Student Ambassadors are called upon by the campus to serve as current student representatives to the campus and community. Successful candidates enjoy working with people, have a wide range of experiences at Clark College and a willingness to share those experiences with students and their families.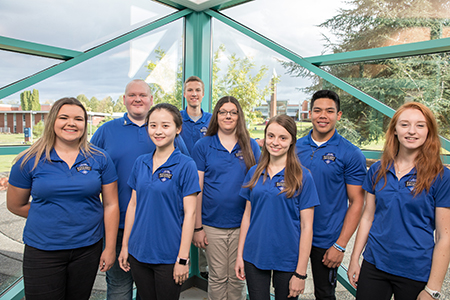 Application and Position Information
Student Ambassador Application
Application Deadline:
Friday, August 31 or until filled (turn in application at the Welcome Center in Gaiser Hall)
Period of Employment:
September 10, 2018 – June 20, 2019
Hours:
Minimum of six (6), maximum of seventeen (17), office hours per week
Average is 10 hours per week
Student Ambassador perks!
Gain work experience
Network with College Administrators
Build confidence
Represent Clark College at community events
Meet cool community members like the Governor of Washington
Represent the Clark College student body at the annual Legislative Breakfast
Get the "first look" during Clark College ribbon cutting ceremonies
Gain the opportunity to be a Board of Trustees student speaker
Make lifelong friends!


Questions?
Contact:
Amy Tam
Ambassador Supervisor
Welcome Center, Gaiser Hall, Room 127
360.992.2770
atam@clark.edu