T-TEN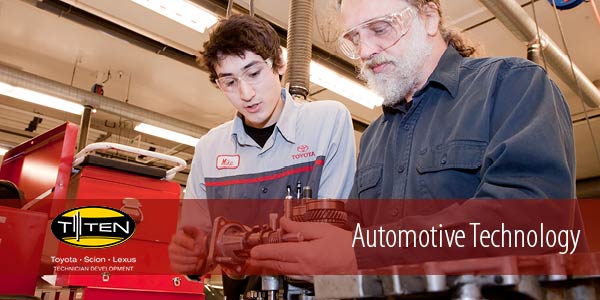 Clark College's Automotive Technology program is one of a handful of colleges in the country, and the first in the Pacific Northwest, to receive accreditation for the Toyota Technical Education Network (T-TEN) program.
Our T-TEN program requires a Toyota Dealer sponsorship prior to admission. Entry into the two-year program is annually, beginning summer quarter. The format dictates a quarter of instruction on campus followed by a quarter of on-the-job learning. This means that for the two years that they are in the program, students alternate one quarter of full-time classroom and lab practice with one quarter as a full-time dealership apprentice.
T-TEN is described as a world-class training program with the ultimate goal of training and placing Toyota and Lexus certified technicians in dealership-based positions.
For additional information contact Jason Crone, T-TEN Coordinator, at 360-992-2566 or John Maduta, Advising, at 360-992-2317.
Note: The numbers in parentheses on the
course descriptions
represent the course numbers included in the Toyota Certified Technician Program. A student completing the T-TEN Program will receive TCTP credit for the Clark College auto courses also identified with a Toyota course number.
Students must complete all Major Area Requirements with a minimum grade of "C" or better in order to successfully complete the program and earn the award.
Refer to the
Degree & Certificate Requirements
Section in the
Clark College Catalog
to identify the courses needed to satisfy the General Education Requirements.
Learn more about T-TEN!
T-TEN Automotive in the news
Follow T-Ten on Facebook