Pacific Currents
Exhibition dates: November 4 – December 5, 2008
Reception: Wednesday, November 5, 4 – 6p.m.



Exhibiting nine contemporary artists of Asian heritage, Pacific Currents presents a broad range of mediums – ceramic, watercolor, cane and bamboo sculpture, photography, mixed media on canvas and paper, and video. Each artists' work references nature and the iconic imagery and materials of the Asian historical tradition, as filtered through contemporary issues and experience.


The Archer Gallery explores the influences of strong historical tradition through the expressions of nine contemporary artists of Asian heritage. Specifically selecting artists using the iconic images of nature as a basis for their contemporary and personal explorations, the exhibition features a broad range of mediums:

Yoshihiro Kitai – Using gold and silver leaf in acknowledgement of Japanese master drawings, Kitai's laborious accumulations of dots create a subtle, misted atmosphere of pattern and color. Kitai lives in Vancouver, WA and exhibits at the Pulliam Deffenbaugh Gallery, Portland, OR.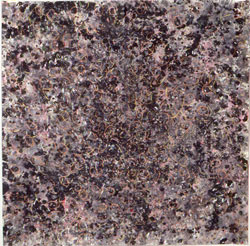 Alan Lau – A published poet as well as a visual artist, Lau's abstract, primarily monochromatic work is inspired by nature and traditional Japanese brush painting, and "melds the feeling of traditional Asian art with the spontaneity of contemporary American art." (review, Paula Bock, The Seattle Times, Monday, June 16, 1997) Lau lives in Seattle, WA and exhibits at the Francine Seders Gallery, Seattle, WA.



Ritsuko Ozeki – A printmaker living in Japan, Ozeki's work is noted for a sparseness of composition but a rich line achieved through multiple print techniques. Exhibiting internationally, she is represented in the region by the Froelick Gallery, Portland, OR.

Kum-Whee Shin – Widely exhibited in her native Korea, the artist has recently moved to Vancouver, WA. Her mixed media on canvas work strives to depict the cyclical changes of light and dark at specific moments of the day.

Chang-Ae Song –A recent MFA graduate of University of Oregon, Song's collage and mixed media work alludes to recent political events within the structure of traditional watercolor and landscape painting. Song lives in Eugene, OR.






Toshiko Takaezu – Internationally recognized for her ceramic work, specifically her trademark closed vessels, Takaezu is inspired by the natural world and Eastern and Western ceramic techniques and aesthetics. Currently living in Hawaii, the artist taught summer ceramic sessions for many years at Lewis & Clark College in Portland, Oregon. This exhibition features work from the collection of the Museum of Contemporary Craft, Portland, OR.

Ying Tan – An Associate Professor of Digital Arts at University of Oregon, Tan has created a wide range of work including film, video, animation and digital imagery that has been exhibited nationally and internationally. Tan lives in Eugene, OR.

Masao Yamamoto – An internationally exhibiting photographer, Yamamoto's works are diminutive encapsulations of memory, time, and nature. The artist currently lives in Japan and is represented in the region by PDX Contemporary Art, Portland, OR.

Jiro Yonezawa – Using both formal Japanese basket techniques and the looser weaves of indigenous farming and fishing baskets, the artist creates sculptural baskets of incredibly rich complexity and texture. The surface colors are enriched through the application of several layers of Japanese imported lacquers. The artist lives in Portland, OR and Japan and exhibits at the Traver Gallery, Seattle, WA, and Butters Gallery, Portland, OR.


Archer Gallery
Clark College
Penguin Union Building (PUB)
1933 Fort Vancouver Way,
Vancouver, WA 98663

Information/Directions: 360 992-2246