Clark College - The First 75 Years
Vancouver's historic Hidden House served as the first campus for Clark College through 1937. The college relocated four times within the city during the next decade.
During World War II, classes were suspended for a brief period. When the college reopened, enrollment climbed rapidly and a vocational curriculum was added to meet the needs of returning veterans as well as traditional students.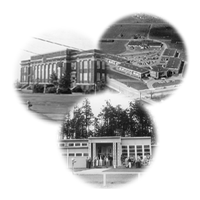 In 1951, an evening program began and the Applied Arts Center became the first building on the current 101-acre main campus in Vancouver's Central Park. Student enrollment settled at around 4,800 through the late 1950s and early 1960s then grew again to the 8,000 mark by the end of the 1970s reflecting a population surge in Clark County.
A reduction in funding and a state mandate kept enrollments level during the mid-1980s. The location of several major electronics firms and related-service industries in Clark County spurred economic growth, multiple employment opportunities for Clark's Associate in Applied Science degree graduates, and boosted enrollments to nearly 11,000 students per quarter in the 1990s.

The college was granted initial accreditation in 1937 based upon a visit by a committee of five professors from the University of Washington. In 1948, the college first received accreditation from the organization known as the Northwest Association of Secondary and Higher Schools. Today, that organization is known as the Northwest Commission on Colleges and Universities (NWCCU) and, through periodic reviews, Clark College has remained accredited throughout its history.
Clark College first received state financial support in 1941. Five years later, the college was placed under the general supervision of the State Board of Education with the Vancouver School Board serving as its policy-making body. In 1967, the Washington legislature created a state system of community college districts. Clark College District No. 14, one of 34 Washington community and technical colleges, serves residents of Clark, Skamania and west Klickitat counties.
Learn about Clark College today.