Archer Gallery
About
Archer Gallery serves the students and community of Clark College by exhibiting contemporary art in a not-for-profit educational setting. In order to exhibit work that has a strong interest for an academic institution, the gallery brings work that fulfills at least one of the following criteria.
Regionally, nationally or internationally exhibiting professional artists
Artwork that has a strong connection to new contemporary art concepts or methods
Artwork that connects to Clark College Art Department curriculum and programs
Works by artists with significant historical influence on contemporary art practices
Directions
The Archer Gallery is located in the Penguin Union Building (PUB) attached to Gaiser Hall on the Clark College campus in Vancouver, Washington.

Pull into the Parking Lot south of Gaiser Hall. Park in any of the unmarked spaces. F/S spaces are reserved M–F until 5:30. Enter at the SW corner of Lower PUB.

Look for "Archer Gallery" lettering on the outer doors of the building. The gallery is just inside the door.
Contact
Senseney Stokes
360.992.2246
Hours
Tuesday, Wednesday, Thursday
10:00 a.m - 7:00 p.m
Friday, Saturday
12:00 p.m - 5:00 p.m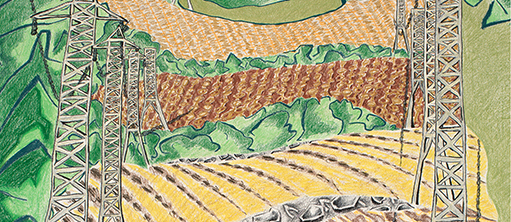 Current Exhibit: Michael Lorefice
In absolute timeless wonder
February 13 – March 24, 2018
Reception & Gallery Talk:
Thursday, February 15th
Reception 2-4
Gallery Talk 2:30 AND 3:15
Works displayed in the exhibition are heavily influenced by traditional and contemporary Mesoamerican art, and the numerous trips Michael Lorefice has made to Mexico to travel and make work in the country. Imagery in the show is drawn from these travels as well as the urban and outlying landscapes near Lorefice's home in Seattle, WA. These drawings serve as living documents to the beauty, harshness, and tenacity of the natural environment.
As drawings they are more than records; they attest to the enduring connection of humans to the land, the fragile relationship that must endure, and the constant state of flux that we are surrounded by.
Remembering Jim Archer
The gallery and college community mourns the passing of longtime gallery director James "Jim" Archer, who passed away on Nov. 28.

Read more about Jim Archer's life and his memorial service on the college's online news site. The gallery is collecting cards and letters to deliver to his family during the memorial service.
ARTIST IN RESIDENCE: Horatio Law
April 10 – May 5, 2018
---
Art Talks
Join us for an upcoming artist and scholar lecture series!
All events are free and open to the public.
Art Talks are held at 7 p.m. in the Penguin Union Building (PUB) 161.
Victor Maldonado
January 24, 2018
Julia Haft-Candel
February 7, 2018
Trey Hill
May 2, 2018